Geeks want everything they use to be different from what the Crowd uses. They use unusual watches, Shirts, Sunglasses and Shoes are no different. These shoes we have included below are the coolest we have ever seen and are I am sure Geeks will love to own them. While some of them are just concepts for now, some have been in production for quite some time. These Cool Shoes look like just any typical shoe in shape, but functionally they do more than just protect your feet from dust and Pebbles.
Genius MX Boot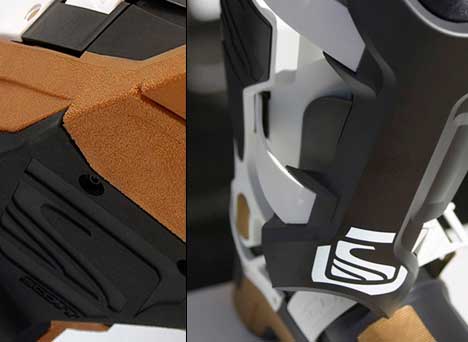 The Genius MX Boot is made from injection molded pieces of Hytrel and polyurethane – Materials characterized by their durability and impact resistance. Genius MX Boot protects the lower leg and foot from impacts and provides Excellent Fatigue Resistance. The polyurethane thermoplastic used in the production of this shoes gives it resistance to deformation even after being flexed thousands of times. SCOTT Pivot System-Combining Strength allows the boot to flex while retaining its solid construction. Some bootie and strap adjustments are required before twisting the throttle and this shoe can fit any individual perfectly. (More info)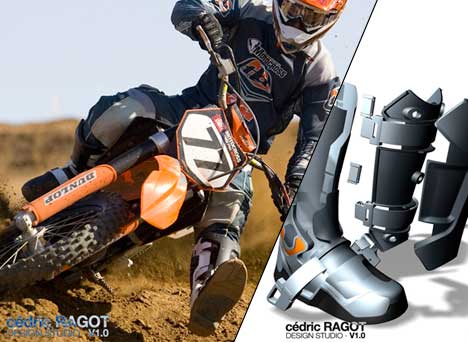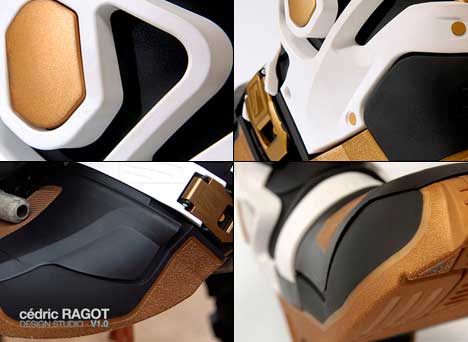 Adidas Smart Shoes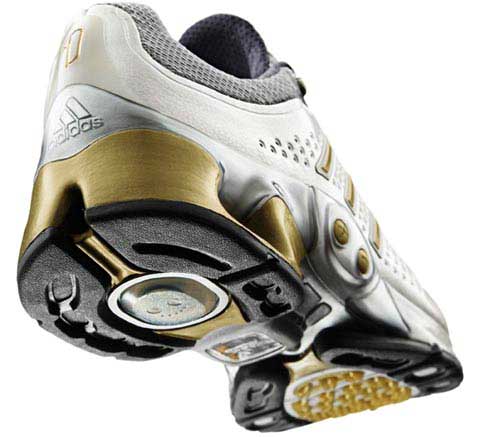 These shoes called the Adidas 1 use a 20-megahertz microprocessor implanted in the sole which collects readings from the shoe's movements and adjusts the fit of the shoe accordingly. You don't have to think about how fit the shoes might be, just wear them and they will adjust the fit themselves. The shoe knows when you are walking, jogging, running and standing still and adjusts the Shoes in a way that makes the feet most comfortable. (More info)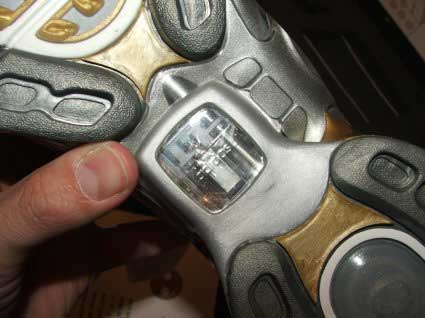 Adidas Bounce:S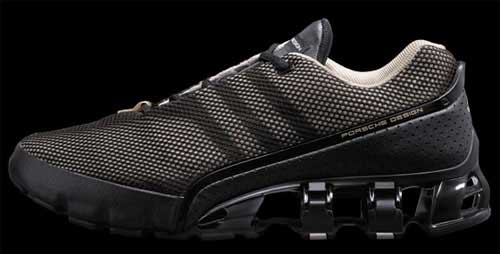 Porsche Design P'5510 Running Shoes is developed and designed exclusively for the Porsche Design Sport range. It is developed by Adidas and uses the Bounce:S cushioning system. The Bounce:S uses metallic springs to increase the energy return in your bounce impact providing you a more efficient walk. Unlike a sports car suspension system, the lever arms transfer the vertical impact of your stride into forward propulsion through the expansion of these coils. (More info)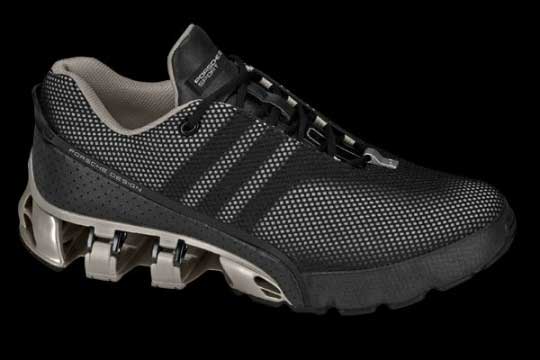 Nike + iPod Sport Kit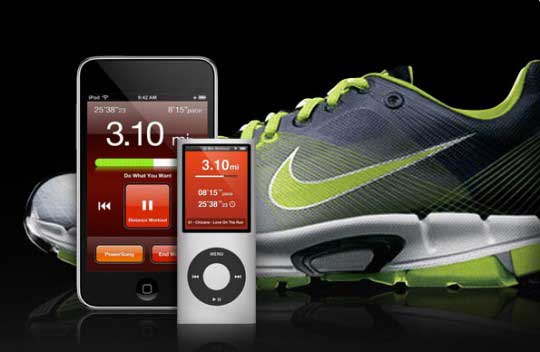 Love to run? Love to listen to your iPod while running? If your answer is Yes to both the questions, this gadget is made for you. This Nike and iPod Combo is a Good workout companion for iPod-using runners. Buying the Special Nike Sport Shoes might not be necessasy but then you will have to fit the Pedometer in your shoes and make room for it yourself.  The Sport Kit comes with a tiny adapter that attaches to the iPod and a tiny medallion of a pedometer that fits inside the shoe. The pedometer which fits in the shoes tracks your steps and communicates wirelessly  with the adapter on the iPod. The iPod then records and displays statistics such as distance traveled, pace, calories burned, and time elapsed. [More Info]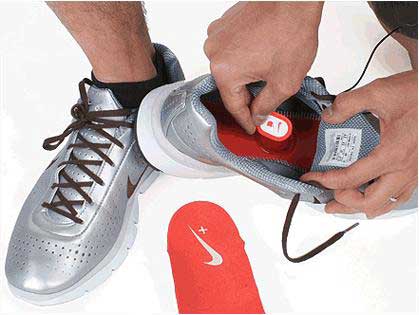 Dada MP3 shoes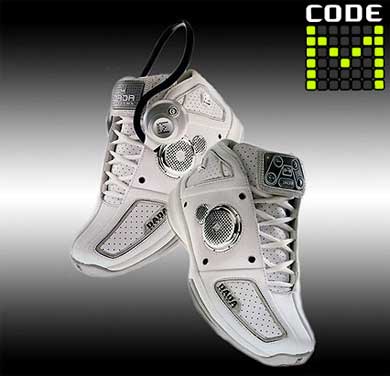 Dada Mp3 Player Shoes feature a wireless music system. It has a MP3 player in the Heel and Tounge of the shoes that boradcast the Music wirelessly to the bundled wireless headset. The Shoe has memory enough for about 100 Mp3 songs. Data can be easily transferred to the Shoe via USB port on the side of the Shoe. The shoe is powered by a rechargeable battery. Dada 'M' MP3 Shoes gives six hours of continuous play when fully charged.(More info)
Digg Nike Air Force 1 Custom Shoes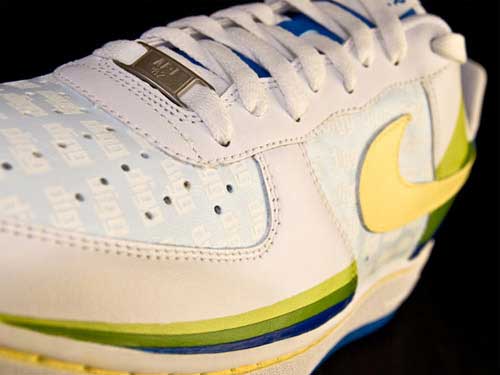 Digg, the Popular Social Media site commissioned Solo Brother to create a small batch of Air Force 1s Shoes for them.  The custom Air Force 1s features  Digg color scheme, and a cool glow-in-the-dark "Digg" pattern.  Only 6 Pairs of these type of shoes were produced, while 5 of them went to the Digg Staff one was kept by the designer for himself.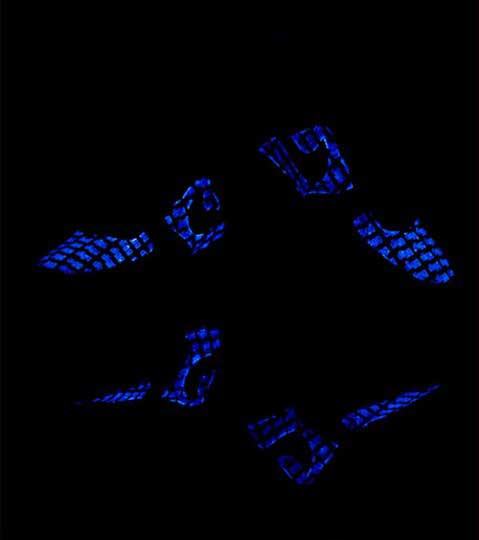 Nike Transformers Shoes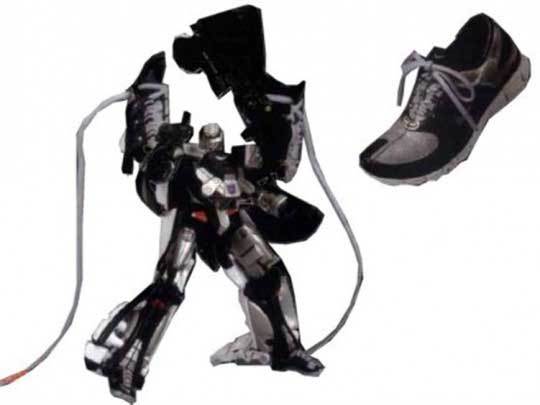 Transfomers 2 is on its way to be released and you can show people how much you love the Transformers Robots by buying this Nike Transformers Shoes. These transformers toys turn into 1/2 scale Nike shoes. The size is around 6″ in length in shoe mode and it looks like they even have real laces connected to the top of the shoe. (More info)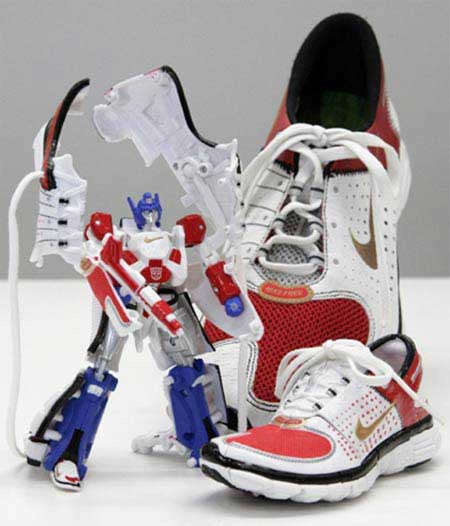 Headlight Shoes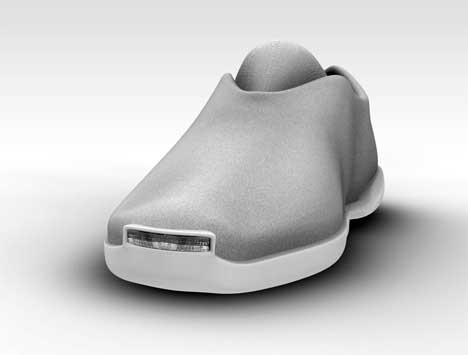 We have seen a lot of Shoes having lights at the heals and they go on when you put pressure on your heals. But, this is the first Shoe design I have seen that has a light right on the tip. The shoe is designed in such a way that it converts kinetic energy generated while walking into electrical energy. A tiny battery lying in the heels charges up with each step and keeps the headlights on for a about 12 hours, dispersing light at 1.5 meters.(More info)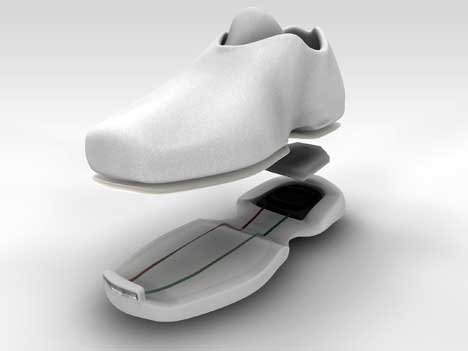 CD-Rom Shoes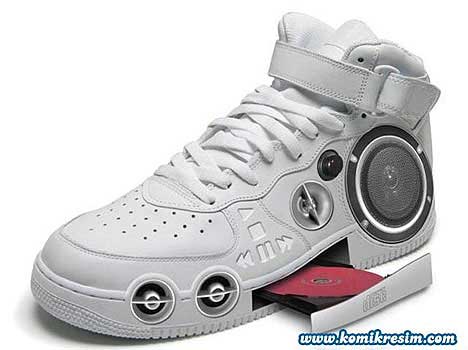 This cool concept shoe features an integrated CD-ROM, tweeters, a volume control knob and some speakers. The idea of putting a CD-ROM drive instead of Hard Drive or Flash memory is a bit outdated. I am so curios how it might tinckle the feet when the CD in ROM Drive is spinning. (More info)
GTX GPS Xplorer Smart Shoes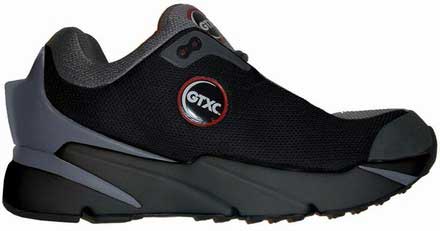 Want to keep track of anyone. Hand them these shoes and see where they are going. The GTX GPS shoes have a small GPS tracking device inside the shoe which communicates the location to a central location tracking service. A feature called GeoFencing sends an SMS to your mobile phone when the Wearer of the Shoes leaves a particular predefined area and notifies you of the current situation. (More info)
Keyboard Shoes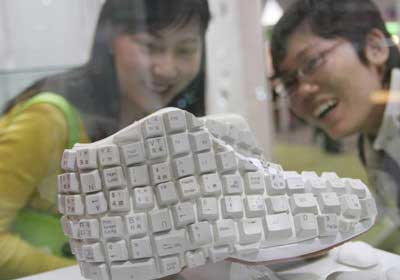 Overwhelmed with Computers? If you reply with yes, these pair of shoes are just for you. This Shoe is made from Keys of Computer Keyboards and is pretty eye catchy. It had won top prize in the sports category at the 6th Hong Kong Footwear Design Contest in 2006.(More info)

Nike + NES Shoes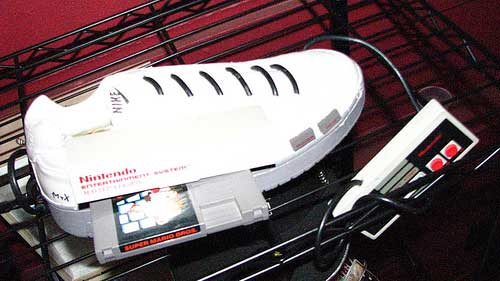 These shoes have components of an NES stuck into it. If you still play NES games, give these a try kick start playing games on the move (No Pun intended).