Buying an Android 3.0 alias Honeycomb has a lot of advantages over all its predecessors but there is also a downside to it, considering the time and tiresome effort you have to put in finding best Honeycomb apps from a plethora available in the Android market. It is hard to filter the best optimized apps for your Android Honeycomb Tablet platform from a lot thousands available there and this is where we help.
In this post we have collected 10 Android Honeycomb Apps specially optimized for better Tablet experience.
1. Kindle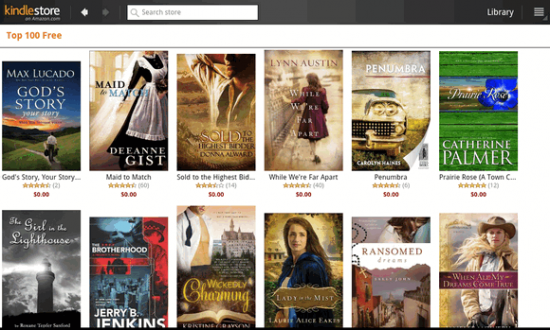 Kindle is for reading aficionados and if you do not have yet had the pleasure of having one, the Kindle for Android will sure do the job. This mobile app lets you browse tons of free Kindle books along with magazines or newspapers. You can also purchase books from Kindle store or look online for websites that offer free Kindle Books.
2. Dropbox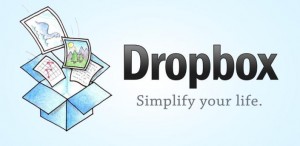 DropBox is an awesome file sharing service that simply creates a folder where you can put any file either via computer, mobile, tablet or other devices. The files thus saved in this folder can be accessed via any device that has already been connected to this DropBox, and even from their official website. The idea is simple, but its ability to transform all the information that matters into a one single universally accessible "box" is hilarious.
3. Google Body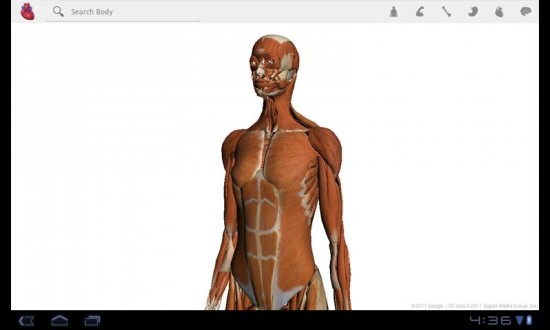 Enjoy the three dimensional view of Human Body with this free and fully functional Google Body Android Honeycomb Apps. This app lets you explore every part of human body and examine the anatomy of every part of body, zoom in, navigate, search, identify and do a lot of other stuff to any part of body that interests you.
4. Perfect Keyboard Free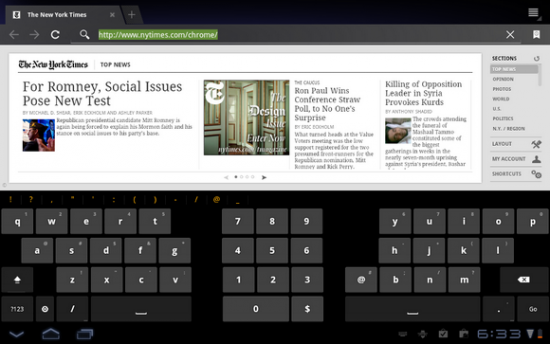 The stock Honeycomb keyboard is quite functional but there is always scope for improvement and even more when you have to work with one too often. This free Keyboard app for Android 3.0 Honeycomb allows you to take full control of your tablet with its fully customizable, functional eight different keyboard themes. In addition you can use custom dictionaries, control back and text colors and much more to enhance typing experience on your touch device.
5. Plume for Twitter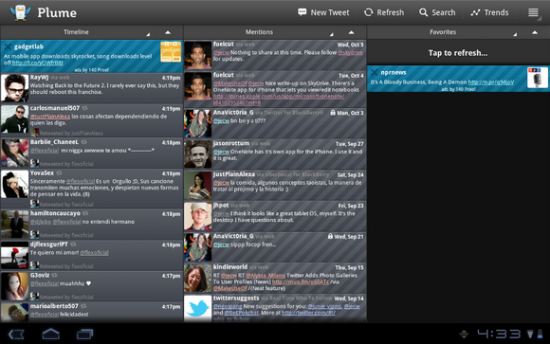 Plume is the ultimate tool to organize  everything  from Twitter and compile it into one single fully managed and beautiful  app for your Android Honeycomb. You can add multiple twitter accounts, colorize your friends/timeline, use twitter geo-tagging, share photos and more cool stuff by this fully customizable free Twitter App.
6. Evernote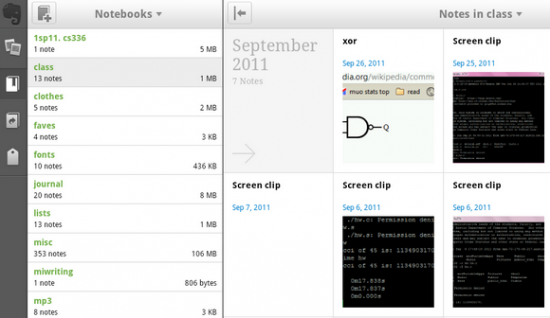 Evernote has already covered a huge user base with its exclusive, exquisite and fully functional features and with its Honeycomb improvised interface, the experience is even more brilliant and more satisfactory. The app takes inputs from any source like audio, sketch, PDF file, etc and converts them into fully organised stuff for a more robust and productive experience.
7. Google Earth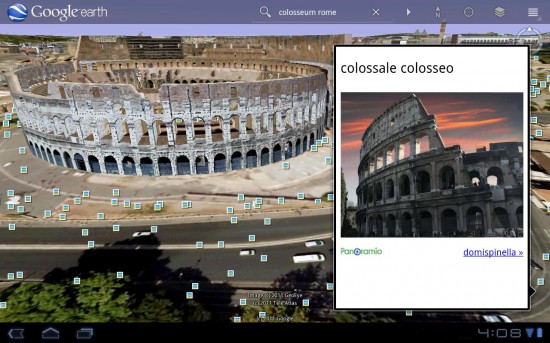 Enjoy the new Google earth features on bigger screen of your Android 3.0 Honeycomb Tablet with this optimized Google Earth Android app. Apart from the usual Google earth features like exploration, voice search, layered browsing there are other exclusive features included in this app like an action bar that gives you easy access to search, reset-to-north, my location, and layers. 3d photo-realistic experience previously available for only Desktop has now been made accessible on mobile Android devices with this App.
 8. ASTRO File Manager / Browser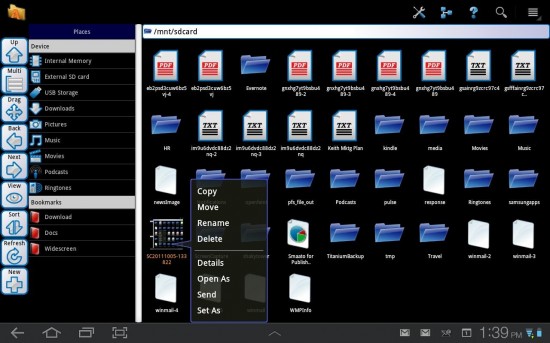 The functionality and User Interface of ASTRO File Manager has been accentuated in tablet Version of this app. This app allows you to manage pictures, music, videos and files on your device. The app also allows you to backup apps and stop unnecessary processes that are killing your battery. You can change themes of this manager or even personalize what you already have with colors and icons.
9. MovieBrowser HD for Tablet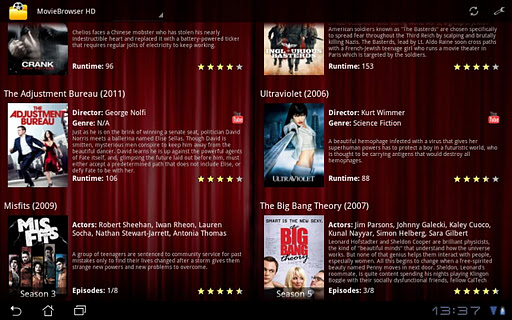 An easy and beautiful app to manage and enjoy  movies, trailers and more. This app is specifically designed for Android 3.0+ tablets and also supports Google TV Honeycomb and high-end ICS phones. You can choose you favorite movie player in your tablet, Browse your local and external folders to setup your movie locations, manage them according to genre, plot, director, poster, rating and much more.
10. Google Drive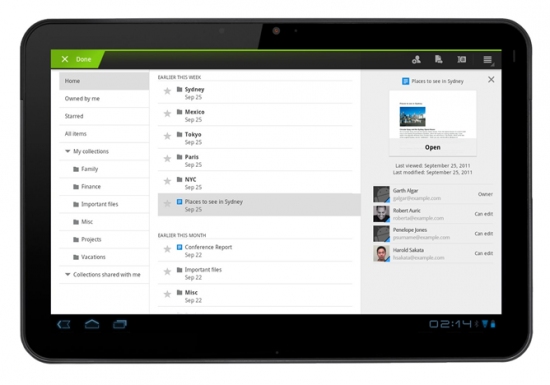 Google Drive is a smart and exquisite app that brings quality Google Docs features into your Android 3.0 Honeycomb device. The app has been especially optimized to take advantage of larger screens for tablet users and other than that the App features all the typical productive functions of Google docs which includes files saving and sharing, access to photos, documents, videos and other files stored on Google Drive and more.