There has been a  steep increase in Smartphone manufacturing in recent years which is quite understandable judging by the demand in the market. Besides the orthodox use of a Smartphone as personal managers and entertainment source, there has also been a precipitous downpour of Smartphones in organisations which they justify as an effort to accentuate their productivity and work force.
Judging by this heavy increase in demand and deployment of  these Smartphones in companies there is a huge scope for Applications that will manage and monitor activities in companies.There are many facts which strengthen this belief and prediction have even gone so far as to say that by the end of 2012 there may be around 33% of US employees using company apps and having confidential corporate data on their smartphones and tablets.
So, with so much going on, finding a proper app to manage and monitor Smartphones in an organisation is a need of the hour. 3CX Mobile Device Manager is a pioneer app for this job developed by 3CX, famous for there prodigious apps like Windows-based VoIP PBX and 3CX Phone System.
Introduction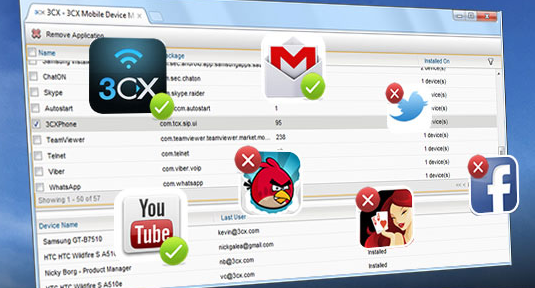 3CX Mobile Device Manager is a perfect solution for small to large Business organizations. The 3CX Mobile Device Manager is basically a hosted app currently available for Android and iOS devices and allows businesses to secure, monitor usage and movement of employees Smartphones. At an individual Smartphone level, the app also enables users to manage apps and data on all connected devices. Leading companies worldwide such as Caterham F1, Boeing, Ohio State University, MIT and RE/MAX are already using 3CX Phone System for effective management and to boost the overall productivity.
3CX Mobile Device Manager offers many features like Remote Lock, App management, Marware Detection, Mobile traction and more. In the rest part of this post we will try to fill you in with some information about these individual features.
Data Security with 3CX Mobile Device Manager
Just like many other things in life, we tend to forget Smartphones way too often and studies have even shown that on an average, $7m worth of mobile phones go missing every day. There is a chance that in an organization one may loose his smartphone but a Business cannot afford to loose sensitive information and this is where 3CX Mobile Device Manager comes to rescue. With 3CX Mobile Device Manager you can track your lost smartphone via Google Maps and in case you are sure that the Smartphone has fallen into wrong hands you can remotely lock or even wipe the Smartphone, even if it isn't connected to the Internet.
App Management With 3CX Mobile Device Manager
In-order to maintain productivity and prevent wastage of time in a  Business organization Smartphones need to be monitored for the benefit of Business. With 3CX Mobile Device Manager companies have complete control over employee smartphones and can detect any rogue app in any of its employees Smartphone. The 3CX Mobile Device Manager head can then issue a command to have it uninstalled. Also, this centralized system enables remote deployment of productive apps to any number of connected device without cumbersome wastage of time.
Malware Detection and Removal With 3CX Mobile Device Manager
A rapid increase in smartphone Malware has been recorded in recent years and the Malware can compromise personal or confidential client information. 3CX Mobile Device Manager you can easily monitor managed devices for apps infected with malware and remotely remove them if needed.
Mobile Traction With 3CX Mobile Device Manager
Having the capability to Track and find a Smarphone does not only help to recover it easily but it also has many other applications. 3CX Mobile Device Manager tracking feature can be used to redirect your employee if they have lost track or  are if they are in places they are not supposed to be in. This feature can also help you track your employees, guide them, and pinpoint most efficient routes they can take to reach their exact destination.
Download Android 3CX Mobile Device Manager | Download iOS 3CX Mobile Device Manager | Visit Official Website