Amazon Kindle is an impeccable device for reading aficionados with it's its adept reading faculties. The display of Amazon Kindle is it's strongest forte, as it provides a tireless reading experience without causing eye-strain but, it is constrained by the fact that most of the reading is done at bed time or during flights and travel and thus an e-reader without light becomes a little uncomfortable.
Albeit, the fact that Kindle does not have back light on purpose as it would lead to strain and fatigue, there are always other possibilities to consider and this is where Kindle Lights come to the rescue. Most of these Kindle lights are minimalistic and pull from the back of Kindle, draw charge from your Kindle's battery and delivers comfortable light on your Kindle screen for a tireless reading experience.
In this post we have collected 5 best Kindle lights that will help you read your favorite books in the dark.
1. Ozeri Kandle  II Reading Light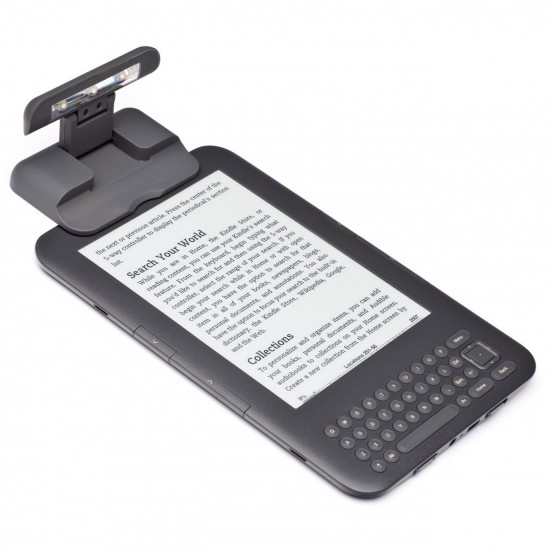 This Kindle light features 3  X2 LED's to deliver  bright light to your Kindle and the intensity of this light can be changed from soft reading light to ultra bright with a simple push button. The light is double pivoted to help you tailor screen illumination according to your needs. It runs on 2 CR2032  batteries which are already included  and an extra set also comes with the package.
Price: $25.00 | Ozeri Kandle  II Reading Light 
2. Belkin Clip-On Reading Light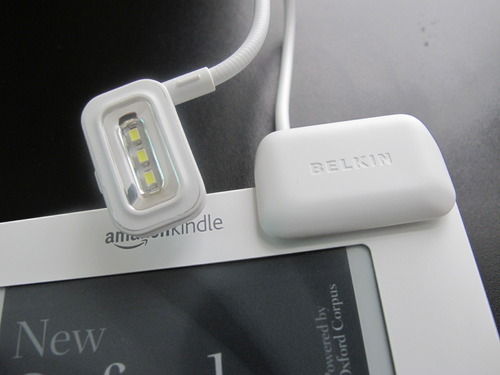 A simple, compact Light for your Kindle from Belkin with adjustable arm and brightness for perfect lighting arrangement.  It is compact and tucks into the clip for ease of portability and also comes wit a 1 year limited warranty. The 3 LED's of this light are competent enough to provide a comfort enriched reading experience on your Kindle.
Price:  $17.99  | Belkin Clip-On Reading Light
3. OCTOVO Solis e-reader Light for Kindle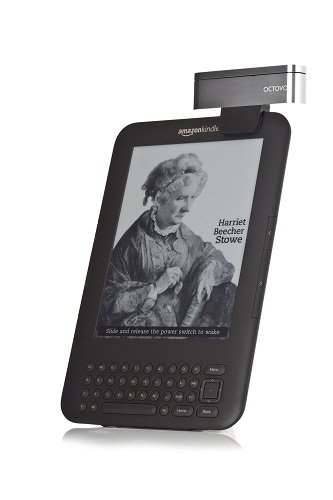 This unique Kindle light comes with a interchangeable clip that makes it compatible with  Kindle Touch and Nook Touch, New Kindle, Kindle Keyboard and also with book style Kindle Covers.  Octovo promises to provide average 25 hours of glare free light with its angled mount and AA batteries.
Price: $29.99 | OCTOVO Solis e-reader Light for Kindle 
4. Grantwood Technology Kindle Light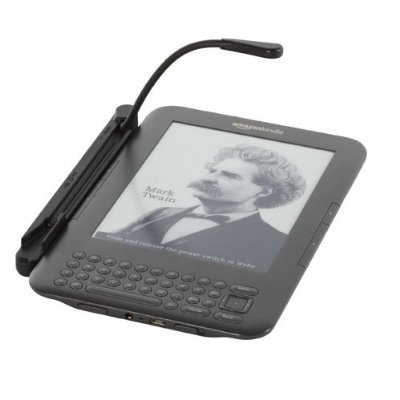 A more simple but stylish Kindle Light that attaches to the side of your Kindle and delivers smooth reading light to your screen and draws power from your Kindle directly. The light does not need external batteries and turns automatically off when you turn your Kindle off or when it automatically goes to sleep for a more efficient battery management.
Price: $25.00  |  Grantwood Technology Kindle Light
5. Mighty Bright XtraFlex2 Clip-On Light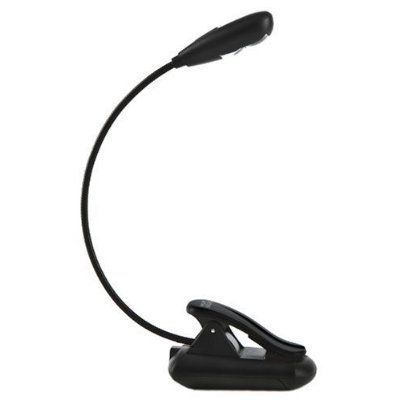 This Kindle light features 2 super LED's which in combination with LumaLenz optical-grade lens spreads smooth light evenly on your Kindle screen without creating any hot spots. The fully adjustable clip can be used on many other devices other than Kindle and also ideally used as a free standing task light.
Price: $14.99  | Mighty Bright XtraFlex2 Clip-On Light
You should also check kindle sleeves and covers if you like to protect your eBook readers.