Ever wondered how most of the unorthodox and creative Ideas always come from the same think tanks who have already earned their name? Well, the answer is not "Co-incidence" or "Luck" for the win. The answer is the impeccable design of each workplace exclusively especially architected according to the type of output of ideas and labor needed. By architecture we don't mean the outer looks of the building like many of us may have encountered. These buildings may look fancy and great from the outside but from the inside they are a catastrophe. Of course! Most of the Ideas come from "Inside" and the offices we are going to portray in this article will only deal with the internal layout and design of the most creative workplaces in the world which in fact is the biggest reason why these companies find new Ideas before everyone else. These workplaces will give you an idea about an ideal workplace for the type of output needed in case you are planning on re-innovating your office.
1. Google
The Google office is the most splendid offices in the world located in Zurich. The employees of the office themselves say that Google office is  "inspiring and fun". As for the fun part the building offers a slide, "chill out" aquarium, a games room, a library and plenty of free food! Different floors are installed with firemen poles allowing the employees to skip a story as quickly as possible. Each office has a slide which leads into a restaurant to allow 300 employees enter the restaurant within jiffy to enjoy free food.
As for the work part of the Google Office; Whiteboards are everywhere, allowing ideas to be written down wherever they are thought up. Engineers work in small teams of three or four, with small offices, each of which comes with requisite 'bean bag' meeting room.
2. Pixar
All of us at some point must have thought about the think tanks behind the creation of creative works like "Up", "Toy Story", "Finding Nemo" etc which not only have  brilliant stories and dialogues but also mind boggling animations which would surely not come in one's mind if he/she was sitting in grey cubicles.  The Pixar office located in California  is a perfect blend of color and engineering where the offices are quite to let the  employees concentrate. There are also small huts for breaks to get relief and let everything soak in after a long session of work.
3. Red Bull
Created by Jump-Studios, the Red Bull HQ in London has 3 floors packed full of surprises. A meeting room table doubles as a ping pong table. A stair case "floats". A long wavy slide leads employees down a floor to another office. Employees can visit the very modern bar and cafe or relax in a comfy lounge area. If you're visiting, remember to have a few red bulls before you go!
4. Facebook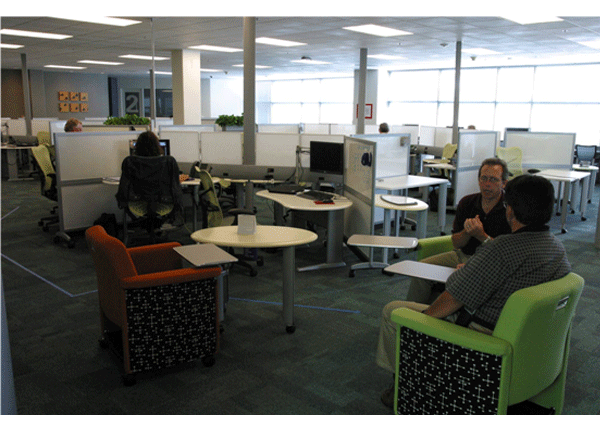 Facebook has  its new head office located in Palo Alto California.  The offices were designed by Studio 0+A, and as expect are highly unique!  The designers are pretty successful in preserving the history and feel of the building, yet all within the dynamic environment one would expect from a young creative web company such as Facebook. As a result many of the walls are left unfinished , with employees being encouraged to write on them!
Facebook wanted to maintain the separate identity of each division in the company, it being felt that it would help the numerous employees who are coming from various locations settle in. Yet at the same time the seemingly separate elements form a cohesive harmony, all working together rather well.
5. Nike
It's modern in parts but futuristic beyond belief in others. The Nike Office in London is one seriously cool place to work. TV's everywhere, branded sports equipment neatly housed on shelves on every wall. The office is worth visiting and a dream come true if you are working there as it is a perfect example  of enjoying your work.