Apple iPhones are incredible powerful devices. This is one of the reasons why their battery life is much lower when compared to other devices. However, there are various ways in which you can cool down the tasks that your device performs behind the scenes and conserve battery life. Here are 5 ways in which you can do that:
1. Auto-Brightness

The iPhone can adjust the screen's brightness according to the light around. This makes it easier for us to see and it also saves battery life. One of the best ways to conserve battery is by turning on Auto-Brightness. Go to Settings, click on Brightness & Wallpaper and turn on Auto-Brightness.
2. Location Services
Another way to save battery is by switching off Location Services since it can drain your battery pretty quickly. You can always switch it on whenever needed. Go to Settings, to Location Services and switch off Location Services for each app or the apps that you don't use regularly under it.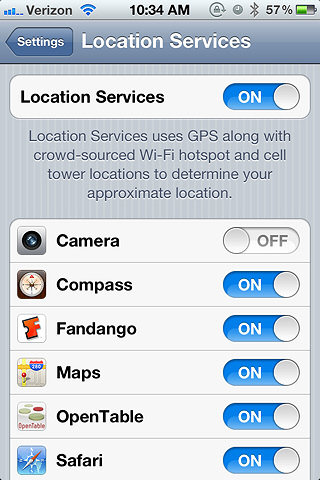 3. Bluetooth

Bluetooth is extremely helpful for those using wireless earpieces or headsets. However, when you wirelessly transmit data it can take a toll on your battery. You will be using up even more battery when you leave your Bluetooth on for accepting any incoming data. When not in use, switch Bluetooth off so you can save as much juice as you can. Bluetooth can be found under your Settings menu.
4. Email
Another battery drain is push email. Instead of push, change the settings so that you will be able to manually receive updates. Make the same changes for Twitter, Facebook and other social apps that you might be using. If your apps are refreshing constantly in the background you will definitely end up with a shorter battery life. Go to Settings, to Mail, Contacts, Calendars and then to Fetch New Data. Switch Push off and change it to Manually.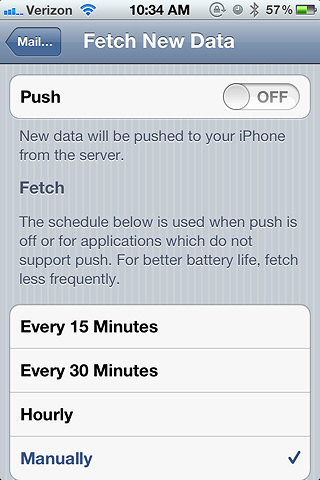 5. Wi-Fi

Apple iPhones can connect to Wi-Fi networks. These are faster than 3G/4G and are available where there are any hotspots. However, when you keep Wi-Fi on to find open hotspots, you will definitely be draining out your battery. Keep it turned off unless you are using Wi-Fi at the time. WiFi can be found under your Settings menu. You can slide it off. It can be just as easily turned on whenever you need Wi-Fi.
How about you?  Have any great tips to help the rest of us save our precious iPhone battery life?
[amazon]iphone battery[/amazon]