Cloud service has  widened and totally changed how we store and share information on the, so much that some companies today totally rely on it. DropBox seems to have taken the advantage of this Cloud service way before and thus it is no surprise that most of the people still consider it the best file sharing service.
Nevertheless, there are always alternatives and some of them offer more than DropBox and are not constrained by the limitations of DropbBox. The features include easier and faster accessibility, more storage space, customized server hosting, remote access and more.
In this post we have collected 7 Best Dropbox Alternatives that you can choose for file syncing needs.
1. Box.com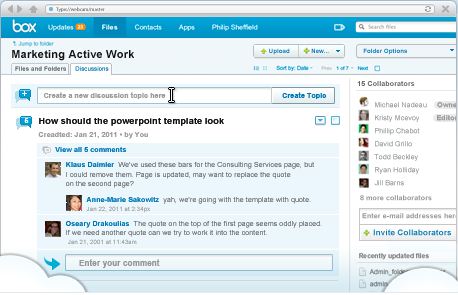 Box.com is great way to share, manage and store information over the internet and with it's  exclusive additional features it makes up for the best DropBox Alternative.  Apart from providing a huge 5GB storage space for personal accounts  it also allows you to integrate with Google Doc's and many other services. For Business and enterprise accounts you not only get an extra storage space but also trusted Data Security. You can save multiple versions of a file to download previous versions for reference and to use the same sharing link, even as new versions are uploaded.  It also features a unique feature where you can comment on files uploaded or start a discussion around a folder.
2. Wuala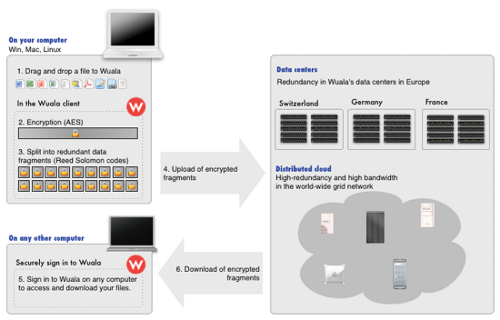 Wuala serves best the Linux users but nevertheless is preferred by Global market for its intuitive backup, sync and share features. It offers trusted and redundant secure storage with the help of its immediate encryption. The only apparent constrain of Wuala is limited 1GB storage but this too can be corrected by trading off your Hard Disk space for Online Storage or by using the classical referral process.
3. Sugar Sync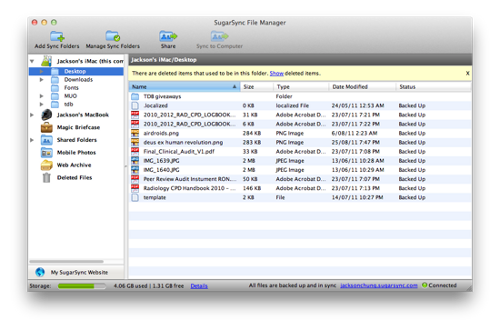 SugarSync has a beautiful User Interface and its advantage over DropBox is accentuated by more functionality features like keeping photos separate and the ability to edit files from within the web interface. Other prominent features include the ability to sync individual folders outside of a common shared folder which does not require additional space on your computer because you won't need to copy the files you need to share into the common shared folder. This features opens door for plethora of other unique features and functions like you can sync you Desktop and all your computers will have the same files on Desktop or you can sync you Photo folder to always automatically keep it updated.
4. TeamDrive 

TeamDrive is a more secure version of online file sharing services and it uses AES-256 algorithm for encryption plus the public key feature makes it totally reliable and one of the best Dropbox alternative. It is ideal for Private users, small companies, corporations and supports all the platforms like  iOS, Linux and Windows. You also get a a free storage advantage over Dropbox with it's up to 10 GB free online storage space (2GB to start but invite friends to push it to 10GB.) In addition you can also choose between hosted services, your own server or pre-installed TeamDrive cloud.
5. Cloudme.com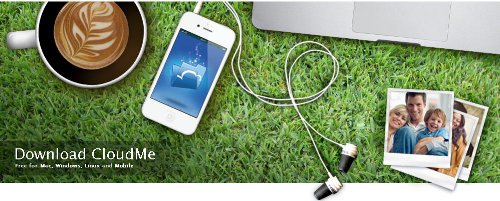 The feature that distinguishes this DropBox alternative from other listed so far is the creative Web Desktop, that allows you to have your own Desktop in the Cloud. You can then customize and increase productivity of your own Web OS by installing apps and create a working environment. This also enables you to to directly listen to your own music, look at images and edit photos. The Cloudme.com supports all the platforms including iOS and Android which means you can also directly Back-up and share information from you smartphones and mobile devices. The email support, MSN, ICQ, Google Talk, Yahoo and AIM integration makes this best Dropbox alternatives which is further accentuated with its free 3GB stirage space.
6. Amazon Cloud Service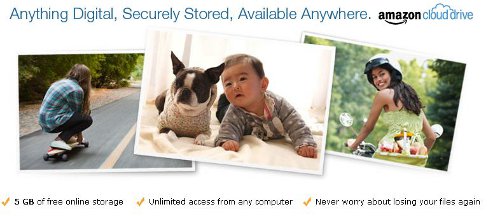 Simplicity and speed is what makes this creative Cloud Service from Amazon an option to consider while looking for best DropBox Alternatives. To begin with, it allows a 5 GB free storage which can be used and accessed by its even faster transfer speeds. You can access the default Documents, Music, Pictures and Videos from any device that supports web connection and as long as you have an amazon account. The individual file size supported is a whooping 2GB  but only 8 devices are allowed to share your account which however increases the security aspect. The only downside is that there's no public access to your Cloud Drive so only you will be able to access it, unless you decide to share your credentials.
7. Cx.com

A more social and interactive way to share files using cloud service, the Cx.com provides a free 10GB storage and a neat interface. You can Sync your files to just about every platform including  iOS,Mac, Windows, Kindle and Android but that's not what differentiates it from the rest of DropBox alternatives. The ability to comment on shared files, add friends, create groups, and then share your files publicly or privately is what makes this one of the best DropBox Alternatives.
One other notable service is SkyDrive from Microsoft. You get 5GB free storage and can use it to store almost anything.