Smartphones have simplified a lot of things in our world for better and there is almost every field where a smartphone is desired. Android smartphones peculiarly have contributed enormously in this aspect and as they say "There is an app for that".
There are apps for productivity enhancement, entertainment apps, games and many more. It is to no surprise that Android has also introduced  a plethora of efficient Barcode scanners which can be pretty useful and more so when you can carry it along all the time in your Android Smartphone. These apps use your cellphone's camera to lock and figure out the Barcode and then accordingly provide its price and other related information.
1. Barcode Scanner By ZXing Team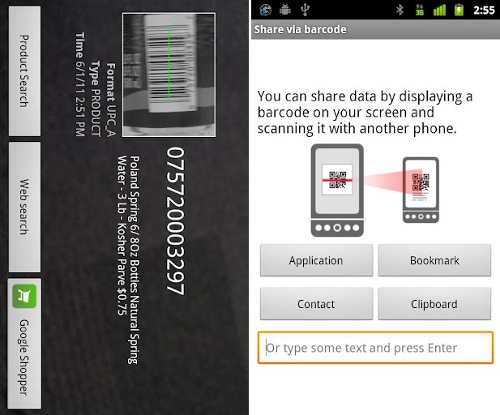 This Barcode scanner besides orthodox Barcodes can also be used to scan Data Matrix and QR Codes containing URLs, contact info, etc. You can instantly scan Barcodes and look up for prices and reviews which will help you decide on buying things. You can use the same app to make QR codes and share your contacts, apps, and bookmarks. Concurrently, you can use the Google Shopper instantly to look up for reviews, prices at other stores and much more.
Price: Free | Barcode Scanner
2.  ShopSavvy Barcode By  ScannerShopSavvy, Inc.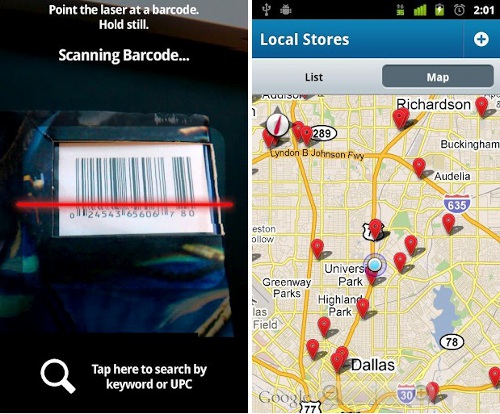 This Barcode scanner besides performing brilliantly what it is supposed to do also can be used to shop the itemsfrom many top retailers. To enjoy the latter feature, all you will have to do is add your credit card and you are ready to buy from retailers like Walmart, Target, Buy.com and Barnes & Noble. You can also use the same app to find the best match online for the product you scanned for better shopping judgments.
Price: Free | ShopSavvy Barcode
3. QuickMark Barcode Scanner By SimpleAct Inc.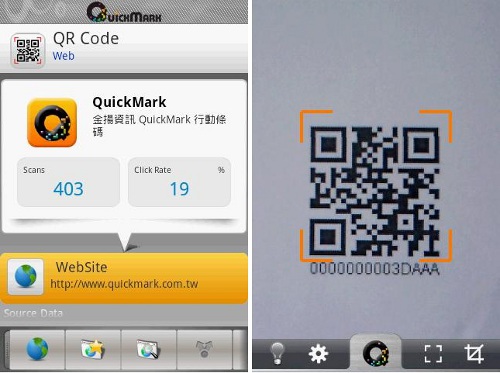 A smart BarCode scanner app from SimpleAct that simply scans many types of Barcodes like Quick Code, QR Code, Data Matrix, EAN 8/13, Code39, Code128, Interleaved 2of5 and displays neatly sufficient reliable information about the product. The app can be used to perform an array of simple and complex functions like accessing web links, adding contacts, navigating through maps, and much more.
Price: Free | QuickMark Barcode Scanner
4. RedLaser Barcode & QR Scanner By eBay Mobile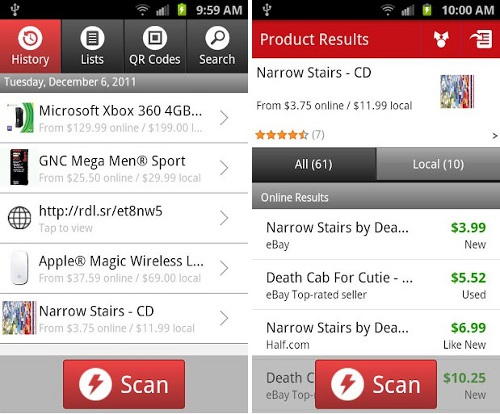 RedLaser Barcode & QR Scanner is more of a genius than just mundane Barcode scanner. The app apart from efficiently scanning Barcode without relying on auto-focus has many features up its sleeve. It can scan UPC, EAN, UPC-E, EAN-8 and QR Code bar codes and then compare and present you with a list of products available at low price from different online retailers like Google Product Search, TheFind Product Search, Shopping.com, eBay, and more. This one of a kind app also features a keyword search functionality, image search functionality, nutrition info supplied by Daily Burn, food allergy info from Food Essentials, and much more.
Price: Free | RedLaser Barcode & QR Scanner By eBay Mobile
5. Rite Aid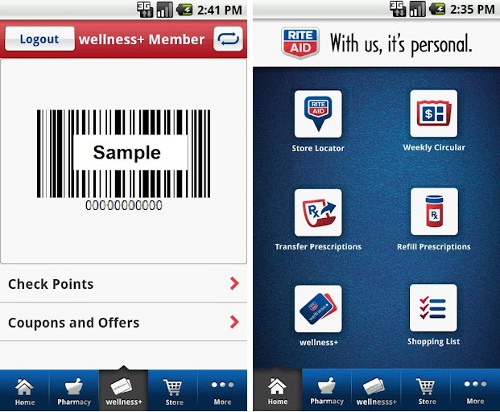 Right Aid allows you to scan prescription bottles as well as QR codes using your smartphones camera and that's not just it. It is a perfect solution for Health issues as it can Locate the nearest Rite Aid Store using your Phone's GPS and then filter these stores according to your preferences like 24-hour service, drive-thru pharmacy, GNC and in-store health clinics. It can also be used to refill prescriptions by simply scanning the Barcode on Bottle and it also reminds  and communicates when your prescription is due for a refill or is ready for pickup.
Price: Free | Rite Aid