Android has won hearts of millions of customers within no time and the biggest factor helping the cause is the availability of numerous free as well as premium applications that help you to go crazy with your Smartphone. From games to productivity apps, Android has something for everything. In this post we will be collecting some of the best apps available there that will help you to watch Live TV on your android phones.
1. SPB TV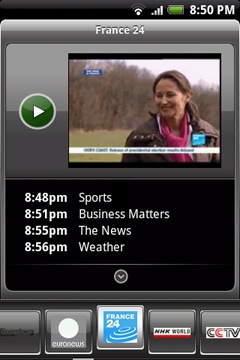 The SPB has made it's app available to Android customers after serving successfully for Windows Mobile. This is the only app available out there that helps you watch more than 100 international TV channels. However, there are restrictions in free version which can be taken care of by a Premium Version which costs only $9.95 in the android market. The software is integrated with full week TV guide which helps you to locate you find easily what you are looking for and also has features like Picture in Picture which allows you to watch two programs at a time.
With the help of this app you can browse 100 channels with 20 different languages. The software also allows you to set calendar reminders for the shows you simply do not want to miss. There are transparent over screen control buttons just like on a real TV. SPB TV will run on all Android handsets currently in distribution, provided they are running version 1.5 or better of Android. It will stream video over both Wi-Fi and 3G, with bandwidth optimization to get the best experience.
2. Mobile TV Lite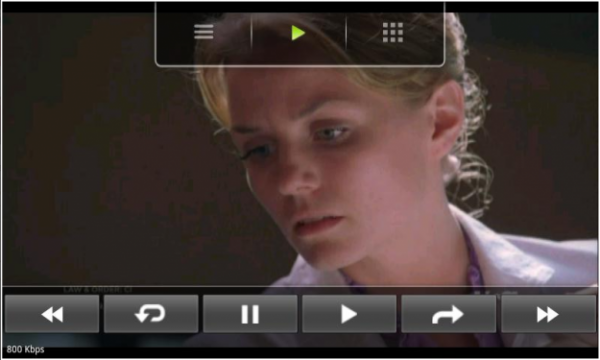 This software promises to provide 1000 satellite HD channels on your Android phone. The current rate of the app is $27.00 and if you are a TV freak then you will not regret buying this app.
Download
3. AT&T U-Verse Live TV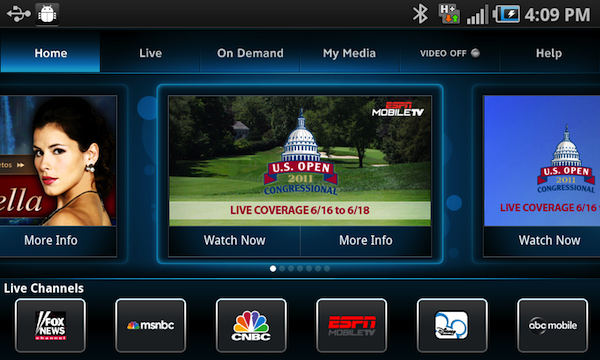 AT&T U-Verse Live TV app allows you to enjoy Live TV pleasure free for 7 days and after that if you wan to continue the service you will have to pay $9.99 per month. Some of the channels you will have access to are MSNBC, Fox, ABC, Disney, NBC and Comedy Central among other. Moreover you get access to live sports on ESPN Mobile TV.
However, if you are planning to buy this keep in mind that this app is only compatible with Mobile phones not with tabs. There is also a limitation in the Models of the mobile phone. HTC Status, Pantech Crossover, LG Phoenix, LG Thrive, Samsung Captivate, Samsung Infuse, HTC Aria, HTC Inspire, Motorola Atrix, Motorola Bravo, Motorola Flipout, Motorola Flipside and future AT&T Android phones are the only compatible ones.