Now days android is the most common mobile OS in the market. Android OS is the most flexible operating system available in the market. It supports a large variety of hardware and manufacturers. Android is available in the market in various versions ranging from one to four. In this post we will discuss about the various android versions that rolled out by Google.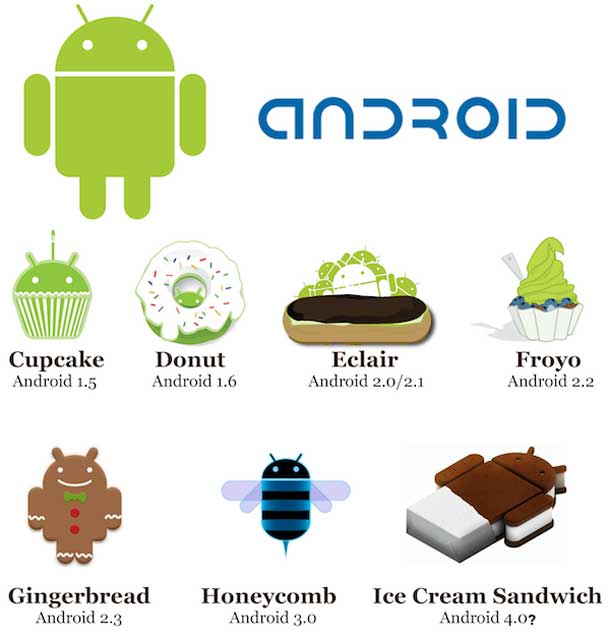 Android 1.x versions
Apple Pie
The android 1.0 apple pie was released on September 23rd 2008, on HTC G1. The interface was basic and lacked several features. It lacked support for camera, new Bluetooth versions, flash and HTML support. But it includes the features like market place and widgets.
Banana Bread
The new version Android 1.1 Banana bread was released on 9 Feb 2009. The another version android 1.5 termed as cupcake, the new version includes extended supports for Bluetooth A2DP, soft keyboard with text predictions and it also allowed you to watch videos.
Donut
Soon Google came up with another version on 29th September 2009 and termed it as donut. This version includes turn by turn navigation feature and gesture framework. The version also included a screen size support for 800 X 400 WVGA. This version also includes support for flash lite 4 on some selected devices.
Android 2.x versions
Eclairs
This is one of the most famous and varied version of the android in the market. The android 2 called as eclairs was released on 26th oct 2009. Many key features were added to the including support for HTML, Bluetooth 2.1 and improved user interface. It also contains features like digital zoom, live wallpaper and Microsoft exchange support. Another version 2.1 with same name appeared in Jan 12, 2010, with no significant change.
Froyo
Another version android 2.2 "Froyo" came up on 20th may 2010. This feature changed the way world sees an android device. Many spectacular changes were added like speed improvement, USB tethering, animated GIFs, allows installing apps in external memory. It also included a support for flash 10.1.
GingerBread versions
On dec 6 2010, google came up with another version of the android, android 2.3 and named it as gingerbread. This can be regarded as one of the most versatile version of the androids. The screen size support was increased to 1366×768 WXGA. Lot of other features and supports were added to this version. The user interface was updated and improved. The version also showed WebM video playback abilities. This feature also witnessed the addition of social network features. The copy/paste options were improved. Native Voip and video call support were added.
Again Google rolled out another version of gingerbread which was android 2.3.3 on 9 feb 2011. This version includes an updated NFC API which improved the peer to peer communication. On May 10th 2011 Google released another version of its gingerbread OS as android 2.3.4. This OS included open API and also allowed users to make voice or video calls from their Gtalk id. Another version of gingerbread soon rolled out as android 2.3.5 on 25 July 2011.  This included improved network support for 4G networks. It was added with improved Gmail applications.
Other versions, android 2.3.6 and android 2.3.7 were released, with updated voice search issues and also Google wallet support for nexus.
Android 3.x versions knows as Honeycomb
On Feb 22 2011 Google came up with another version of android OS, android 3.0 and they called it as honeycomb. This version included support for multiple core. These were ideal for smartphones and tablets which run on multi core processor. This version was basically released for tablet computers. It has better interface for tablet support. The 3D user interface was updated. The version also contained an option for Google chat video support. Google eBook reader was also added. Google has also added private browsing.
On 10th May 2011 another version of honeycomb rolled out named as android 3.1. this version witnessed the improved user interface. Open accessory API and USB host API was provided. This version also let user to resize the home screen widgets. Supports for external devices like mouse, joysticks etc were added. MTP notifications and RTP API for better audio was added.
5th july 2011, another android OS came in the market called android 3.2 honeycomb. This version was added with more flexibility. A supports were added for a wide range of tablets. Compatibility display was added; it provided zoom features to fixed size apps. This version was also added with support for micro SD. Now, it was possible to sync media from micro SD.
Android 3.2.1 was released on 20th September 2011, this version was added with android markets and it was added with automatic update features. Updates were added for Google book also. WiFi networking was improved and a automatic prediction for Chinese language was also added.
Android 3.2.2 appeared on 30th September 2011. Nothing major issues were addressed in this version. This only came up with simple minor issues fixed.
Android 4.x known as Ice Cream Sandwich
on 19th oct 2011, Google rolled out much anticipated version of the android OS. The android 4.0.1 was named as Ice Cream Sandwich. The new version was added with many features. The most important could be the face recognition. Now, it was possible to add face lock to your android phone. The user interface was allowed to use hardware acceleration for faster response. The voice recognition system was improved; the voice typing was made easier. Multi tab facility was added to the web browsers. Now, you could open up to 16 tab in the same browser. Another remarkable improvement was android beam app, which enabled data transfer through NFC. Widgets were made resizable.
On 28th Nov android 4.0.2 was introduced. It mainly contained minor fixes without much improvement.
Another version rolled out on 16th Dec 2011, android 4.0.3. Social stream API was added. This enabled the users to get the updates from your contacts from various social networking sites. QVGA video resolution API was added and video stabilization was introduced. Calendar provided was also added to this version.