You know the game: Apple creates a new iOS update, jailbreakers find a way to break through it and provide a download to free iOS devices. Apple prepares new updates that patch up iOS jailbreaks, and so on. The game never ends, and the cycle continues this time around with the Evasion iOS 7 jailbreak and iOS 7.1.
If you are currently on iOS 7 or iOS 7.0.4, be sure to stay away from iOS 7.1. That's the official word from jailbreak developer iH8Snow, who wrote on his Twitter wall yesterday that "So the code sign bug that evasion7 uses still exists in 7.1b4. Kernel exploit looks patched though." When asked what this means for jailbreaking in iOS 7.1, iH8Snow replied, "Don't expect an Evasion7 update for 7.1b4 support."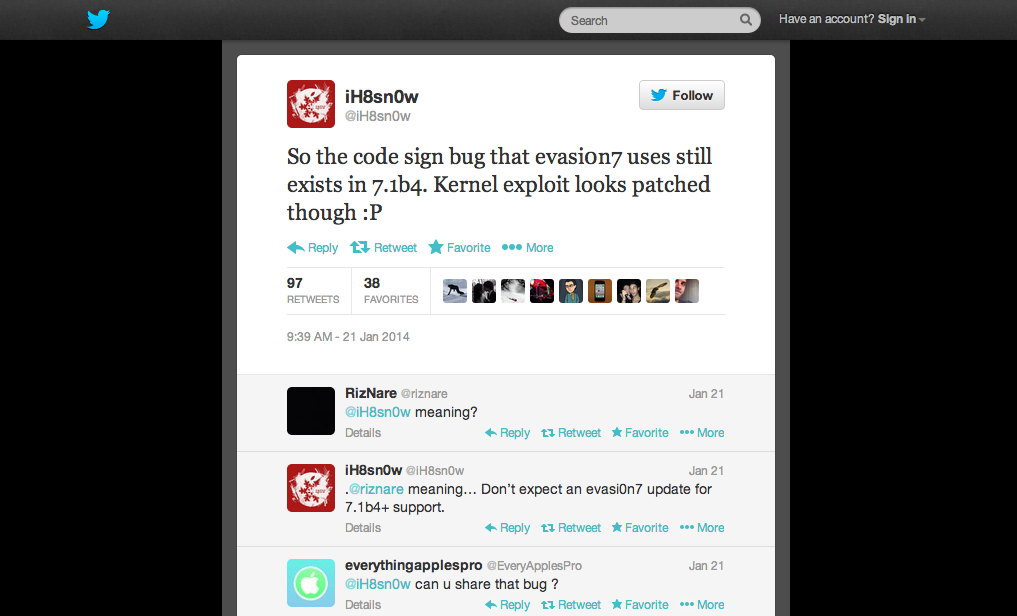 iH8Snow makes it clear that, should you decide to remove your iOS 7 jailbreak and upgrade to iOS 7.1b4, there is no hope for an iOS 7.1 jailbreak at this time. The best thing to do is ride things out with your iOS 7 jailbreak until Evad3rs confirms that a new iOS 7.1 jailbreak has been discovered and is available for download.
The Evad3rs team has been famously known for providing an iOS 7 jailbreak and providing an answer to the never-ending feud between the Evad3rs "fugitives" and the boys and girls of Cupertino. The iOS 7 jailbreak took some months to emerge on the scene, and many in the jailbreaking community wondered when the update would emerge. One morning, to the surprise of many, Evad3rs released the new jailbreak that would allow iOS users to break free from Apple's clutches and customize their devices to their heart's content.
With Apple's beta release of iOS 7.1 beta 4, the company looks to continue its fight against the jailbreaking community. Although it's always possible that the Evad3rs team will release an evasion jailbreak to conquer iOS once more, I wouldn't hold my breath or expect it any time soon.