What is Android VoIP?
Android voip is a way of calling people over internet with your android phones. These calls are made without over internet without accessing your mobile operator, thus clearing the middle man and saving the bills. Android SIP clients are used to carry out voip calls from your android devices to other voip users or to other telephones at very cheap price.
An android phone can make calls via EDGE, 3G, 4G, CDMA or WiFi connections. Voip callings are supported by most of the most of the android versions. Everyday a number of android phones are coming in the market, so increasing the prospect of android voip. To use voip on your phone you will need a SIP client.
You might also like our posts about best bluetooth keyboards for Android and cheap Android Phones.
Android SIP client apps
There are many software and applications developers who have come forward with a number of  voip apps or a SIP client to allow you to make cheap call from your android phone over internet. Here is a list of the voip clients available on android platform.
SipDroid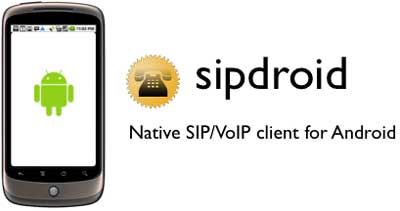 SipDroid is a powerful voip client for your android device. It allows you to make voip calls from your android device. This app allows you to select the way you want to use the voip with WLANs, 3G or with EDGE connection only. You can select all or any of these options.
SipDroid can be used to carry out free calls to other voip users or very cheap calls to international numbers or national numbers from your mobile phone.
You can download SipDroid from the android market or you can download it from here
Acrobits
Acrobits is available for android environment. It allows you to enjoy crystal clear voip calls from your android device over the internet. You can make calls to any voip user or cheap calls to any other phone. It offers many features to the users like push notifications on incoming calls, Bluetooth headset, supports speaker phones, it has call recorder and player and it also has multiple SIP account support. It also allows you for total phone contact integration and it also saves a detail call history.
You can download Acrobits Softphone client from android market.
Bria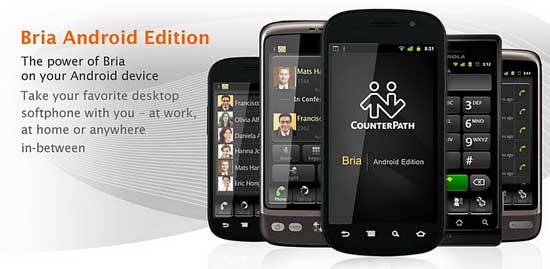 Bria softphone is a SIP based client for android phone that uses WiFi or 3G  network to make and receive calls. Its simple and effective call interface allows you to make and receive voip calls. It also allows you to make multiple calls.
It also offers you with features like ability to swap between different calls; you can also merge two calls or split calls. It also allows you to perform unattended and attended call transfers.It also contains advance security settings that allow you for secure calling and audio encryption.
You can get it from android market.
Voip calls are cheap and even allow you call free to any voip user, irrespective of roaming, national or international charges. There are tons of other apps in the android market that supports voip and provides you with a feature to carry on with voip calls. You can easily find something that suits you best.