iOS 7 brings with it some nice changes to iOS, and Apple's team designed iOS 7 to break away from the skeuomorphism that Steve Jobs and Scott Forstall placed into iOS 6. Do you long to have a Notification Center look that brings out all the vibrant color of iOS 7? Download BlurriedNCBackground.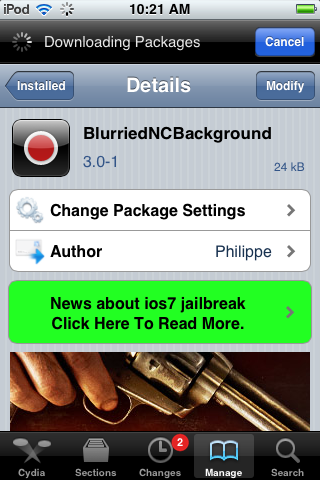 BlurriedNCBackground installation page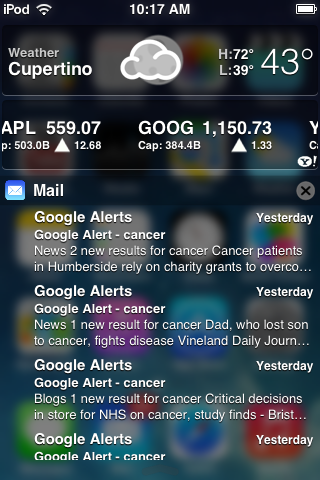 BlurriedNCBackground with iOS 5 weather app
BlurriedNCBackground is so named because it creates the "blurry" look to Notification Center that parallels the rest of what happens in iOS 7. It's interesting to think that Apple wanted to create a meshing of colors in iOS 7 but forgot to bring this feature to Notification Center. While you cannot affect the changes Apple made to iOS 7, you can affect the changes on your iPod Touch, iPad, or iPhone running iOS 7.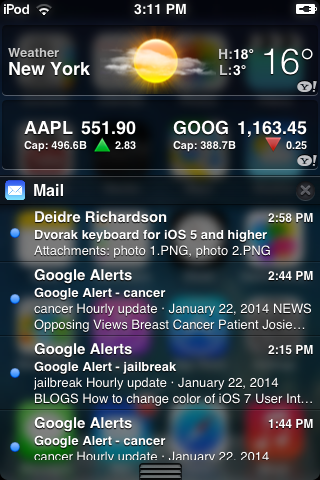 BlurriedNCBackground with iOS 6 weather app
BlurriedNCBackground retains the color that you've come to love about iOS 7 but merges the colors together with a transparent Notification Center window that comes down on top of the user interface. The icons themselves will look blurry, but this jailbreak tweak sends the message that "blurry is beautiful." This jailbreak tweak is not only for iOS 7 devices, but even for iOS 5 devices (iPod Touch 3G and 4G, iPad 1, 2, and 3, and iPhone 3GS, 4, 4S). Of course, iPad 4, iPhones 5 and 5s, as well as iPod Touch 5G are all supported – they are the current Apple devices.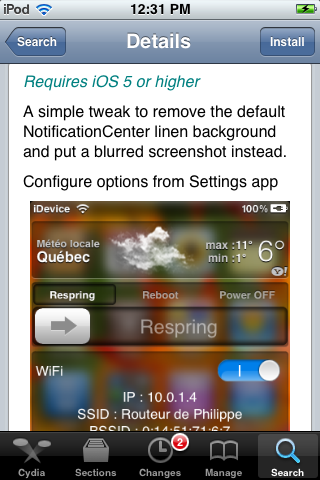 BlurriedNCBackground is yours for free at the Cydia app store and only consumes 24kB on your device. Head on over and download your BlurriedNCBackground jailbreak tweak today. Your iOS 7 user interface never looked so good.