Answer: Unfortunately, Apple only granted the iOS 6 update to iPads 2 and 3 when it announced the entrance of the iPad 4 to the tech market – meaning that, if you own an iPad 1, you are not eligible for the iOS upgrade. Apple will not grant you a software update to iOS 6.
At the same time, however, you can take advantage of a practice known as jailbreaking. Jailbreaking allows you to gain admin access over your software such that you can tweak it and make modifications on your iPhone or iPad software (abbreviated as IPSW) to your heart's desire. There are a few things you need to know before you proceed with jailbreaking:
 Jailbreaking voids your device warranty. Your warranty remains intact only if your software remains free from manipulation. The moment you free your device from Apple's control, your warranty is null and void.
If you are considering an iPad purchase, I would suggest that you refrain from purchasing a warranty. Avoid paying the extra $99 or so for an AppleCare warranty, then you're free to jailbreak to your heart's content.
Jailbreaking an iPad in the USA is illegal. The latest jailbreak ruling by the US Copyright Office says that jailbreaking iPhones in the USA is allowed, but not iPads or other tablets. If you're an American citizen, heed the warning and obey the ruling until it is removed.
If you can safely dodge the iPad jailbreak ban, then proceed – but do so at your own risk. Keep in mind that there are some clashes in software that can occur when you jailbreak. Even downloading jailbreak tweaks (themes) can cause two themes to conflict with each other – and end up affecting your iPad in some way.
I've had instances where my entire settings page disappeared (recently with the BlurriedNCBackground jailbreak tweak on my iPod Touch 3G) or my Siri voice command reverted back to the pre-Siri voice command software (on my iPhone 4S), so just be aware that things can happen when you jailbreak. These issues were easy to resolve, but it does frustrate the process when all you want to do is download cool jailbreak tweaks and rock them on your iDevice.
Now, let's get this show on the road. The following will help you learn how to jailbreak your iPad. The same steps exist for those who would like to jailbreak their iPhone or iPod Touch.
How To Jailbreak and then upgrade iPad 1 To iOS 6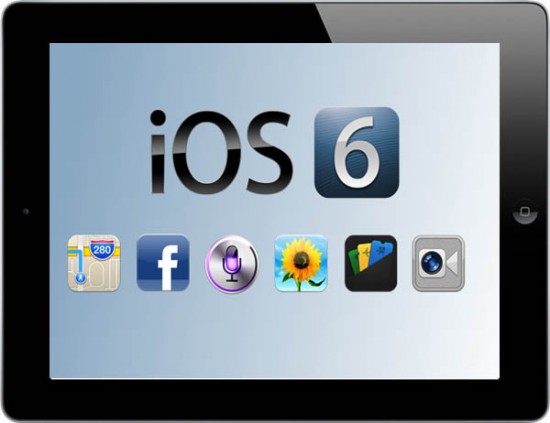 If you own an iPad 1, it's safe to say that your device's software is most current and still sitting on iOS 5.1.1. You can check your software upgrade by going into Settings, selecting "General," then "About," and scrolling down to find the version of your iPad 1. It's likely that, if you updated your iPad 1 to the end, your device is running iOS 5.1.1. Your iPad 1 may be running iOS 4 if you just purchased an old iPad 1 or never bothered to update your own. If possible, download the last update for your device before you proceed.
Next, find a jailbreak program. There are many all over the web that charge for jailbreaks, but the most reputable ones on the web are those that allow you to download the jailbreak program absolutely free.  Of the numerous jailbreak programs available, I recommend two: RedSn0w and Absinthe. RedSn0w worked well with my iPod Touch 3G, but I just recently jailbroke my iPod Touch 3G for the third time with Absinthe and it worked flawlessly. Go here to get your free iPad 1 jailbreak program called Absinthe.
Once you follow the download the file, click on the logo with the word "Absinthe" below it. The Absinthe logo looks like an Apple skeleton with a green flame around it. Follow the instructions in the program and make sure your iPad is connected to your computer (whether Windows or Mac) via your USB cable. The jailbreak program should run and you should soon after see a brown box icon on your iPad that says "Cydia" beneath it. If you do, then you have successfully jailbroken your iPad 1.
Now, you will need to go into Cydia, go to the search at the bottom right of the page, and type in "ios 6 ipad." This search phrase will bring up all sorts of iOS 6 themes you can try and download onto your iPad 1. I have tried the iOS 6 SD jailbreak tweak from ModMyi that is available for both the iPad 1 and the iPod Touch 3G (third generation).
While Apple has removed web support for the iPad 1 and will not allow its software to upgrade to iOS 6, you can rock a skin on your iPad 1 desktop that mimics iOS 6 in just about everything.
For more tips on how to get a more modern look on your iPad after you jailbreak, stay tuned to iPad Help for all your jailbreak coverage.