There has been a steep drop in the prices of entry level DSLRs and so it is not a surprise that most people want or have one these days. However, there is still a pronounced difference between a professional photographer and the other photography aficionados. As a result, there is also a difference between what accessories one buys for his/her camera and since a professional photographer needs to stay both well equipped and agile, finding proper DSLR camera cases for your camera and accessories can have you looking in the market for hours if not days.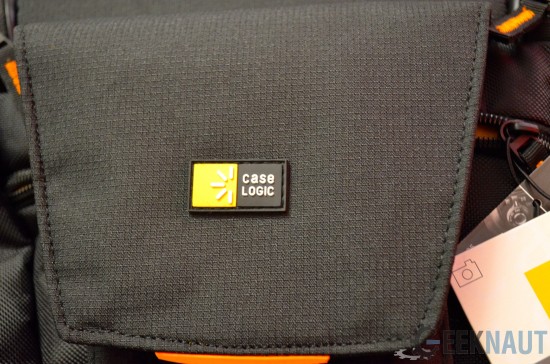 Camera bags ranging from most expensive and simple to affordable and complex, are available in market and the choice of a proper bag is governed by many factors including your personal preferences.
At Geeknaut we got an opportunity to review Case Logic SLRC-205 SLR Sling and judging by its versatile features and adept functionality, it sure is a convenient Camera bag for every type of photographer including our novice photography friends.
Protection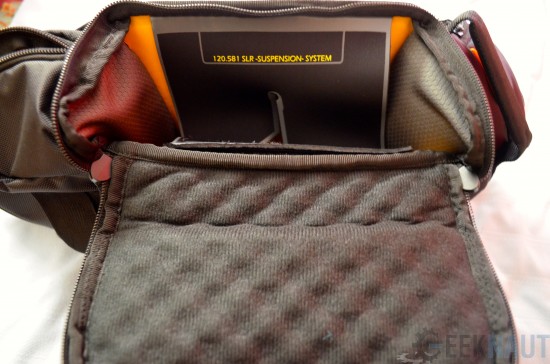 The first attribute one usually considers before buying a Camera bag is the protection aspect and Case Logic SLRC-205 SLR Sling has many things up its sleeve to accentuate this faculty. It is made from durable Nylon and an interior memory foam sufficiently protects your camera's delicate LCD screen. A zipper closure and unique retractable hammock system collectively contribute to protect your Camera from slipping away and from impacts respectively.
There is also a separate zippered compartment to store an additional lens or flash (7.5 x 3.75 x 3.0″). In addition, there are three zippered pockets to store memory cards and other small items. Finally, there is a  a rugged industrial strength Velcro strap which holds your tripod securely.
Carriage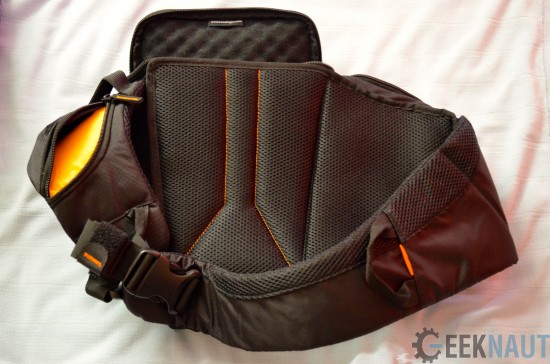 The Case Logic SLRC-205 SLR is a sling type back-pack and can be worn using a single strap, it wears diagonally across your shoulder and sits suavely on the other side of your hip/waist. This single strap is pretty comfortable even when your bag is stuffed and it does so with its nice, large and well padded built.
Also, for wildlife photographers and the like there is an additional waist strap that serves as a three point restrain system to provide relief from strain and provides hyped comfort during strenuous moments with the camera. In case, you don't need this extra waist strap, you can easily get rid of it for the time being by folding and closing it under simple Velcro.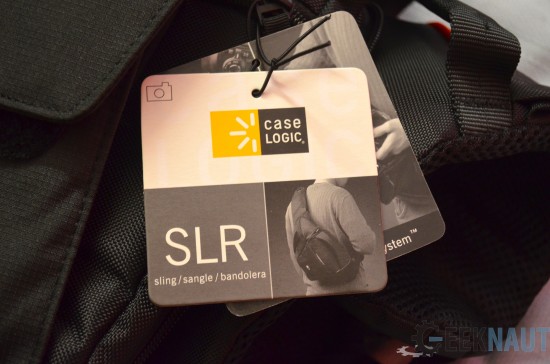 One of the most prominent feature of this bag is the ease of access. You can simply access your SLR without having to remove the bag from your back. This can be done by rotating the main compartment around so it sits in front of your chest and thus allay the retrieval. Also, the hook and loop strap for your tripod takes care of your tripod pretty well and overall the carriage is compact and comfortable.
Extras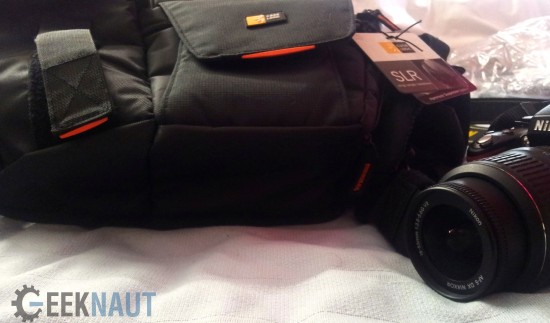 Besides the main SLR compartment there are other things to this great Case Logic SLRC-205 SLR Sling camera backpack. An additional appreciably large compartment makes enough room for a standard lens or a flash with some other essentials like batteries, remote triggers, etc. There is also a discreet pocket on the other end of the strap where several memory cards or spare batteries can fit securely. A zip flap outside, underneath the tripod flap can be also exploited for extra space and is an ideal place to put cleaning cloths, lens caps, money, small maps, pens, pads, etc.
Bottom Line
If you want a simple but rugged and easy-to-use backpack that isn't too heavy on your shoulders, you should definitely consider getting the Case Logic SLRC-205. It is a sling type backpack and can hold almost all accessories most of the photographers will need to carry around with them. The industry-leading Hammock suspension system in this bag will ensure safety to your DSLR even when you are running, driving or even mountain climbing.
This sling backpack costs around $42. It comes with a 25 year warranty that sure does relief you that you aren't going to be spending money on another camera bag anytime soon.
If you are looking for a backpack that will also hold your Laptop when you travel, we will be posting a review about one very soon. Stay tuned.