Perhaps you own an older iPhone or iPad that you don't want to trade in, but it's running iOS 5. You're unable to upgrade to iOS 6 and think you're stuck in the current OS. If so, there is a weather app available at the Cydia app store that will convert your weather into something that's a little more "sunny."
The iOS 6 Weather jailbreak tweak, designed by TurkeyFarmer, intends to turn your iOS 5 weather app into what many will believe to be the iOS 6 weather app. In fact, your new jailbreak tweak weather app will convince your friends you have iOS 6 when you're still sitting on iOS 5. Plus, the weather will surely enhance the beauty of iOS. When compared side-by-side with the iOS 5 weather app, the iOS 6 weather app looks less "stale" and more animated. The sun looks less like a stick drawing and more like the actual sun you see in the sky on a sunny day.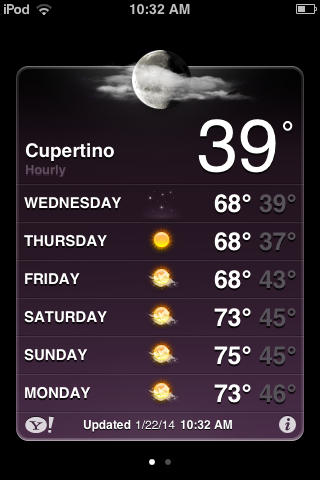 This particular weather app is available only for devices running iOS 5. The iOS 6 weather tweak must also be used with an iOS 6 user interface (UI) jailbreak tweak and can only be activated by way of WinterBoard, another jailbreak tweak available at the Cydia app store. To find it, go to the "search" section of the Cydia store, then type in "iOS 6 weather." For those of you who are wondering, the iOS 6 weather app is free and ready for download now.