Keyboards are an essential part of our computers. We use computer keyboards mostly to type but in recent times we have seen a lot of diversification in the use and design of keyboards. They are no longer used to type only text anymore, but to do a lot more tasks. Playing Games, Controlling Media Players and launching applications are just some of them.
To meet these user requirements, keyboards are no longer confined to having only alphabetical keys and numbers. They now come with Media Controlling Keys, Special Keys for Playing games, Shortcut Keys to launch applications and some have even taken a step ahead and come with touch screen instead of the traditional buttons.
We don't usually get to see these types of keyboards in homes and offices. Let us take a look at some of these unusual but cool Computer Keyboards that make the use of Keyboards easier and much more sophisticated.
1.Optimus Maximus

Optimus Maximus is a fully customizable keyboard that lets you choose the sequence of the characters on the keyboard. Each key of the Optimus Maximus is a stand-alone display that shows the function currently assigned to it.
You can make use of any language like Cyrillic languages, Ancient Greek, Arabic etc. Apart from that you can use any other character sets:  notes, numerals, special symbols, HTML codes, math functions etc. The possibilities are infinity.
You can also assign shortcuts of websites you different keys and add an image to easily find the shortcut later. The Optimus Maximus Keyboard has a total of 113 Screens each with a resolution of 48 x 48 Pixels.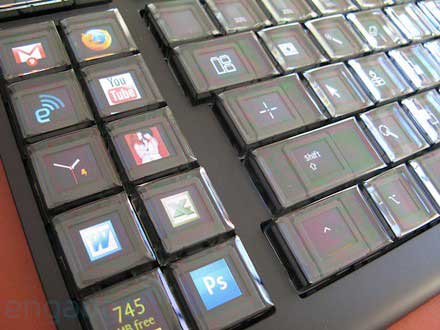 2. Logitech diNovo Edge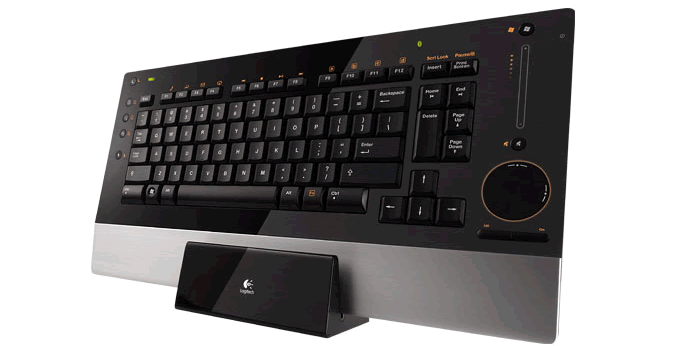 The Logitech diNovo Edge Keyboard is one of the most stylish Keyboards you will find in the market. The diNovo Edge has been Laser cut from a single, semi-translucent piece of black Plexiglas and set into a brushed-aluminum frame.
The TouchDis navigation makes it possible to move the cursor by Moving a finger up and down or across the disc.  A touch-sensitive volume slider will enable you to quickly adjust the computer's volume. For the fluid and natural Keystrokes,
The PerfectStroke™ key system has been used. No matter how fast and hard you type, it will  neither make any sound nor will it hurt your fingers. The Logitech diNovo is rechargeable and a two-hour charge yields up to two months of battery life.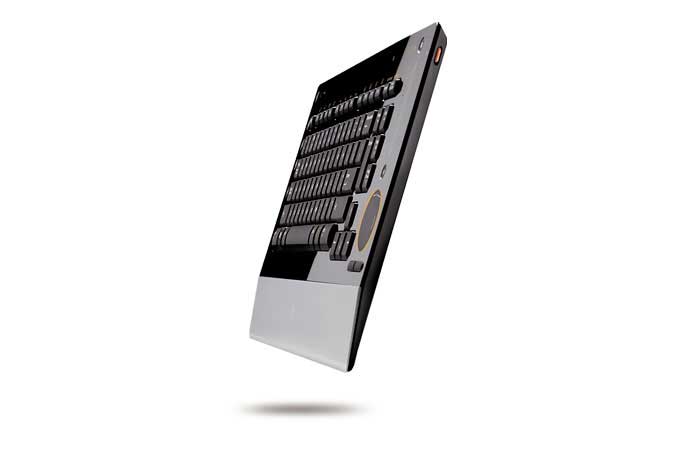 3. Logitech G19 Gaming Keyboard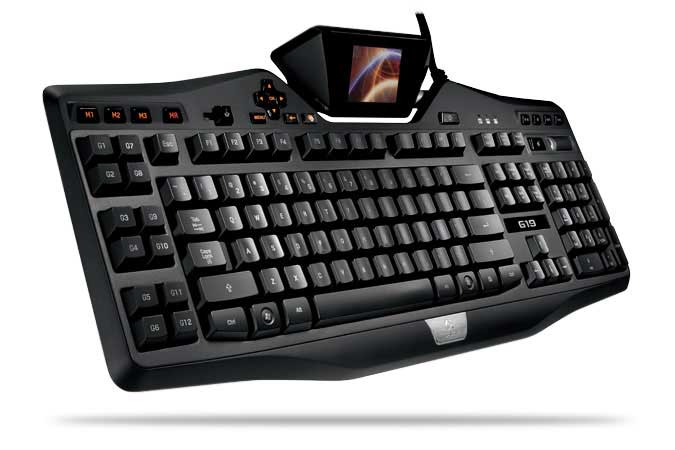 The Logitech G19 Keyboard is the most sophusticated gaming keyboard. The Logitech G19 Gaming Keyboard is powered by Two Hi-Speed USB 2.0 ports which makes Transfer of data to and from peripherals faster. The Multi-Key input make it possible to use up to five keys at once to perform multiple complex actions while gaming.
The G19 Keyboard has Tilt-able, 320 x 240px, color GamePanel LCD which shows "unprecedented levels of information—both in- and out-of-game—including game stats, system information, VOIP communication data, video playback, image slideshows, and many other items".
User-selectable back-lit characters make it possible to easily locate keys while playing in dark and Personalize the keyboard to better fit with the rest of your computer and gaming equipment.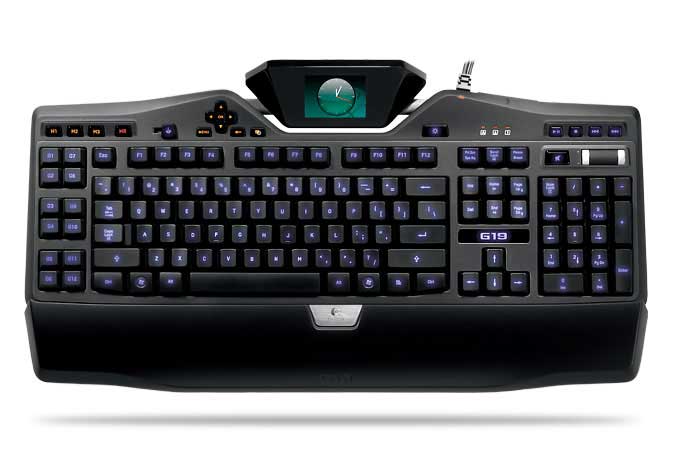 4. Tipro Custom Assembled Keyboard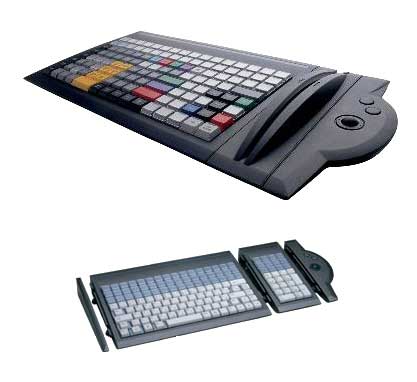 Tipro Custom keyboard is a highly flexible and fully customizable keyboard with a Rugged plastic housing. The keyboard has User definable input data control which makes it a best solution for a user's particular needs. The Tipro has Optional pointing, reading and control modules.
Superior mechanical long travel key switches and metal carrying plate and secure cabling make it rugged and highly reliable. The Tipro Custom Keyboard is Assembled by Unique Micro Designs and comes with a 12 Months Return to Base Warranty.
5. Optimus Tactus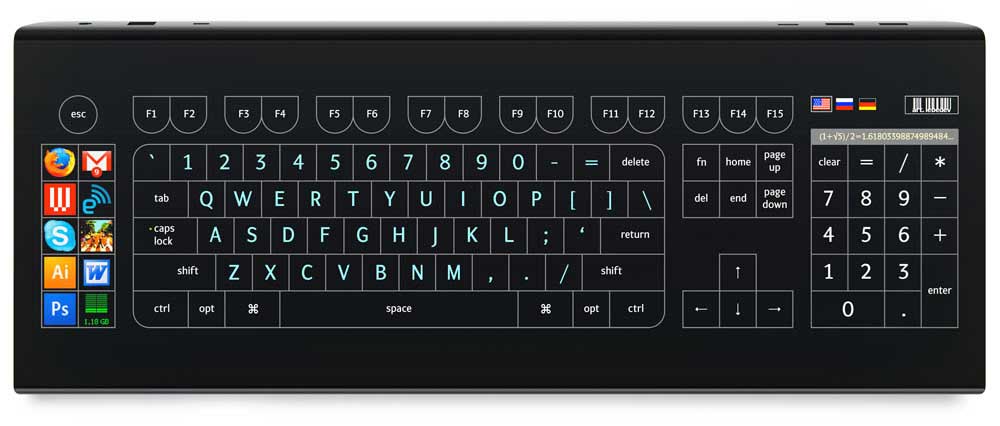 Optimus Tactus does not have any physical keys. Lack of any physical keys means that there are no restrictions on their shape and size of the keys. You can keep a single key on the keyboard or Display all of them on the Touch screen.
The keys can be set in any language. It is just a big Touch Screen Display which can be programmed to display any key or image. It can be programmed to display videos too. There are no limits to what you can do with the Optimus Maximus Keyboard. It is a concept for now but we are sure we will get to see this keyboard in markets soon.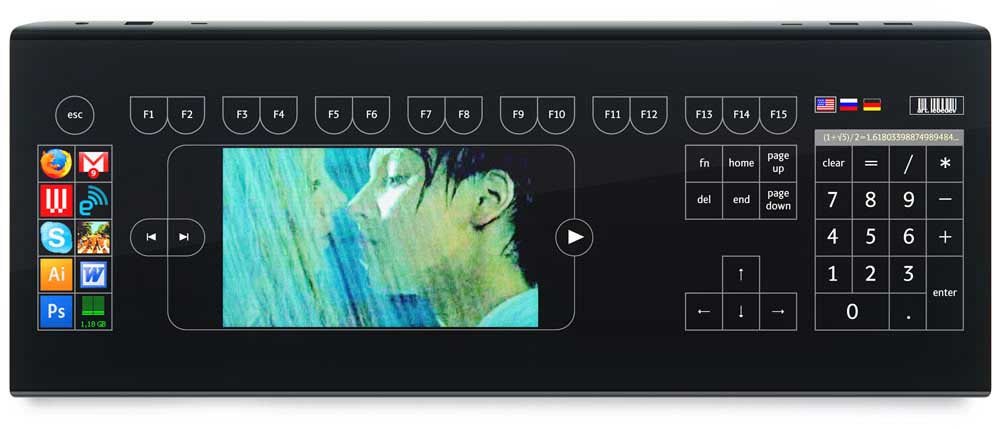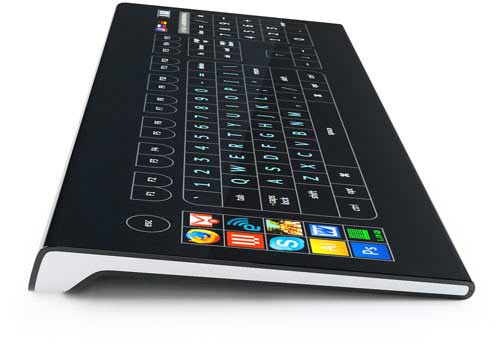 6. Luxeed LED Keyboard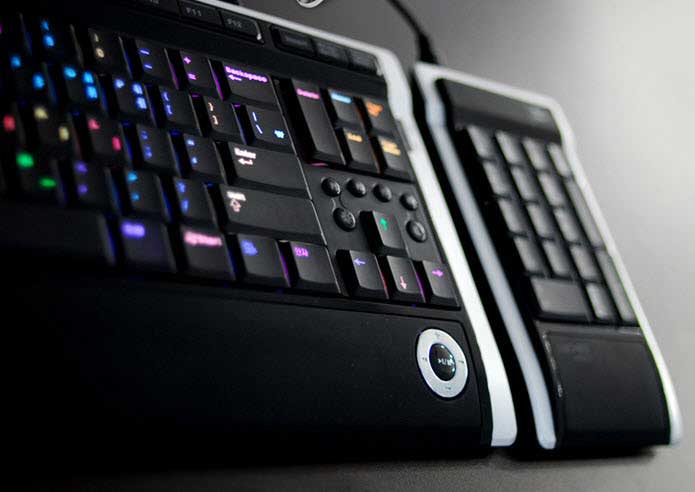 Luxeed Computer keyboard incorporates the LEDs in its construction making it one of the most colorful Keyboards around. When it is not connected to the computer, it may look like just a regular keyboard but when you connect it to the Computer, it displays colorful lights making it a unique Keyboard.
Luxeed LED Keyboard contains a total of 430 LEDs and each can be assigned different color by its user.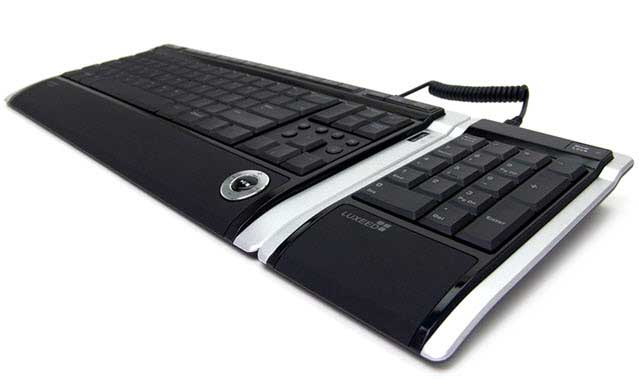 It has a detachable Numeric Pad to save up on space when you don't need the Num-Pad.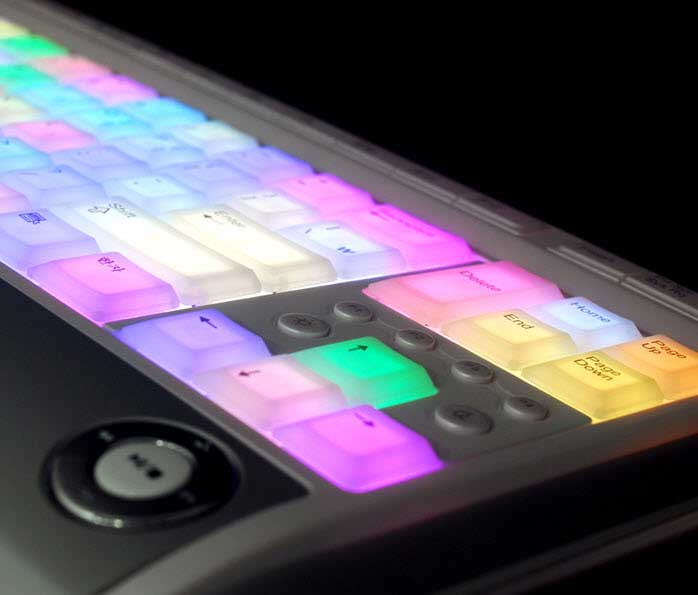 7. Handwriting Recognition Keyboard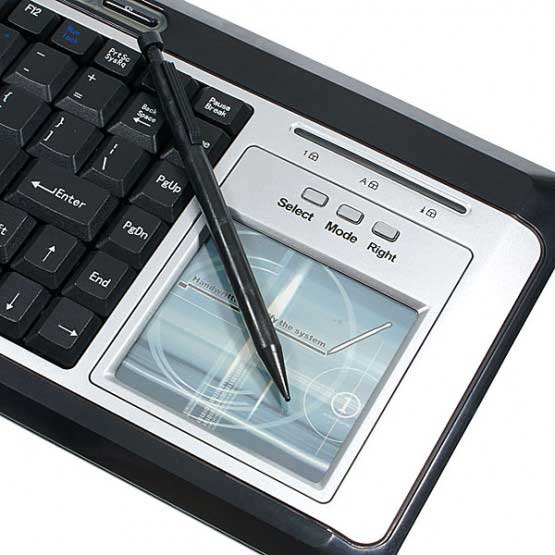 This full-size USB keyboard with handwriting recognition has a Fashionable super thin design. The keyboard has a very sensitive handwriting recognition system and is very useful for digitizing your handwriting. The writing pad of this A1Pro keyboard doubles as a mouse.
8. Amex Digital Touch-Screen Wireless Keyboard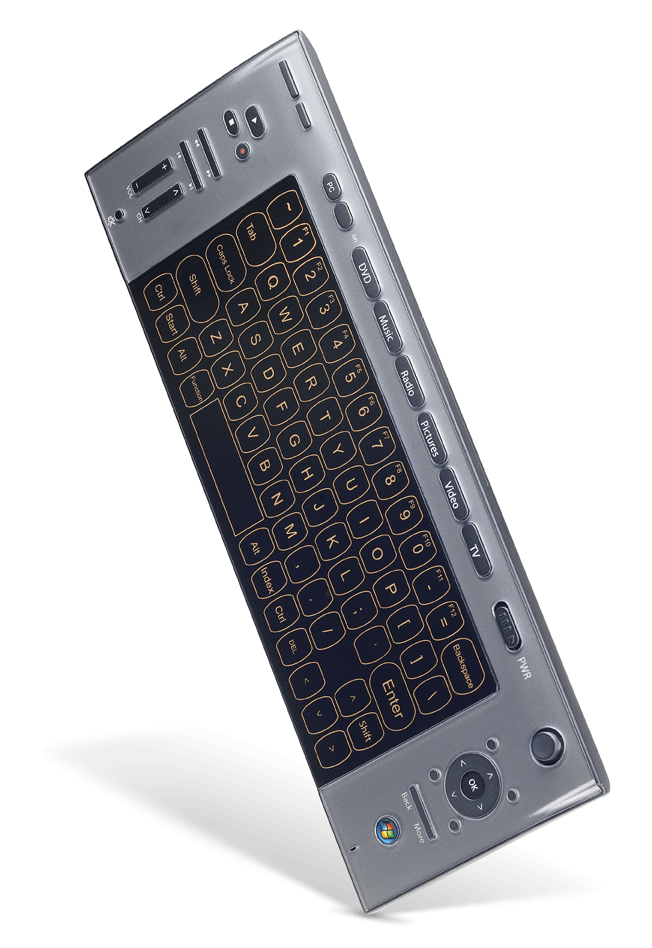 Claiming to be the world's most advanced Touch Sense Windows Vista keyboard, Amex Digital Touch screen Keyboard is an ideal partner for any high-end computer.
The ultra-slim AMEX Touch Screen keyboard delivers the ultimate feel and response. 2.4G RF wireless technology lets you go wire free and use the Wireless Keyboard within a range of 30 feet. It has got a One touch access to Windows Media Center and Multimedia Keys for easy Media Navigation.
9. Wolf King Warrior XXtreme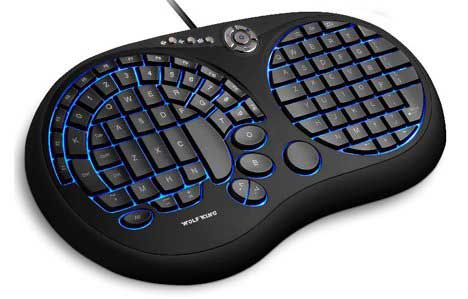 Wolf King Warrior XXtreme USB Gaming Keyboard is a very unique keyboard. It has an innovative design and amazing functionality. It has a lighted keypad option which enables you to game even in dark.
The Warrior XXtreme enables the user to type with just one hand and the new audio controls and "K Lock" feature allow for constant communication. All the important control keys for FPS and RPG Games are accessible with minimal changing of hand position. The XXtreme Gaming keyboard has got flexible 3-layer silicon membrane for extremely quiet use.
10. orbiTouch Keyless Ergonomic Keyboard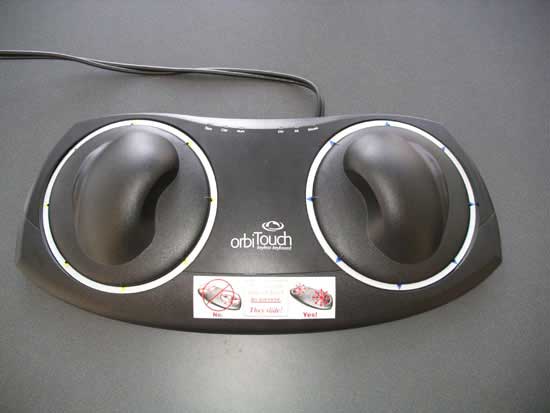 orbiTouch is a key-less ergonomic keyboard solution that removes the barrier posed by the traditional keyboard/mouse combination. The orbitouch creates a keystroke when you slide the two domes into one of their eight respective positions.
A user types the different characters by sliding the domes to create letters and numbers. The orbiTouch Key-less Keyboard has an integrated mouse. orbiTouch Keyless ergonomic Keyboard comes with a typing tutor program and on-screen help so that you may get used to the new typing process. (Product Page)
11. Virtual Laser Keyboard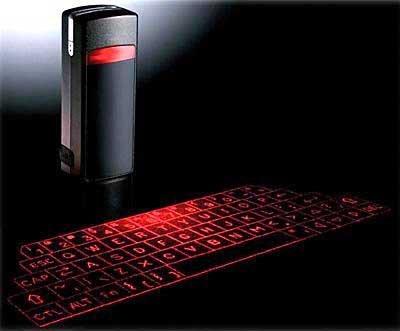 The Virtual Laser Keyboard (VKB) is a revolutionary accessory for all the portable gadgets like Blackberry, Smartphone, PDA, Mac & Tablet PC but can be connected to a computer too using a USB dongle.
The Virtual Keyboard comes with an elegant leather jacket and you can take it with you in your pocket. It is of the size of a Zipo lighter and operates in total darkness. It uses a laser beam to generate a full-size perfectly operating laser keyboard.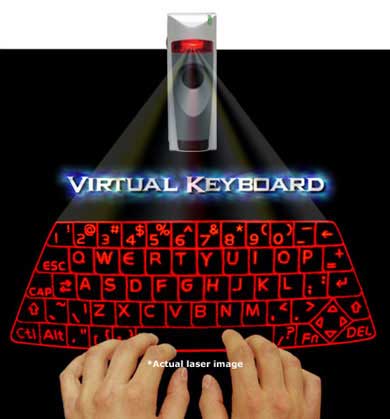 12. The Ergo Keyboard from Nicolas Tavlas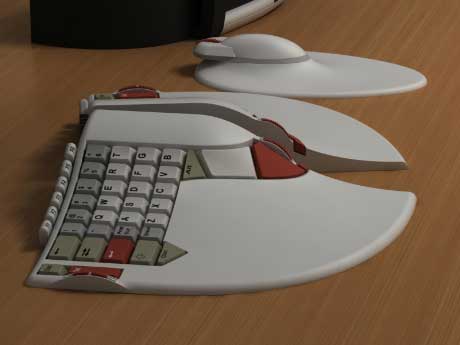 The Ergo Keyboard from Nicolas Tavlas is a user-friendly Computer keyboard built keeping Ergonomics in mind. While typing, the user's hand is kept in the most neutral position possible while maintaining a familiar layout, and the keys are inclined sideways by 25 degrees, reducing the twisting of the wrist but maintaining the letters legibly.
As we keep the right hand moving between the mouse and keyboard and the left hand sits idle most of the time, so several frequently used keys have been moved to the left of the Ergo keyboard.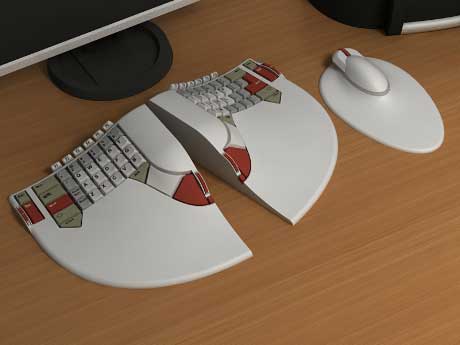 13. Ergonomic Steampunk Keyboard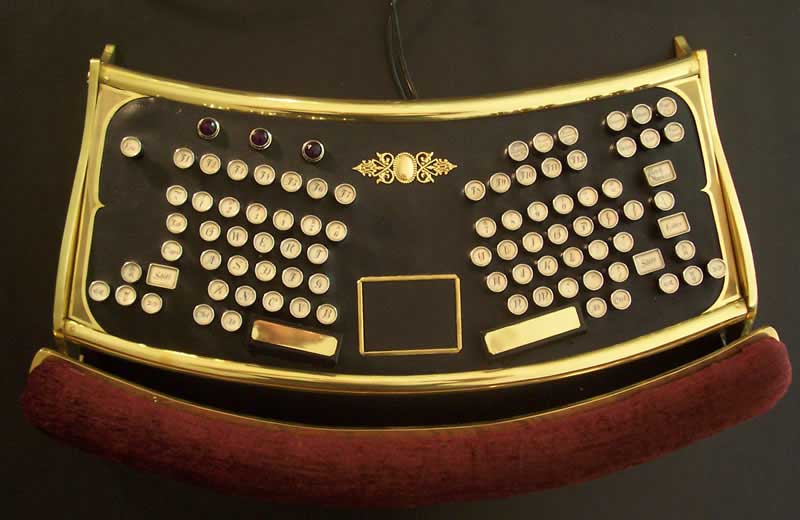 This Ergonomic Steampunk Keyboard is actually a very rare IBM Model M-15 split ergonomic keyboard transformed into this Steampunk design by datamancer. It also has a built-in "button less" touchpad mouse in the center. The typing plane is tipped forward rather than back and looks odd at first but makes for a perfect typing position.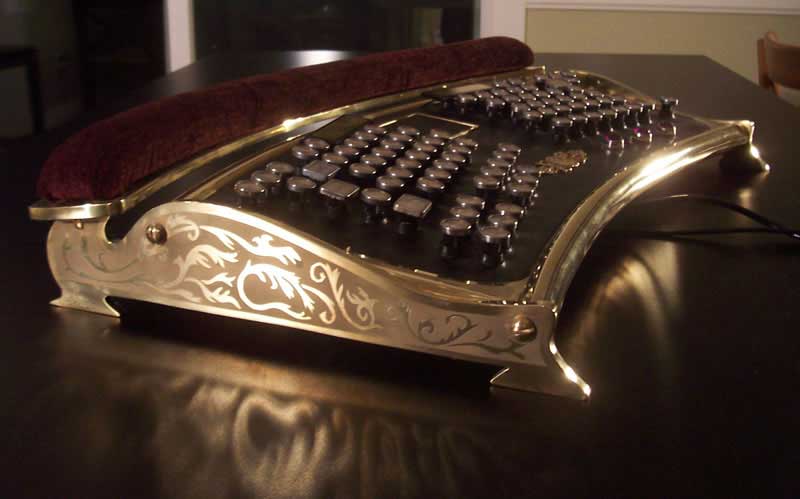 Also check my other post about cool computer keyboard for geeks on Walyou. If you know of any other cool keyboards, do let us know in the comments section below.