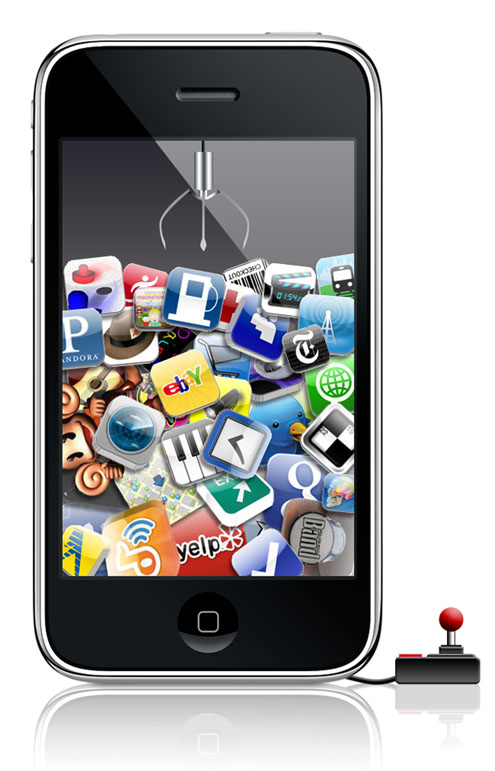 The iPhone is the King of Cool, the Sheikh of Chic, the Madonna of must have gadgets at the moment, and for those who want a superior mobile experience this is largely because of the wealth of software that is available for the iPhone. Thanks to the innovative and much lauded App Store, which allows you to buy and download one of thousands of inexpensive or free applications directly to your iPhone, the things you can do on the go is limitless. Here`s an ice cold, drop dead useful and fun top ten iPhone Apps.
Pandora Internet Radio – The best free app around, allowing you access to an infinite web of free music that builds a radio play list around your own tastes. A streaming success.
Wikipanion – Your one stop resource for all of the information in the world, Wikipedia, just got mobile thanks to this infinitely useful app.
iTalk – Turn your iPhone into a Dictaphone with this app, it`s also easy to transfer the files to your PC or Mac via the iPhone`s Wi-Fi connection.
FakeCalls – Ever needed an excuse to leave a meeting or a party? This app will send a fake call to your iPhone on demand whenever you want it.
Ocarina Want to look silly whilst playing soothing music from your iPhone? Ocarina is a neat app that allows you to use the microphone like a mouth piece, detecting when you blow on it and allowing you to manipulate the note that is produced using the touch screen.
iDial – Make your iPhone interface more old school with this app that turns the dialing visuals to make it look and operate like an ancient rotary phone. Very retro.
iAno – Creates a virtual piano keyboard on your iPhone`s screen allowing you to tinkle on the ivories wherever you are.
Most Wanted – If you`re interested in developments in law enforcement, this database of the FBI`s most wanted criminals is kept constantly up to date so that you are too.
Urban Spoon – An oldie but a goodie, Urban Spoon will help you to find the best local restaurants wherever you are in the world, as well as giving you access to user reviews.
Don`t Panic – This nice app, whilst not related to the Hitch Hiker`s Guide as some might initially think, provides you with a range of quotes and phrases to help you get though the most stressful of times.
The iPhone is such a popular and useful platform for apps for a number of reasons. Firstly there`s the 3G connection that allows fast downloads to make browsing and installing apps easy. Then there`s the powerful processor, large on board storage of either 8GB or 16GB and of course the accelerometer that allows you to tilt, shake and wave your i Phone around to interact with various apps. Finally the touch screen can register multiple simultaneous touches allowing for intuitive, easy to control interfaces.