Dropbox is a creative file sharing app that lets you store and share files effectively over the net and make them available instantaneously anywhere online. In addition to its quality features there are times when you might want to transfer or quickly move files between these two different formats. Usually, the procedure to do so is first, manually download files from one side and then upload them to other end. But this process is time consuming and not very efficient which automatically makes us to look for more useful  and smart alternative to transfer Files from FTP to DropBox. The solution to this problem has been named as BackupBox and here in the rest part of this post we will be guiding you on,  How to Transfer Files from FTP to DropBox.
Step 1: Navigate to Backup Box,  an online website built service that is exclusively and entirely built to help people transfer files.
Step 2: Sign Up for free using any of your favorite email address and password.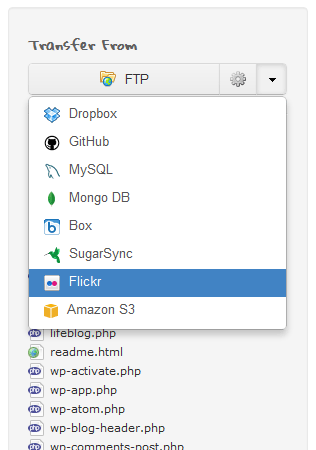 Step 3: Now Navigate to the left side of the window and authorize the account you are transferring from. Like in this case you can choose FTP by clicking the FTP connector button at the top-left hand side of the page.
Step 4: You need to now provide some information like  server address, username, password, port, etc., to grant Backup Box the access to the account you are connecting from.
Step 5: Next, you need to do the same for the account you are transferring files to. Like in this case, DropBox, which can be done the same way as in Step 3, except here you need to authorize Dropbox, by clicking the appropriate connector button at the top-right hand side of the page.
Step 6: Follow the instructions to grant Backup Box full access to account you are connecting to. This step is quite self explanatory, like for example DropBox requires you to click on a link in Backup Box and then you will be taken to Dropbox's website to grant access to Backup Box.
Step 7: Now you are ready to choose files from a directory structure and also customize its destination folder with some additional features. Simply, you can locate and choose files that you want to transfer from and  then locate the folder that you want to transfer to.
Step 8: Backup Box has some additional options for FTP DropBox file transfer and you can customize these settings and you can transfer all the files, archive the files, use a time stamp and do some more stuff here.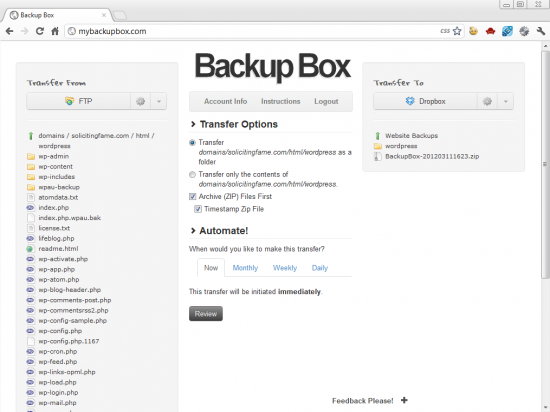 Step 9: Finally,all you have to do now is make sure the settings are correct and then finalize the transfer using the review button at the bottom of the screen. You will be given a prompt to accept the transfer and once you agree the files will start to move.