Searching for the Google maps on your windows 7 phone? Well Google map is finally available for your windows phone. Windows phone 7 actually comes preloaded with the Bing map which off course is the contender for the Google maps. The Google map released their full GPS or turn by turn navigation and Microsoft was the one who soon followed it with its new app called Bing maps which features in windows phone 7.5 mango editions. The Bing map app is cool but still it lacks certain features like it is not as fast as the Google map and it location database also lacks sophistication. The turn by turn guiding system is good but when compared with Google it still lacks certain details.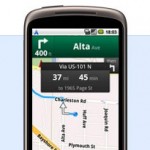 Google map is available for all your window phone 7 devices. It provides extended features like fixing your location, latitude and voice search.
Features
Well, the features Google provide with its Google map app for windows is quite less then what it provides for the other OS based devices like blackberry, iPhone or iPad and especially for androids. Android as originates from the same group (Google) enjoys all the features of the Google maps. And other devices experiences slightly compromised version of the app.
The features available on windows platform includes:
Business listings:
It provide you with a feature to store your business listings on the map like, if there is someone you know at a particular place then you could save the place with the acquaintance's name, address and phone number.
My Location:
With this feature you can see your own location on the map even if you don't have a GPS enabled device.
Latitude
This helps you to figure out where your friends are. You can check out to tell them your location or could share place with them.
Voice search
This feature enables you to provide search string by saying anything.
Traffic
Real time traffic listing helps you in choosing alternate free route instead of the one congested with the traffic.
Street view
This feature helps you to view street level images of the certain listed places and directions.
Driving directions
Wherever data is available this feature will provide you with the directions for your driving. It may tell you about the directions you should take in order to reach the certain point.
Transit directions
The Google map will also provide you with transit directions.
Walking directions
If you prefer walking Google map can help you here also. It can provide directions for walking also.
Layers
This feature help you in selecting the type of view of the map. This actually covers a layer on the map. You may select from traffic, terrain, satellite, search results and much more.
Satellite layer
This layer gives you satellite view of the map.
Starred items
This feature allows you to tag your favorite places on the map.
So, these are the features Google map has to offer on the windows phone. But simultaneously they provide much more features on android platforms like, biking directions, navigation or turn by turn GPS system, places, 3D maps, compass mode and etc.
Download Maps for Windows 7 Phone: You can download Google Maps for your mobile phone running Windows 7 operating system from the aforementioned link. If you run into any problems, drop us a comment below.