Google announced the Nexus 5 on Halloween Day 2013, and the company claimed in its recent financial report that sales were just as sweet as the Android OS placed on them. With all the Samsung Galaxy S4s, Apple iPhone 5Ss, and other smartphones available on two-year contracts, very little is said about unlocked smartphones.
Google's LG Nexus 5 is one of the top Android smartphones you can buy unlocked without a contract with carriers AT&T, T-Mobile, Straight Talk, Net 10, Metro PCS, and other mobile virtual network operators (or MVNOs). With the introduction of Nexus 5 protective cases to the Play Store, Google also introduced the red protective case. Even with the black and white Nexus 5 models, there was something missing.
Now, with the introduction of a new color for the LG Nexus 5, Google's latest smartphone collection is complete. Yesterday, Google took the wraps off of its bright red LG Nexus 5 and announced its entrance into the smartphone market at the Google Play Store for all Android consumers to see.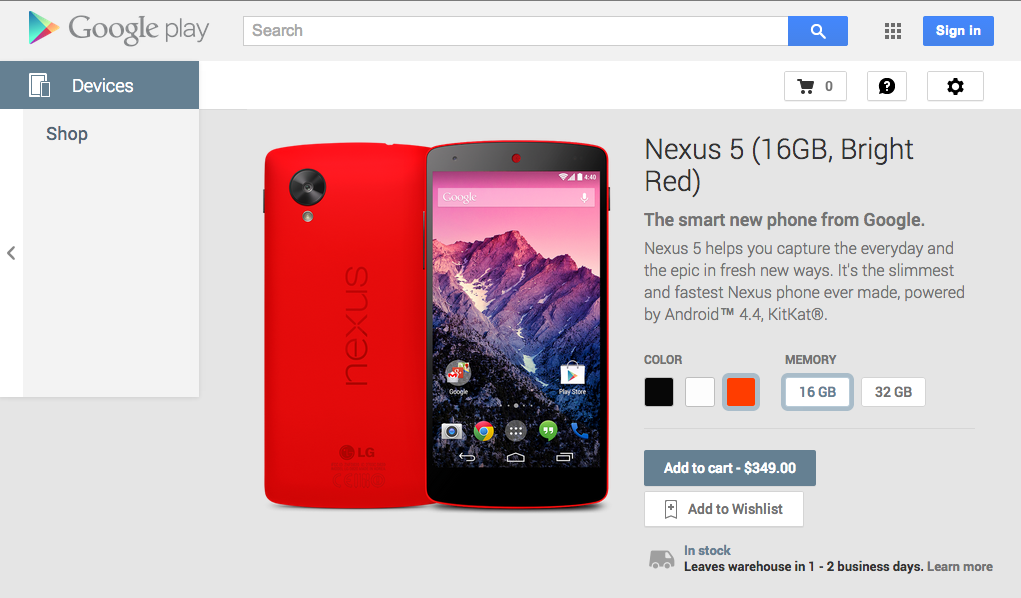 The red Nexus 5 comes with the same specs and features as the original black and white Nexus 5 models: 16GB or 32GB of memory storage without a microSD card slot, 8MP camera, 1920 x 1080p screen resolution, 1080p video recording, optical image stabilization (OIS) and video image stabilization (VIS), five-inch, liquid crystal display (LCD), running Android 4.4 KitKat – Google's latest improvement to its operating system that, for now, is named after your favorite desserts.
There are two major improvements to Android in 4.4 KitKat: the first concerns a data plan monitor, the other a printing option. While consumers have always been able to manage their data plans with any given carrier, Google decided to make this official within Android KitKat. The other improvement, the printing option, now allows consumers to print photos while remaining in the photo gallery (should you choose to look around at your multitude of photographs), or to print a document if you are in Google's QuickOffice app.
Google has priced its red Nexus 5 at the same retail price as the black and white models: $349 for 16GB and $399 for 32GB. According to an Eldar Murtazin rumor placed this week, however, Google may kill its Nexus 5 line in 2015. The red Nexus 5, for all we know, could be the last phone from Google in smartphone history. Get yours while the oven's hot.