Your browsers record every site that you visit. This information can also be sent to browser manufacturer, and other applications can also retrieve and send this information to different destinations. You can and may wish to delete your browsing history. The procedures may be different for specific browsers, but the procedures are relatively simple.  Sometimes you might just need to block a website but sometimes you want to know how to delete computer history.
There may be several reasons why you may wish to delete your browsing history. The reason that is most likely to be at the top of the list, is that you wish to keep what you do on the Internet, away from others. The options available allow you to delete some or all of your browsing over specified periods.
In Google Chrome
In the menu bar, click the "customize and control" button, which is the button with 3 horizontal bars at the right side of the omnibox. Select "History" in the menu.

When you select the "clear browsing history" on the next page, you will be presented with several options and time periods. The options on the settings page will allow to choose to clear everything that is recorded including your download history, cookies, clear your cache, all saved passwords and autofill data forms.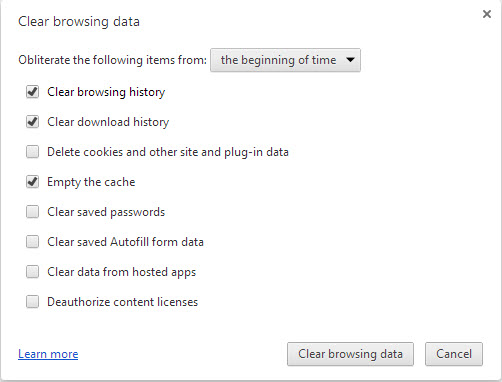 You can also revoke the licenses of any apps that were previously allowed to work on your PC. You can choose the time periods for which you wish to clear the data, and that includes the last hour, 24 hours, the last week, the last month, or since time began. If you a heavy user, and you have never cleared your history or emptied your cache, the process may take a few minutes. You may find that by clearing your browsing history, may actually improve the performance of your PC, as much faster access in enabled.
In Firefox
The process may be a bit simpler. Select Tools in the menu bar followed by 'Clear recent History' in the menu. A popup window will display a dropdown menu of the time ranges you wish to clear. The range is from everything to the "last hour". You can then choose the areas and places you wish to clear, such as the browsing history, cookie, cache, passwords, website data, and preferences. Clearing your history, may help to save time, and it can make searching faster, but all the recorded data must be retrieved, and the processing of retrieving can consume resources, and actually hurt the performance of your computer. In Firefox, you will receive a warning that the action is irreversible, and cannot be undone. This not be any cause for alarm.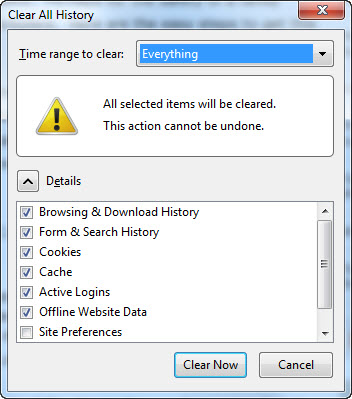 If you are still not sure about clearing your history, you can make a back-up of your drives. Restoring your machine to a previous state before the history is cleared will easily restore all the data that was cleared.