Do you need to close your Hotmail account? Are you feed up of too much spam and unwanted emails or are you thinking that your account has been hacked and is being used by someone else. Or you just one to close it any way. So, what to do?
It is easy to close your Hotmail account. In this article we will discuss method to delete your Hotmail account. But first ask your self do you really want to delete you email account. Is it really worth it. I would recommend reconsidering your decision of obliterating your account. If you delete your account all your emails, contacts and messages will be deleted.
If it has been hacked then it is possible to stop the hacker by changing the password and other security details. And if you are perturbed of the incoming spams then, I don't think closing the account is going to of any help. If you have made your mind and is ready to delete your account then, here is the method how you can do that:
Deleting your Hotmail account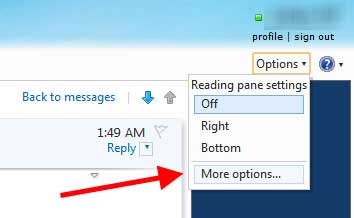 In order to delete your Hotmail account, you must be able to log in to your Hotmail account. If you can't login to your own email account then you should first try lost Hotmail account and password recovery options.
Now go to your Hotmail account and select the options from the top right corner of your Hotmail account screen. From the drop down menu look for the "more options" and then click on it.
From the option manage your account look for the option stating "view and edit your personal information", choose the option. Then your account information page will be revealed.
Look for option stating "additional options" choose it. From appeared list select the option sating "close account".
Follow the instructions from the resulting prompt to close your account. Once completed all steps your accounts will be deleted.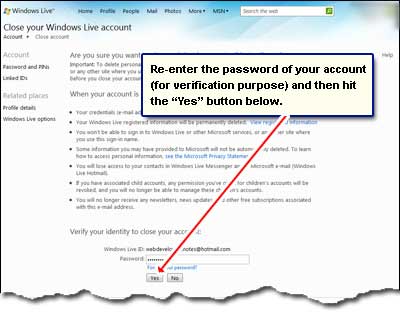 In case you don't know your account password
If you don't remember the password of your Hotmail account. Use forgot your password link to get your password back.
You will be asked with some personal questions, answer these questions and the password will mailed to you at an alternate email address.
Once you know the password of your account. You can follow the above stated steps to delete your windows live Hotmail account.
Some tips and warning
If you are using the same email address for other services like windows live or windows messenger. Then those services will be closed also. Your windows live features your Hotmail account and windows messengers. So, if you cancel your Hotmail account windows live feature will be also canceled. There is basically no way to keep your windows live account even after disabling Hotmail.
If you have been subscribed to newsletters from different websites and blogs then those services will be also deactivated.
All you your contacts emails and other data from your email account will be lost forever.

I will still hold my word. Is it worth closing? Just stop using it. Don't log into it, and it would be as good as closed.