Enabling a Windows XP mode on your PC is the best possible way of keeping the old windows applications from XP in the new Windows 7 OS. Such windows XP apps may seem to be ancient but the nostalgia surrounding their usage makes them appear to be indispensable. Good enough, the XP mode is a free add-on for some Windows 7 versions – enterprise and Ultimate but it is not available for those using Windows 7 starter. Enabling Windows 7's Window XP mode is like having two Operating systems in one. In the picture below, the larger black region is the Windows 7 desktop while the Blue background is for Windows XP desktop.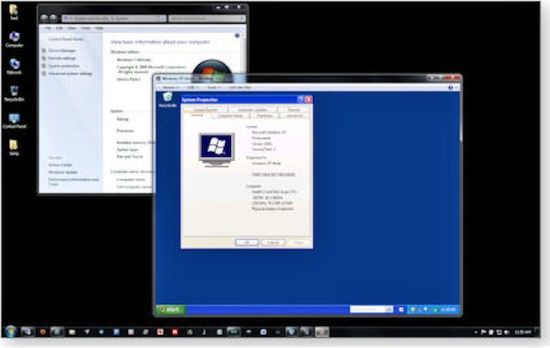 Enabling XP Mode For The First Time
Step 1: You need to download and run the core files of the XP mode. Simply go to Microsoft windows virtual PC Help & download page and select the Windows XP mode files. There is a drop down menu where you can pick the versions of Windows 7. Choose your preferred language and a box like the one below will appear: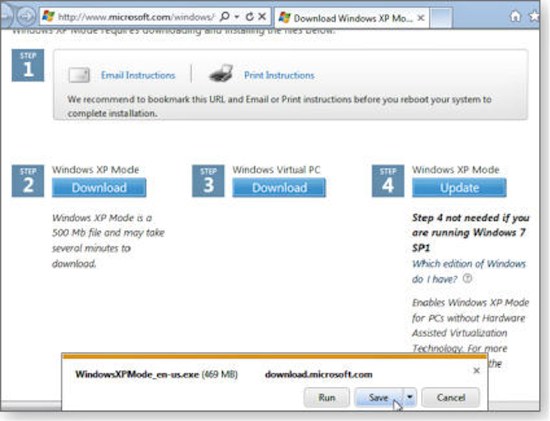 One the page above, you can download all the necessary files you need for windows 7 windows xp mode.
Step 2: Click on Windows XP mode download button, and choose either run or save for the downloaded files – Windows XP mode will start automatically after the downloads have been completed if you choose " Run" command, but if you click on 'save' then you have to install and set up the downloaded files manually.
In order to check that you are running a legitimate Windows 7, the Microsoft website will automatically run a validation check just before you are allowed to download. XP mode weighs an incredible 500MB; therefore it will definitely take some time if your Internet connection is too slow. Once your downloads have been completed the usual Widows 7 permission dialog boxes will appear. You have to select "Yes' on the dialog boxes for Windows XP to install its core files.
Once the installation has been completed, you will have the XP mode on your PC system but you will need to install a Virtual PC software  on your PC before you can use the Windows 7's windows XP mode.
Setup a Virtual PC
This is the second step towards enabling Window 7's Windows XP mode.
Step 1: Go back to the download page on Microsoft website, select and click on the windows Virtual PC download – take note that this download will have to re-validate your computer again and then you have to give it the permission to download but the size of download is just 15.3MB , therefore it takes a little time to complete.
You will need to reboot your PC once the Virtual PC computer has been installed. You should also notice that some updates will be configured on your screen.
You need to keep in mind that you will need a Windows Service Pack 1 (SP1) to complete this step , if you have not downloaded the SP1, you will need to return to the download page of Microsoft and run the Windows XP mode update available on step 4.
Setup and Enable Windows 7's XP Mode
Now that all your Windows XP mode features are in place, you still can't run it.
Step 1: Simply go to your Windows 7 Start button and click on "All programs"  and then select the "Windows Virtual PC" and Select Windows XP mode has shown in the picture below;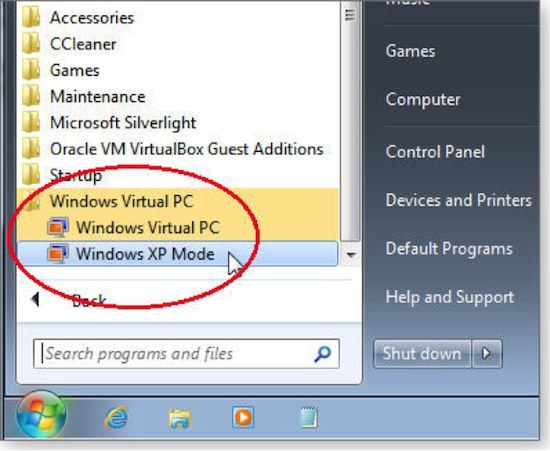 Step 2: Complete the final set up for the Windows XP mode
You will notice the appearances of some set up screens after Windows XP mode was first launched. You have to click on all the dialogs and establish a password to establish the licensing. You will also accept "automatic updates" on the dialog box. The Windows XP set up should appear like the image below;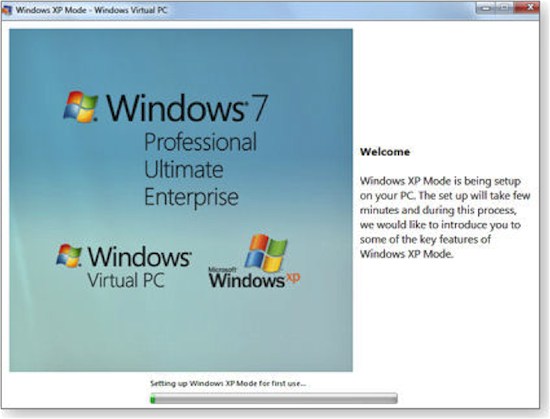 Simply follow the simple prompts to make it easier for you to complete the process of enabling windows XP mode. Once the setup is completed, you are ready to run Windows XP on your Windows 7 OS. You need to shut everything down and restart your computer before you start using this new feature.
Once your computer has booted up, click on "all programs" on Win 7 platform and launch your new Windows XP mode. Your PC should open a new window on your Windows 7 Desktop and that means you are now running two operating systems on one single computer, at the same time.
You have to be careful running two operating systems after enabling XP mode. This is due to the fact that there are possibilities to get confused sometimes, you need to read instructions before taking any new actions and make sure you restart your system if it hangs the first time you run the two operating systems.