Cloud service is one of the most efficient way now a days to store and share information like photos, documents, music and other stuff over the net. There are a bunch of online Cloud Service providers and they extend to iPod,smartphones, iPhone and cover almost every part of technology to maximize connectivity and ease. DropBox is one of these services and is so far considered to be the best Cloud Service as it extends to every platform like iOS, Android and even Symbian. While there are beautiful, interactive an easy-to-use apps for every other platform, DropBox or we can say, Symbian seem to be lacking in this regard but nevertheless there is still a possibility to use smart services of DropBox using SugarSync.
There is of-course, m.dropbox.com that you can access from  your mobile browser but it does not do justice. So, you can either use SugarSync Symbian app as an alternative or use the same app to work around and Sync your Dropbox with your SugarSync app on Symbian device.
In this post we will be guiding you on How to Get Dropbox for Symbian/Nokia
Step 1: Create a free SugarSync account by clicking here, the process is simple, easy and after you are done you get a free 2GB cloud storage space which can be extended to about 30GB by paying some greens. After you have successfully created the SugarSync Account, make sure you activate it.
Step 2: Download and Install SugarSync on your PC or Mac by navigating to downloads page. After installation, open the app, sign in with your details and set up your computer.
Step 3: This step is important and this is where you Sync your DropBox account with SugarSync to use Dropbox for Symbian. There are two ways by which you can achieve DropBox integration into your SugarSync account. One way is to Navigate to "Manage Sync Folders" in your SugarSync app and add your current DropBox folder (The Dropbox folder Stored on your Computer) to the synced folders.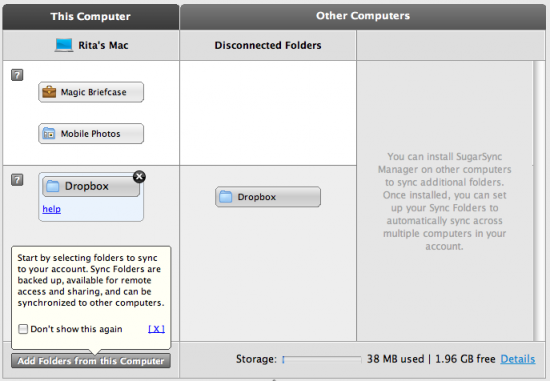 Another way to integrate your DropBox Account is to simply change the location of your Dropbox folder to Magic Briefcase folder which is a default SugarSync folder.

By following the above steps accurately you will successfully integrate DropBox with SugarSync which means that everything in your DropBox folder is now synced and available in your SugarSync account.
Step 4: Go to your mobile browser and type in http://www.sugarsync.com/symbian to download Sugarsync app on your Symbian device. Unfortunately, this app is currently only available for  S60 5th Edition.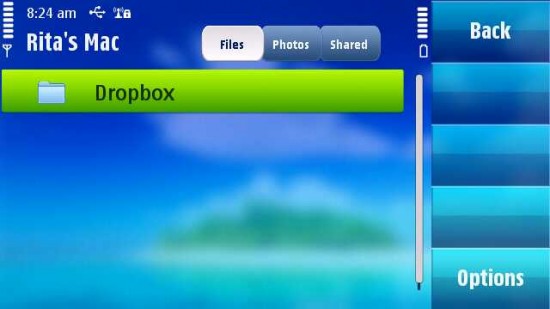 After you have successfully installed this app you will See your DropBox folder in the SugarSync Symbian app although the place where you will see your Dropbox folder varies depending upon the process you dispensed in Step 3. You will find it in your computer under the My Devices section if you used the first method in Step 3, or in the Magic Briefcase if you used the second method in Step 3.
Now, anything you put in your DropBox using your iPhone, iPad, iPod, Mac or PC will be instantaneously available in this Dropbox folder on your Symbian device and can be downloaded anytime you like to your mobile device. There are some limitations though, like you can't use multiple folders of your Dropbox if it has exceeded a 2GB storage limit. It is also limited currently  to  S60 5th Edition and you can't use your Symbian device app to upload files to your DropBox.'