You need to constantly password protect USB drive because you will sometimes, if not always, share it with your friends and colleagues. Sharing your USB drive is one of the ways of creating security risks on the drive and your personal computer, malware for instance can  trigger a great threat to your privacy, while a large number of drives are lost daily to theft and careless handling. A USB flash drive that is not secured or encrypted with adequate password will expose such device to identity theft and several other cybercrime. Password protecting thumb is one of the best ways of securing your USB drive.
There are different ways you can go about password-protecting your flash drive;
Save Your Content With Passwords Manually
If you want to stay away from the time consuming encryption protection procedures for your USB drive, then you need to protect selected folders and files only. While the document is still open, you can simply go to; TOOLS – OPTIONS, and then switch to the SECURITY TAB, and enter a password to open. Click on "OK" and enter the password again when you are asked.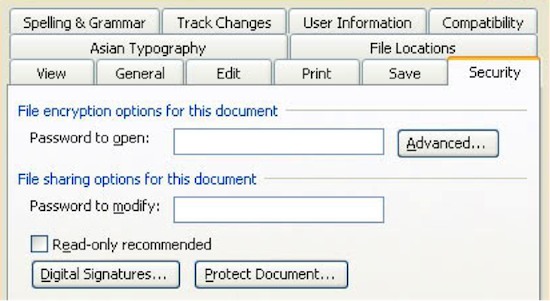 Password Protect Your USB Drive With a Software
One of the easiest ways to password protect USB drive is to make use of a password protection software. Below are the lists of 5 of the best password protection software online;
• Windows 7 Bitlocker
Using USB drive software to protect your USB drive takes simple steps;
Step 1:  Download the software and copy unto your flash drive.
Step 2: Plug in your USB drive and run the downloaded set up version of the software.
Step 3; once the software has been installed, run the software directly. If the software remains in your flash drive, you can use the "autoplay" option to run it directly.
Step 4; Open the USB drive and click on "protect this USB drive". At this stage, the software will ask you to setup and confirm a password for the USB drive on a new window. Simply click on 'OK" once you have set up the password- this will apply the password automatically for your password.
Your USB drive be automatically protected with your chosen password and such drive will remain useless for any other person.
Using Advanced Software
There are different grades of software you can use to password protect USB drive; Rohos Mini-drive is one of such advanced software. Follow these simple steps to install and passwords protect your USB drive with advance protection software;
Step 1: Download the advance software and install it on your computer. Connect your USB drive – you don't have to reformat the drive but make sure there is enough space to create a partition for the new software.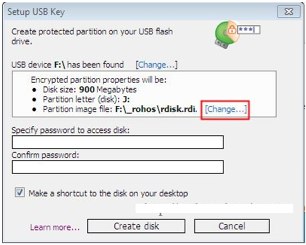 Step 2: Edit the partition configuration on your USB drive by configuring the disk letter on the partition to be used. The encrypted partition size can be up to 2GB size. Point the installation location unto your flash drive. The encrypted drive will show an RDI extension, like the image below. Simply click OK and move to the next step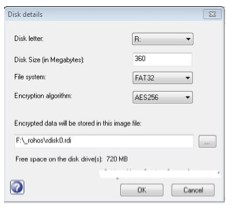 Step 3: Go back to the USB creation window and enter the desirable password and click on "create disk". You will see the pictures displayed below before and after your USB drive password has been created.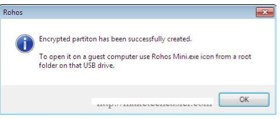 Step 4: Open your windows flash drive from your computer and you will see the name of the software used to Password protect USB drive. Right click on it and enter your password to confirm.
Step 5: You can install all your data on the hidden partition created on your computer after your flash drive password has been created.
Installing simple software to password protect USB drive is a better alternative to using advance software. All you need to do is to download the software, locate the downloaded software and double-click on it to run it. Review the license agreement of the software and click on "extract"; click next and connect your USB drive and once it has been connected, simply select it from the available list, and complete the encryption procedures provided by the software.
Just before downloading and installing software to password protect USB drive, you need to check that your computer is using the compatible operating systems, for instance windows.  You also need to check that you have the administrative rights on your PC, a functional USB port, and a copy of the software installer you are using – Your password creation procedure for your USB drive will not be completed if any of these elements are missing.
It pays to follow instructions provided by your software when you want to password protect USB drive.