DropBox is an efficient and smart Cloud based service that lets you share photos, files, music, documents and other stuff, easily online. DropBox is pretty easy to use but the share Dropbox folder feature gives most people a hard time and this is where we come in. There are many methods you can dispense to share Dropbox folder depending upon your need and complexity of the issue. You can either conventionally share Dropbox folder with DropBox users or use a different method to share it with non-DropBox users. In this post we will help you do the both using different easy to follow steps.
How to Share DropBox Folder
Method 1 | Get Link to Folder
You can get a link of your folder and quickly share it with family, friends and colleagues. Getting link for a folder is quite simple and if you have a DropBox Desktop application installed on your computer all you have to do is  right click on the folder you want to share and then select "Get Link" from the contextual menu of DropBox option.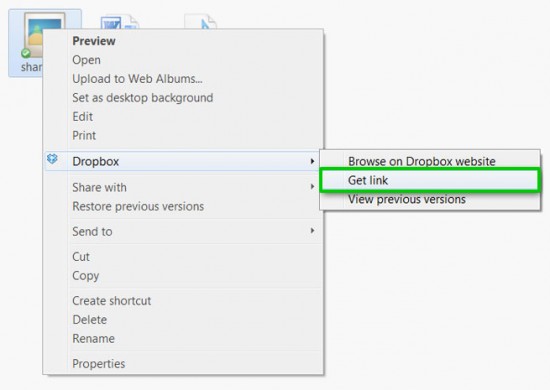 Alternatively, if you are using the Website version, you can sign in, and click on the file row to the right of the file's name to select the desired folder and finally get the link from Blue action Bar across the top of the file browser.

Method 2 | Share Instantly Synchronized Shared folders
One of the most prominent feature of DropBox is the "Share Folder" option, which instantly synchronizes any changes you make  in the folder and its contents. With this features, any change you make is automatically updated to other members  within moments, which makes it a perfect solution for working together on large projects, sharing important family documents, or any other collaborative effort.
In order to create a Shared Folder using your Desktop DropBox application you need to open your DropBox folder and right click on the folder you want to share and Select Dropbox > Share This Folder. Next, all you need to do is enter the email address of the people you want to share this folder with and click share folder.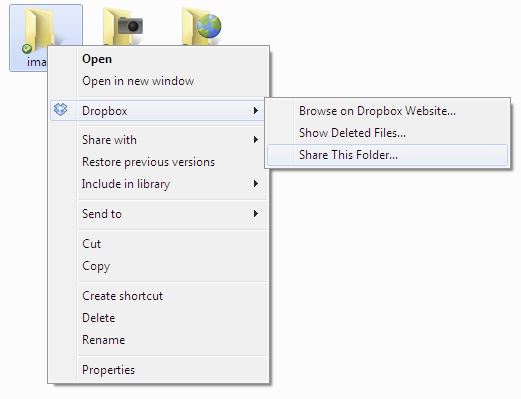 You can also do the same using DropBox Website  and also limit the attribute of this shared folder to "Read Only" by following the steps listed here.
 How to Share DropBox folder with Non-DropBox Users
You might have noticed a Public folder in your DropBox folder. Well! it has its fair share of functionality when it comes to sharing files and folders with Non-DropBox users. This feature helps you to share files and folders with anyone, all you have to do is create links to these files from the Public folder and you are ready to share your file or folder anywhere you like including emails, instant messages and social networking websites.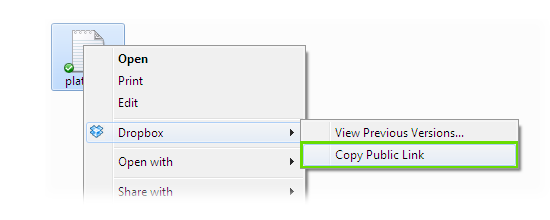 One easy way to do this is using your Desktop DropBox application, where all you have to do is move a file or folder in this "Public Folder" and then simply right-click on it and choose Choose Dropbox > Copy public link.  Now, this generated public link is ready to be shared anywhere on the web.