If you want to get have your system updated to the latest Mac OSX OS – Mac OS X Lion, then that is very simple to achieve. Just make sure to follow these simple steps.
Update: This guide was written before the Lion was officially released. As we all know it is only available for sale on Mac App Store as of now, so this guide doesn't apply to the retail release. Please follow this guide on how to upgrade to official Lion release. Also, Apple is going to sell Lion OS loaded on Pen Drives. So, you might wanna wait for that if you can't download 3-4 GB of data.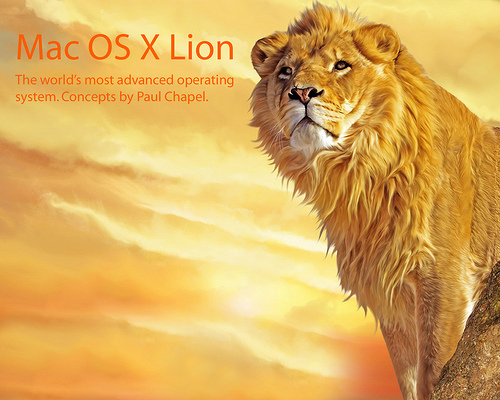 1. First of all, you will need to have the Mac OSx Lion DVD inserted in your DVD ROM. You can insert the DVD in the computer and then have the process started when you will boot up OR you will be able to have the disk inserted when the computer will be running and then the app will run.
2. After step one, the fun will begin. You will see that a big black X will appear and it will tell you that you need to restart your computer. Also, make sure that you will have at least 9 GB of free space, before you will commence with installing the new OS and if you want to also have the Developer Tools installed, then you will need to have 12 GB.
3. Now you will need to have your language chosen. Well, there is nothing special here. You know what to do.
4. Continuing with the installation process, you will see that the Leopard welcome screen will appear. You can read the "More information" section, but we both know that you won't. Everyone wants to have the OS installed as soon as possible.
5. Now, you will need to have the installation destination chosen. If you have a MacBook Pro, then you will certainly have only one HDD and that means you will have your choices limited by this. But if you are someone who doesn't want to get a straight upgrade on your computer, then just head over to the Options menu and click it. There you will be presented with 3 ways for having your OS  installed. You can install, archive or upgrade.
6. After making your option, your installation will begin. This is a point of no return. If you are sure of the changes that you will want to make, then hitting the install button will be just a good idea. If you want to change some settings, then just click the "Go Back" menu and make the changes you wish to make.
7. Now you will jut need to wait until he installer will finish. The whole installation process will take you around 1 hour to be complete.
8. After the installation is done, your computer will restart and then you will be able to enjoy your new OS!