SoundCloud is a cloud service for music aficionados that lets you share your sounds, record, upload music and also instantly share it on social networking websites. The functionality of this tool is further accentuated by Dropbox, which allows anyone to send a sound to your SoundCloud account at any time for free. This feature organizes and centralizes the demos and in-addition, it also allows you to send over MP3 files or bands recordings across links to Myspace pages.
Using Free DropBox tool is easy and comes with plenty of advantages like you can centralize and organize all Demo submissions. You can save space on your Desktop by streaming submission and also let people who are not on Soundcloud, share their tacks with you. One unique and quite handy feature of this Dropbox tool is that you can embed it on any site including Facebook to pace up the submission process.
Embed A DropBox
You can easily embed a DropBox on your own site or MySpace profile to allow any visitor to share a sound with you. Wen you do this, all sounds sent to your DropBox will be available on your Dashboard in your Incoming or Exclusive sounds tabs. The embed code for your Dropbox can be found on our Widgets & Badges page or on the right hand side of your own profile when the DropBox tab is selected.
There are many graphical options available for this tool to help highlight your DropBox widget and draw more attention to it. Alternatively, you can use the direct link to the DropBox and include this link wherever necessary eg. in your email signature to make more and more people aware about your DropBox page.
Customize Your DropBox 
If you pay for the Premium account you can customize your DropBox page and you can also add some extra information about your Demo policy.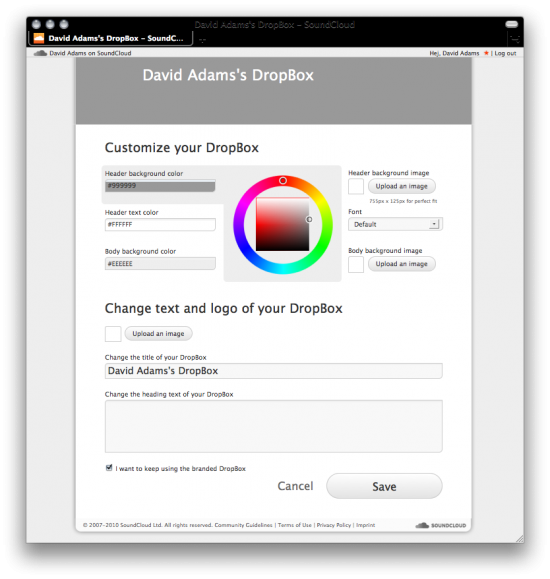 You can simply perform this customization process by  clicking on the 'Edit your branded DropBox' option as shown in the image below. You can do many things with your DropBox page after you enter into this Menu like you can, add header and body background images, Customize the text and logo and edit the color scheme.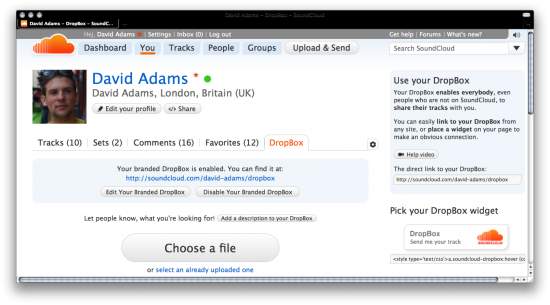 When you are done with setting up your DropBox on Soundcloud you can view all the submissions from the  'Tracks' section on your SoundCloud account.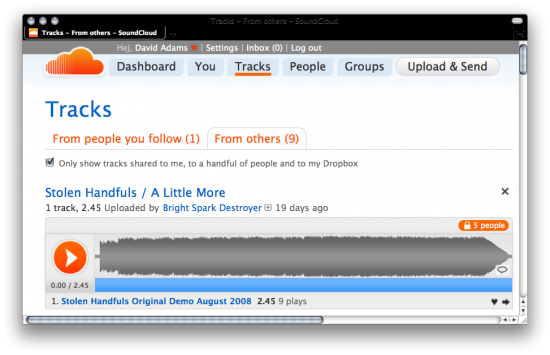 All the tracks will automatically start to play one  by one and from the label perspective, if any specific track intrigues or impresses you, a click on the track will reveal everything about the artist and also help you contact the Artist via SoundCloud. You can also simply delete any track you want from your Dropbox page or press mute if you do not wish to hear any more tracks.