Feather touch done, android done, thousands of applications done, high edge cameras done, Carl Zeiss optics done, dual core processors done. What more can you think of in a "Cell Phone"? Well HTC has answered that creative question quite well by launching their HTC EVO 4G which they say "captures your photos and videos in 3D, plus you can view them without the glasses. The stunning 4.3-inch qHD display gives you crisp websites, vivid images and incredibly fluid videos.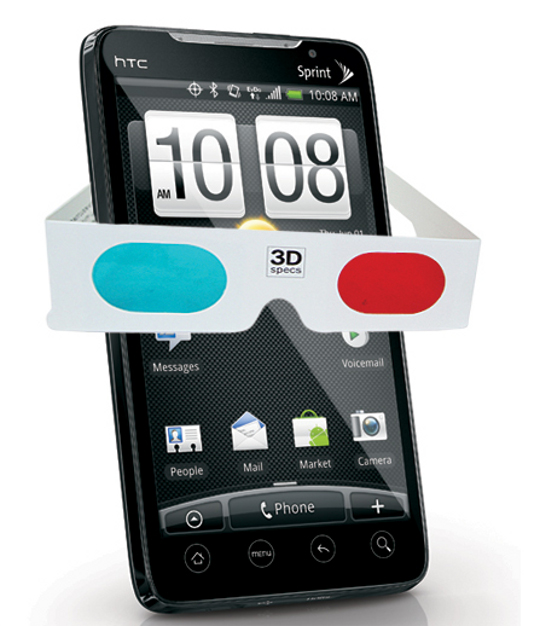 The 3D Display
The phone's main feature is new and improved camera and full HD camcorder with zero shutter lag and stereo sound recording so you can always capture that timeless moment and then view it on 4.3 inch qHD capacitive display. The parallax barrier technology is used to display 3D images and videos without the use of clunky 3D glasses. The EVO 3D's 4.3-inch qHD 960-by-540-pixel screen looks terrific in 2D–and pretty good in 3D, as well. Although, you should not expect the experience on the phone as dramatic as in cinema where the images fly into your face, rather the effect is more like a diorama. If you are familiar with the principles by which 3D effect is perceived by your mind then you might be knowing that the screen of this size demands a close range viewing to experience 3D effect. So, it is probably a bad Idea if you are planning to watch whole 3D movie on the phone and if the angle of viewing is deviated a little bit only blurry images are seen. HTC knew this and other problems with 3D concept so they installed the phone with a simple button to toggle between 3D and 2D.
Design
The HTC EVO 3D overall is a gorgeous phone. The EVO 3D is black with blood-red detailing. And the smartphone feels solid, but not bulky in the least. It has a nice, textured rubber backing and a slimmer shape that feels good in hand. With the battery in place, the HTC EVO 3D weighs 6 ounces. It measures about 5 inches tall, nearly 3 inches wide, and 0.47 inches thick. Its display is a 4.3-inch 3D touchscreen with a sheet of Gorilla Glass for added toughness. Unlike the EVO 4G, the EVO 3D doesn't sport a kickstand–mainly because the twin 3D cameras occupy most of the space on the rear.
Software
Like the HTC Sensation, the EVO 3D comes with the latest version of the Sense user interface. Sense 3.0 has a brand-new customizable lock screen. You can pick a theme for your lock screen and then select four apps that you visit the most. When you turn on your phone, you'll see those four apps at the bottom of the screen. To unlock your phone, you drag the circle and move it over an app; you then jump straight to that app. That way, you don't have to go through multiple menus to reach your e-mail or any other items you access frequently. The new version of Sense also has a spruced-up Walls system. Rather than having to flick back and forth between your walls, as you do in the stock Android operating system, you can flick the EVO 3D's screen to make the walls spin. The effect is slightly reminiscent of a carousel and makes navigation a little easier.
Hardware
The Evo 3D redeems itself with a 1.2GHz dual-core Qualcomm Snapdragon processor. The Snapdragon processor supports advanced 3D technology, including full 1080p 30-frames-per-second HD video and stereoscopic 3D video capture and playback. The result is an incredible high performance than its predecessor allowing you to play games more smoothly and do other things faster.
Camera
The ultimate WOW of EVO 3D is its extraordinary back decorated with awesome twin cameras which helps you to capture best 3D videos and pictures. Although you can't view as wonderfully what you captured on phone as you can on a 3D TV with the help of the phone's HDMI-out jack. The HDMI jack uses a technology called MHL (Mobile High-Definition Link) that allows both charging and HDMI-out via the same port.
Other
Like the Sensation 4G, the EVO 3D comes loaded with Watch, HTC's new movie and TV-show streaming service. With Watch, you can download videos and start viewing them immediately. Watch is well integrated into Sense, making it easier to find the videos you want to, um, watch. The app's interface is clean, and movies are easy to find, but the library is pretty sparse at this point. Another unique feature of the EVO 3D is its capability to connect wirelessly 8 other devices to itself, allowing them to use service of EVO to connect to internet.