I bet that if you are someone who is surfing all day long on the internet, you will get to discover a lot of things. And it's obvious that you will stumble upon many software programs, movies, games, music and apps. Well, if you love apps and you have an iPhone, then I think you will want to get a lot of apps for it in order to have fun with your friends maybe or get to know where a cool restaurant can be found in New York. So if you have all of these apps that you don't really have any idea about, then you should know that from now on, you will not have to buy the app and try your luck and see if you like it, for with Installous, you can have that app tested before you will buy it.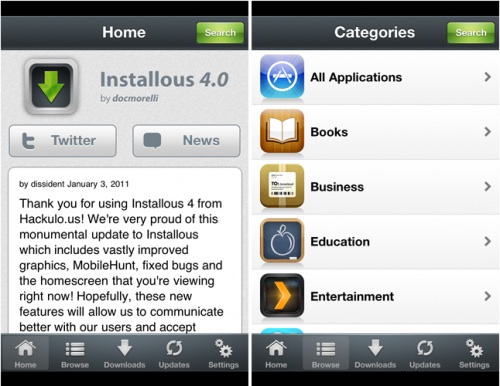 On top of that, Installous will crate a list with every iPhone app that you have downloaded. With it, you can install any app that you want in just a few seconds. If you will have an app that you will not like, then you should not worry about that too much, for with the software you will just need to have it swiped to the right and delete it. It's as simple as that. Also, you should know that after you will have an app installed, your iPhone will be frozen for a few seconds at the end of the installation process. So don't be scared, for everything is just ok.
If you want to be in for more from Installous, then don't worry, as there is certainly more to tell about it. Puy0 has done a lot of amazing modifications to it and he had the Safari download plug-in in modified. Thus, you will not only be able to install the app with the new Safari plug-in, but you will also be able to have it installed. When you will press the install button, Installous will immediately be launched and have the app installed. Also, you should know that every app that you will decide to have installed with Installous, will also be possible to have it synched with iTunes.
If you love this app and you think that it might come in handy to you, then you will be able to get it from the Cydia repo!
Make sure that you will have he Safari download plug-in uninstalled before proceeding with Installous.