Got enough of the iPhone 6 rumor mill? If you haven't, we're here to feed you more juicy tidbits. It's no secret that iPhone 6 rumors are as crazy as were iPhone 5s and iPhone 5 rumors, with rumors starting gradually before churning out of control. Chances are, you'll find a few iPhone 6 rumors floating around that'll make you raise an eyebrow. What are they? And what's the proper response to these rumors that sound good in theory but are unlikely in truth? Read on to find out.
iPhone 6 Rumor #1: Phablet-Size Displays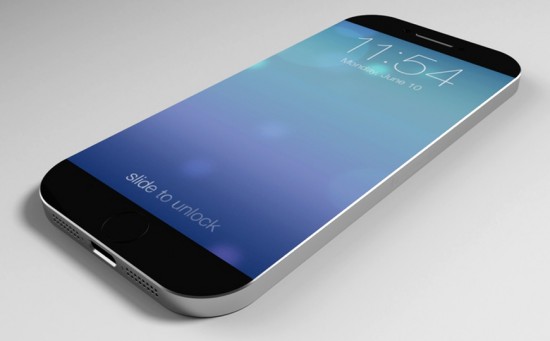 One juicy rumor floating around is that Apple looks to bring 4.7-inch and 5.5-inch displays to the iPhone 6. This has been given credibility in the eyes of tech analysts and enthusiasts, seeing that a number of iPhone users want a larger screen to watch movies and play games. At the same time, however, Apple is not one to move at the pace of consumer interest, particularly when the company does not want to. If you think this logic is wrong, think about how long it took Apple to introduce the iOS update in iOS 7 that provided a lot of additions in software that iPhone users have been craving for the past 5 years, at least. Consider too, that it took Apple a few years to release 4G LTE, even after Android manufacturers had been rocking it in their devices for some time. Some iPhone users justify Apple's "snail's pace" actions as a way for the company to get it right, but let's face it: Apple moves at the beat of its own drum and isn't forced to move any faster by its consumers or competitors.
What are we to do with iPhone 6 phablet rumors? Throw these in the "it's a nice thought" category. The idea of a 4.7-inch screen in the iPhone 6 is quite unlike Apple. When Apple increased the iPhone display in the iPhone 5, Apple only enlarged the screen by a half an inch, from 3.5 to 4 inches. Apple may increase the iPhone 6 display from 4 to 4.5 inches, but it's unlikely that Apple will go to a size bump like 4.7. If you know how Apple works, the 4.7-inch display will be a new feature in the iPhone 6s – so save your money until 2015, then prepare for a display size bump in the iPhone 6s.
As for the iPhone 6 containing a 5.5-inch display? Apple CEO Tim Cook has said before that Apple would only increase its iPhone display if the company believed it could do so without user experience and stylistic compromises. Cook said this before introducing the iPhone 5, so it's been some time ago since Apple's been that forthcoming about display size. At the same time, however, it's likely that Apple will have to increase its screen resolution if it designs an iPhone 6 with a 5.5-inch screen. Last year, Apple struggled with manufacturing iPad Mini screens because the company wanted to pack the same 2048 x 1536 Retina screen resolution into the 7.9-inch iPad Mini as it has done in the large, 9.7-inch iPad Air. If the company is struggling to pack the treasured Retina display into the smaller iPad Mini, how will Apple pack a gorgeous Retina display into a 5.5-inch screen?
In addition to the display size factor, Apple will have to increase its screen resolution for the iPhone 6. Apple's current iPhone 5s sports an 1136 x 640 screen resolution. Most 5-inch phablets in Android sport a 1920 x 1080 screen resolution, some as low as a 1280 x 720 screen resolution. Even with a 1280 x 720 screen resolution on a phablet, the screen resolution can still appear washed out with color and image quality compromised. The larger the smartphone screen, the more improved the screen resolution must become.
Apple's been able to score great success with iPhone users because of the small display size and thus, small screen resolution, but if Apple does increase the display size of the iPhone 6, it will have to increase the screen resolution. 1136 x 940 will not look as appealing on a 5.5-inch display (or even a 4.7-inch, for that matter) as compared to a 4-inch display. This is likely to prove Apple's biggest challenge (pun intended) with the iPhone 6.
Samsung has been King of the Phablet since the company coined the term and created the display size range, but Apple may be able to score some cool new ground with Android consumers if Cupertino can prove itself formidable.
iPhone 6 Rumor #2: iPhone 6 Will Have Two Large Sizes
This iPhone 6 rumor relates to the phablet-size remark above, but it is one worth considering on its own. Sources have stated in recent weeks that the iPhone 5C, though marketed by Apple's own Sir Jony as "unapologetically plastic," may be "unapologetically removed" from Apple's own iPhone stock as of this September. It seems that all the rumors we've heard about the plastic iPhone 5C being a flop are true. iPhone users, as I remarked then, have come to expect strong, durable materials with a premium look and feel. Samsung did not market the iPhone 5C to provide a premium look for consumers; it manufactured the iPhone 5C with plastic because the iPhone 5 displays cost the company too much money, and Apple's shares and money were still dipping when Apple announced the iPhone 5C last September.
Apple's stock seems to be on the rise and has been growing back to somewhat expected levels in the last few months, so the company wants to continue this trend. What does this mean for consumers? All the iPhone 5Cs that came with $0 down on a 2-year contract will be a thing of the past this September. If you ask me, Apple should never have abandoned the iPhone 5 last September. It is, by far, one of the nicest iPhones Apple has ever made. The iPhone 5s has a new color (champagne) and a fingerprint scanner (Touch ID), the iPhone 5 had better performance results in Wi-Fi battery life and other specs. Apple could possibly abandon the iPhone 5C and use the iPhone 5s as the lower-priced option for consumers. I sure hope so.
iPhone 6 Rumor #3: 12MP or 13MP Camera
I know, I know, some rumors remain, year after year, even when they look more improbable as time goes on. iPhone fans, I'm afraid the megapixel-increasing camera is one of those legendary rumors that never comes true. Apple has had an 8MP camera in the iPhone 4, iPhone 4S, iPhone 5, and iPhone 5s – what makes you think the iPhone 6 will be any different?
Some have said that Apple's current iPhone 5s has one of the best cameras on the market to use, some placing it side by side with Nokia's Lumia line (although this remains to be seen). At the same time, however, it is true that higher-megapixel cameras do provide a better zoom image than lower-megapixel competitors. I've seen this by comparing Google's LG Nexus 5 and Samsung's Galaxy Note 3, and I've also compared my former iPhone 5 to these same cameras. The truth is that, Apple's camera may have a dual-LED flash on the iPhone 5s (and will likely have the same in the iPhone 6), but higher-megapixel cameras provide a larger photo experience – which, for many smartphone users, translates into a better one. Apple may place more lighting and better color reproduction software into the iPhone 6 camera, but the company will not increase the iPhone 6 camera to 12 or 13 megapixels. For those of you that want a higher-megapixel experience, Samsung's new Galaxy S5 or its upcoming Galaxy Note 4 have got you covered.
iPhone 6 Rumor #4: Significantly Improved Battery Life
This is an excellent rumor, but it's also one that I've come to expect only in my dreams (unfortunately). Last year's iPhone 5s increased in battery size from the 1440mAh battery of the iPhone 5 to the 1558mAh size of the iPhone 5s; this is not significant battery increase, however. It's likely that, if Apple sticks to the same 4-inch display in the new size (or even increases the display size to 4.5 inches), Apple will not significantly increase the battery size to, say, 2600mAh or larger.
Some have said that Apple has already locked in the iPhone 6 display size at 4.8 inches, but battery life will be as terrible as it is in the iPhone 5s experience – despite the battery size increase. If Apple looks to go bigger, it may get serious about its battery life, particularly if it releases the fabled 5.5-inch screen size. However – and this is where I add my own view – Apple cannot increase the screen size to a near 5 inches and retain the same small, incremental battery jump each year. A larger battery will, however, work like the iPhone 5C – against Apple's "thinner, lighter, and faster" mantra. On the basis of Apple's usual design philosophy, it's unlikely that battery life will see a significant increase in the iPhone 6.
At the same time, however, if Apple brings two larger-display sizes in the iPhone 6, Cupertino will have to increase the battery size to compete with the best that Samsung has to offer. Samsung is the King of smartphone batteries right now in its phablet line (the Galaxy Note collection), and I've gotten as much as 3 days of battery life on a single charge from the Note 3. This is the kind of battery life I want to see from Apple if I intend to invest in the iPhone 6. The verdict is still out on this one, however.
iPhone 6 Rumor #5: Water And Dust Resistance
This rumor has died down with the iPhone 6 rumors when you compare it to previous iPhone announcements, but it's still around. Tech Crunch writer Matt Burns is hoping for a water and dust-resistant iPhone 6, but it's more likely that we'll experience World War 3 than that Apple will actually give consumers an element-resistant smartphone.
Remember above when I said that Apple follows the beat of its own drum? The recent rumors of Apple's new Sapphire Plant in Arizona are an excellent case in point. The iPhone 5 and iPhone 5s have been shown in demonstration video after demonstration video to have a durable Gorilla Glass display. Most iPhone users do not crack their iPhone screens (thanks in large part to screen protectors); yet and still, Apple seems to be aiming for an even more durable iPhone screen. Sapphire displays may prove excellent for the iPhone 6, but the old saying "If it ain't broke, don't fix it" applies here. Why not save the sapphire display for next year or 2016 and bring users water and dust resistance?
The water and dust resistance rumor for the iPhone 6 is a pipe dream, but this does not mean, however, that iPhone users should not long for it. If you read Matt Burns' article above, there were a number of iPhone fans commenting that said they didn't care for waterproofing or water resistance in the iPhone 6 – which is kind of sad, actually. After all, how many times have iPhone users dropped their iPhone in the toilet or in a pond – and lost it, forever? I know of a personal case involving a water-killed iPhone. Water and dust resistance would help iPhone users have more fun in the sun and rain as well, and allow them to use their iPhone 6 as a "life companion" (oops! Could Samsung's own label apply to the iPhone someday?).
There are many iPhone 6 rumors floating around, but these are some for now that you may or may not be expecting in the iPhone 6. If we're proven wrong, then may Apple increase and abound in profit. If we're right on about some or all of these, the correct predictions here may make you stand cautious about getting the new iPhone 6, iPhone 7, or next-generation iPhone model in the future.
Have you heard or read about any far-fetched iPhone 6 rumors? Do you trust them or not, and why? If you want your voice to be heard, sound off in the comments below.