We all hate stylus. Especially after the iPhone changed how we use a touch-screen device. There is rarely any need for a stylus, let alone an iPhone stylus. But, in certain circumstances, you may want to keep your taste aside and actually get some work done on your iPhone.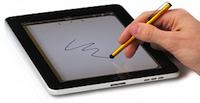 We all love to use our fingers to type and navigate on the iPhone. However, if you have fingers too thick for the button and icons on iPhone or if you are wearing a glove in winters, it can be tricky to use an iPhone without a stylus. It is very hard to hit the target key while using the iPhone in such circumstances.
iPhone was designed by apple to be used without a stylus. There is probably no need to explain this, but the iPhone's glossy touch sensitive screen is responsive only to your little fingers (or too responsive for thick ones). This is due to use of a technology called capacitive touch. It works by measuring the flow of electron through your skin.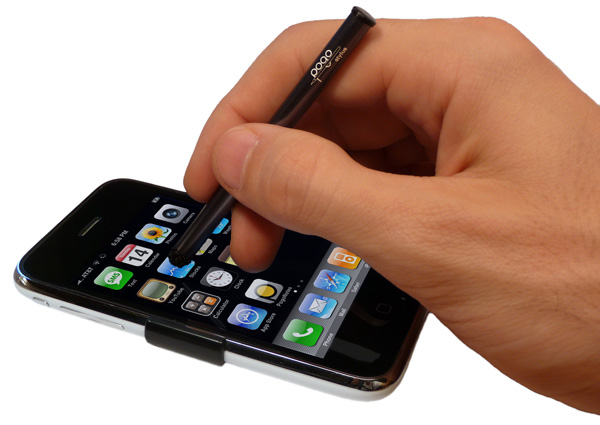 The art behind the stylus is to trick the iPhone in believing it's really a finger. Furthermore, the tip of the stylus should be soft enough to avoid scratching your screen or making your screen dirty. In this post we show you a couple of iPhone Stylus that will come in handy when using fingers isn't a possibility.
Pogo Stylus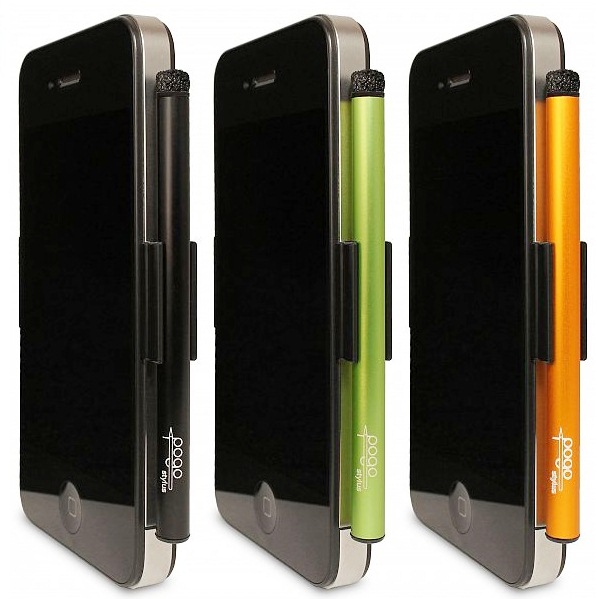 Pogo stylus is made of a soft and long-lasting tip, perfectly sized for keyboard keys on the iPhone. It slides easily over the display surface, making it a fun experience when you are drawing or typing something. The body of the stylus is made up of lightweight aluminum alloy, and comes in verities of color to suite everyone's persona. The device is pretty accurate and more accurate than a finger for certain tasks.

Video above is of a Pogo stylus being reviewed.
The iPhone is amazingly responsive with the pogo stylus. It works pretty much well when you are browsing through your playlist or checking your mails. It works better than your fingers while you are typing. If you have big fingers or wear gloves on your hand, its really hard to hit the right buttons with those and with gloves its really too hard. Pogo stylus is useless for multi-touch operations like zooming an image due to obvious reasons.
Price Range:
$3.41 for Gun Metal
$4.99 for Silver
$5.31 for Black
$13.49 for Hot Pink
DIY Stylus
If you are a make-things-myself kind of guy, then this could be what you are looking for. A DIY stylus is a cheapest solution if you don't like the idea of spending money for an iPhone stylus. You can make a DIY stylus with the things you find at home.
What you will need:
A pen, it should be metallic (conductive)
Snap fasteners
Glue
Scissors
Strings (Dental floss is recommended)
Now, here is how to do it:
Separate the snap fasteners and keep the one with the depression and round edges. Throw off the other one.
Tie the string with several knots such that the knot becomes just bigger than the sewing slot on the button fastener.
Apply some glue on the knot and fix it with the button fastener but before you do this make sure you have threaded the free ends of the knot with the sewing slots, so that it catches up tightly with the button.
Now, empty your pen and put free end of the string through the pen body until the button socket reaches the pen tip.
Now fasten the open end of thread at other side of pen and you are done.
Didn't quite understand how it is done? Watch the video below showing how to do it step by step.
You can find way cheaper stylus for your iPhone on Amazon too. At the time of writing this post, we found a $0.01 stylus.