Microsoft Security Essentials is a decent bid from Microsoft to protect your Windows 7 or earlier Versions of Windows. The protection kit is free, fast and does a good job at protecting your PC from threats including viruses and spyware engines, rootkit protection, and real-time detection using Microsoft SpyNet, which is a cloud based service and works by comparing file behavior across various Microsoft Operating Systems. While MSE is compatible with Windows 7, Windows Vista, Windows XP , the new Windows 8 has a similar inbuilt app and goes by the name 'Windows Defender'.
Besides its various features and detection sensitivity, Microsoft Security Essentials has numerous quantifiable down sides, the most significant being the partial inability to remove already infected files. Many tests have been run to check efficacy of Microsoft Security Essentials using different standardized techniques, methods and trials and results have shown a huge variation. This is why in this post we have collected all the related information about the question "Is microsoft security essentials good?'. We have used reviews and lab test reports to reach to our conclusion but we recommend you to go through  this post and decide for yourself if Microsoft Security Essentials really is good.
The Good
Installing Microsoft Security Essentials is pretty swift and takes typically 4-5 minutes during which you can opt in or out of customer experience improvement program. You can  also choose whether to turn the firewall on or run a complete scan after the installation is complete.
The interface and design of this app is pretty vibrant, intuitive and easy to use. A simple four Tab bar across the top has self explanatory options including a Home Tab where-from you can perform security status check and run a Quick Scan, Full Scan, Custom Scan or a scheduled scan.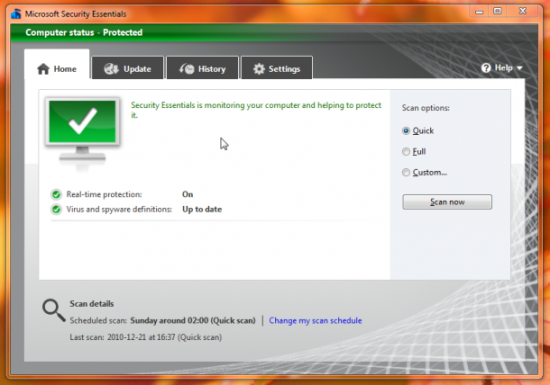 The Update tab checks for new upgrades, Virus definition files and History Tab is just there to check log and information about previous threats. Settings tab is also nicely designed and self-explanatory but some of the Advanced settings are technical and need adept knowledge.
Microsoft Security Essentials uses SpyNet to protect your computer from viruses and spyware engines and provides  rootkit protection by using Cloud Based method to compare behavior across other computers running various Microsoft operating systems. The latest version allows you to opt out of contributing to this service which earlier was warned to accidentally share private information. There are however, two SpyNet Memberships that you can choose from, the Basic one submits to Microsoft the Detected Software origin's, while as the advanced membership submits all that plus the location on your hard drive of the software in question, how it operates, and how it has affected your computer.
The Custom Scan option can be used to scan a specific folder or Drive (like a USB Key) but there is no option as of yet to scan for a specific type of threat that you want to run on these Customized drives. What that means is that, while you can run scans on folders or drives, you cannot select whether to scan it for threats like rootkits or heuristics alone.
The latest version by itself is integrated with Internet explorer to provide a tighter security against Downloads which is accentuated by Windows Firewall. The options and updates interface is also simple and does not have fancy options or functions which in fact is rated good by most of the users.
On the performance front, the Microsoft Security Essentials has been put under many test benchmarks and though it has shown variable results, the overall performance is appreciably better than most of the counterparts. There is a minimal lag in boot, shutdown , multi-tasking and other essential computer functions. The scan also runs faster and overall the usability and performance ratio is better than most of the free software alternatives but is well surpassed by premium ones.
The Bad
Microsoft Security Essentials did well when it came out but it has been slammed recently by various tests which revealed a drastic inefficiency of this Software against some lab tests designated to check its on ground efficacy. Blocking feature of Microsoft Security Essentials was found to be its strongest forte but that also received rebuke backed by proof recently. One such test was conducted by London-based Dennis Technology Labs after Microsoft's refusal to recognize previous AV-Test as a standard for real-world protection efficacy. Other AV software that participated in this test were AVG, BitDefender, ESET, Kaspersky, McAfee,  Norton, and Trend Micro.
The aim of this test was to check  the ability of a AV software to "block all threats and allow all legitimate applications." The standard scale measured and gave points if a Software could correctly block threats or correctly leave legitimate software alone. A  negative point was given for Software that blocked legitimate software or failed to identify Malware. The scale ranged from 400 points; to the worst, -1000 points.
While all the other Software showed a border line of 300 points, Microsoft Security Essentials failed miserably by gaining an unfortunate score of 30 points. Similar tests run over the past few months showed similar results and overall MSE can be  trusted slightly for blocking virus but it certainly does a horrendous job at removing the infected files.
Conclusion
While Microsoft Security Essentials is good with your Windows in terms of performance hindrance but it does so on the expense of compromising the security. Considering various factors and alternatives we recommend you choose other lucrative platforms like Avast or AVG if you mean some serious security with all the other advantages intact.