When it comes to computer everyone wants speed and even more speed. May it be people who work in offices under bosses or self-employed people, Keyboard shortcuts always come handy to increase the output of their work. There are hundreds of general shortcuts and then there are even more shortcuts for each application.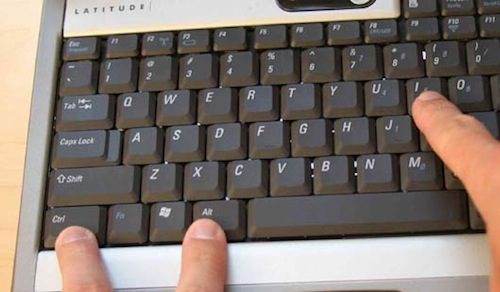 In this article we will be dealing with Keyboard shortcuts provided in Windows. Some of these are well-known but some are the ones you will learn for the first time.
You might also like our earlier posts about cool keyboards and laser keyboard.
Windows System Keyboard Shortcuts.
Function Key 1 or F1 Key: This key is the help key of your PC. When you press this key a HELP window pops up which gives you information depending on where you are on your desktop. For example if you have a problem downloading something and you press F1 Key a window will pop up which will tell you why there is a problem with your Downloading.
CTRL+ESC: This Key combination helps you to open start menu regardless of the program you are working on.
ALT+TAB: When you are working on a project and multiple programs are running on your desktop it really becomes hectic to go over to task bar and switch between the programs way too often. So this key combination helps you to tackle this problem by switching between the programs quickly.
ALT+F4: Remember the last-minute rush when something comes up and you have a lot of windows open on your computer which you want to close as quickly as possible to shut your computer down? If that sounds familiar then this key combination is your savior. This keyboard shortcut enables you to close programs quickly.
SHIFT+DELETE: Often we find our hard disk tufted with unnecessary data or in Windows words "Trash" and when it comes to massive trash it takes pretty much time to first recycle and then "empty the recycle bin". This shortcut helps you to delete data permanently from your hard disk or any other Re-writable devices saving your time and in "that case" risk of getting caught.
Windows Logo+L: This is a pretty handy shortcut which helps you to Lock your computer quickly so that no one else uses it when you take a small break.
Windows Shortcut for Programs
CTRL+C: Copies the highlighted text, can be used after highlighting all of the text by using another Program shortcut CTRL+A.
CTRL+X: Cuts the text. Which means it copies the text but removes the original source.
CTRL+V: Pastes the text. Which means it pastes the text on a new destiny from previously copied field.
CTRL+Z: If you commit a mistake while formatting your text or writing it or some other mistakes in some other programs this shortcut helps you to rectify you mistakes quickly by going one step back into the past. Although, it should be kept in mind that some programs allow only 2-3 Undo steps.
CTRL+B: This shortcut helps you to Bold your text.
CTRL+U: Adds an underline to selected text.
CTRL+I: Makes your text italic. Example
General Keyboard Shortcuts
Function Key 10 | F10: This Key activates Menu bar options from which you can choose any function to execute by moving with the help of arrow keys and then pressing ENTER key on a desired button.
CTRL+ESC: This Key combination helps you to open start menu regardless of the program you are working on.
SHIFT+F10: This Shortcut is a Keyboard version of Right click ie., it opens a shortcut menu for the selected item.
CTRL+SHIFT+ESC: This shortcut opens Windows task manager.
ALT+DOWN ARROW: This shortcut opens a drop down menu.
SHIFT: When you insert a CD-ROM you can bypass the Auto-run program by pressing and holding SHIFT key.
ALT+SPACE: This shortcut is a keyboard version of pressing right-click on the main window which opens a drop down menu containing restore, move, resize, minimize, maximize, or close the window option.
ALT+F6: Allows you to switch between multiple windows in the same program (such as, when the Notepad Find dialog box's displayed, ALT+F6 switches between the Find dialog box and the main Notepad window)
Windows Explorer , shell object and General folder shortcuts
Function Key 2 | F2: Helps you rename an object may it be a folder, a document, a music file or anything.
Function Key 3 |F3: Helps you to Find all files.
ALT+ENTER: Opens the properties of the selected object.
To copy a file: Press and hold down the CTRL key while you drag the file to another folder. To create a shortcut
Function key 5 | F5: This key refreshes the page or window you are on.
Function Key 6 | F6: Allows you to Move among panes in Windows Explorer.
BACKSPACE: Press backspace to move back to parent folder or in case of Internet explorers helps you go back one step.
SHIFT+click+Close button: This option is for folders, and enables you to close the current folder plus all parent folders.
Accessibility shortcuts
SHIFT 5 Times: To toggle Sticky keys on or off you can press SHIFT key Five times. Sticky Keys lets you see CTRL, ALT, SHIFT or WINDOWS Logo key by pressing one key at a time.
Right SHIFT Key: Press and hold Right Shift Key for 8 seconds to toggle filter keys on or off. Filter Keys lets you ignore your brief or repeated keystrokes.
Left ALT+left SHIFT+NUM LOCK: Toggles Mouse Keys on and off:
Left ALT+left SHIFT+PRINT SCREEN Toggles high contrast on and off.
Natural Keyboard Shortcuts
Windows Logo Key +R: Opens up the classic Run dialog box from which you can Run any Program or page.
Windows Logo+M: Shows the desktop. Which means it minimizes all the open windows.
SHIFT+Windows Logo+M: Undoes the previous shortcut.
Windows Logo Key +E: Opens up the windows explorer.
Windows Logo+F: Finds files or folders.
Windows Logo+D: Functions like Windows Key+M . Minimizes all open windows and displays the desktop.
Windows Logo+Break: Opens up the System Properties dialog box.
Other Resources:
New Windows 7 Keyboard Shortcuts
Windows Keyboard Shortcuts Video
Windows 7 Time Saving Keyboard Shortcuts Video