This decade has been a decade of surprises with Phones without a Keyboard, touchscreen technologies, 3D cameras and movies, Projectors that fit in pockets and now the elusive Laser Keyboard which once seemed a dream is here to thrill you with its exquisite design and colossal impression.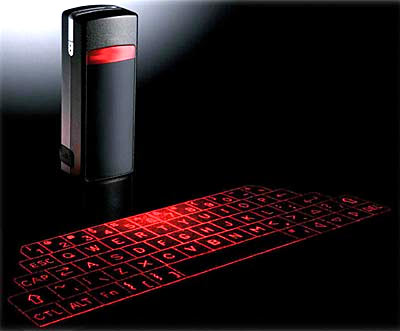 The Laser Keyboard also called (VKB – Magic Cube) is Virtual keyboard of the size of your cellphone which works even in complete dark by projecting keyboard keys on a plain surface. The device is compatible with iPhone, iPad, Smartphone, PDA, MAC & Tablet PC and any device that operates Bluetooth HID. While this laser Keyboard can easily replace your traditional keyboard at the same time it can make an Impression when you pull it out in front of your colleagues or boss during a presentation.
> Related: Android Bluetooth Keyboards.
The keyboard works on direction technology based on an optical recognition mechanism which enables the user to tap on the projected key images, while producing real tapping sounds just like a real keyboard. The adaptable technology studies the user's finger movements to interpret and record keystrokes. Because the virtual keyboard is an image projected by light, it disappears completely when not in use. With exact dimensions of (38 x 75 x 29 mm) this keyboard is of the size of a cellphone which makes it an easy-to-carry productive device.
The device comes in various vibrant as well as classic colours and is used in Personal Digital Assistants (PDA's), Cellular Telephones, Laptops (Mac compatible), Tablet PCs, Space saving Computers, Clean Rooms, Industrial Environments, Test Equipment, Sterile and Medical Environments and Transport (Air, Rail, Automotive).
This video shows the size of the device it's projection and how it works.