If you are someone who loves Halo and everything that is related to it, then you will certainly fall in love with the new Halo Master Chief Costume. This is a full body green protective suite that will also feature a mask and wearing one, you will definitely feel like you are one step closer to the Halo world that millions of FPS players around the world are raving about.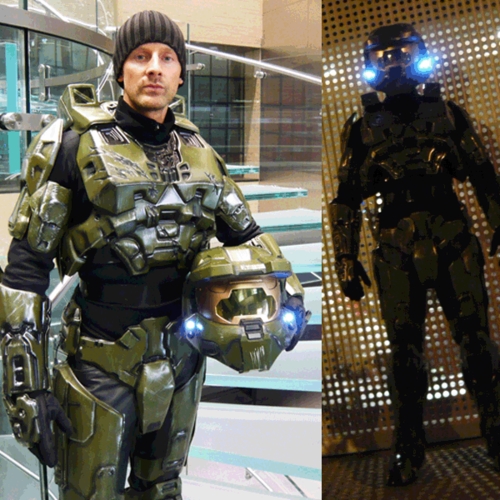 This master chief costume is just amazing and it is made out of very high quality material, that will certainly convince you that this can also be used as a body armor suite, well, at least for small pebbles I guess.
The Halo Master Chief costume is just perfect for Halloween and wearing one, you will certainly stand out from the crowd. You can even take it to next paintball shooting and everyone will be surely impressed.
Master chief is probably the best known personality of the Gaming world. Ever since the launch of Halo, people all over the world have been buying stuff relating to Master Chief. Like this Master chief collector's costume. It is a jumpsuit with EVA armor, two-piece deluxe helmet, gauntlets and boot tops. There are two types of these suits based on the material used in their manufacturing. One uses styrene and the other uses ABS. The size varies from between 38-42 in the chest and about a 36-38 in the waist. The Standard inseam is 33. It retails for $999 and there is a sale going on right now, so you can buy it for $750.
Update: It has now been sold out.
Master Chief Costume for Paintball fun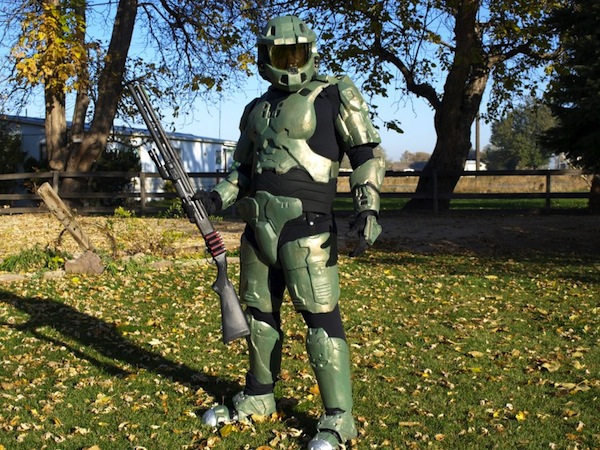 The Halo Master chief costume actually belongs to a character in the game, called Master Chief Petty Office 117. He is a solder that is cybernetic-ally improved. This is not only a character that those who have played the game needed to deal with, but it is also a character that was featured in around four science fiction novels.
If you will be playing the game, the Master Chief Character experience will depend on your skill and how good you will be able to impersonate him.
Even though the Halo Master Chief character is a neophyte, he is ranked very high and has a good standing position alongside other famous characters like the ones that you can find in Mario, Lara Croft, Sonic The Hedgehog and so on.
Because the Halo Master Chief costume is a suite that features a mask and has distinct colors, it is just perfect if you want to be camouflaged in certain areas. The look you will get when wearing the suite will be that of a wicked soldier that no one will be even daring of looking at. Although not as cool as the LEGO master chief we wrote about a few months' ago, this costume beats that one in usability.
Using the Halo Master Chief costume as a Halloween costume, you will not only benefit from a higher respect from your friends when you will be trick or treating, but you will also feel better with yourself.
If you will want to get the suite, you should know that it does come at a price which is a little hefty. The costume features a distressed injection armor & of course, a nice helmet. This is a suite that would be easily considered as a collectable item in the future!