Apple's apps store for iPad is still in its budding stage; constantly new apps are being added to the apps store to increase the iPad apps concentration.
We all know that all of the iPhone apps works perfectly on the iPad, but as they are not configured for bigger screen, the resolution is little vague.
The iPad apps store has some of the best money management apps focusing on your personal finances.
Also check iPad wallpapers and retina wallpapers.
Here is a list of all the important apps for managing money on your iPad or iPad 2 device.
1. Money for iPad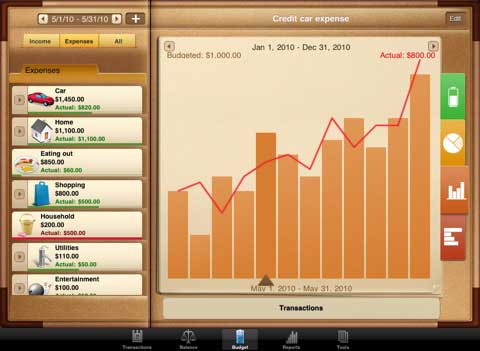 It is one of the most ample personal finance management apps from app store. It allows you to manage all you bills by using calendar and it also puts a reminder for your upcoming deadlines.
It provides you with all your financial data, like total amount in your different bank accounts.
The beautiful interface design makes its use quite simple and comfortable. [App Store Link for Money]
2. Bills for iPad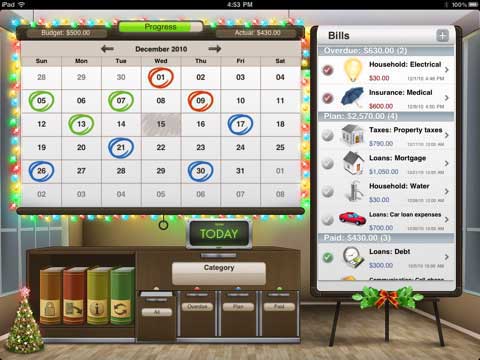 It allows you to plan and track all your expenses throughout the month. The gorgeous iPad friendly interface will make you feel like an office room.
This app permits you to plan the amount you like to spend and the amount you have spent. Otherwise you may need to find a decent w-4 calculator, budgeting program, and/or a gaggle of other software.
You can plan your expenses on daily basis, could plan the payment of bills and track the amount you have spent considering how much you have actually planned to spent.
If you spend too much then this app will warn you against the same. [App Store link for Bills on iPad ]
3. Cash Flow HD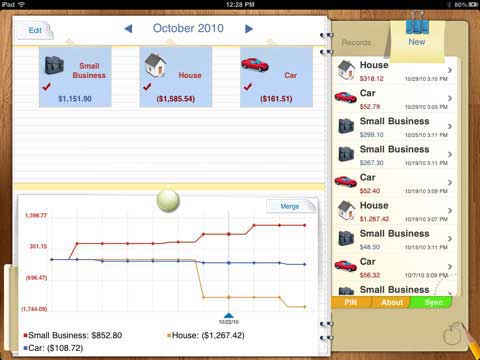 This application permits you to create a monthly expenses report on the basis of categories. You can organize your expenses in different categories like how much you spent on your car, house, trip, business etc.
You can organize the categories and the cash flow will provide you with monthly report on your spending. The interface is quite nice.
This apps supports multiple currencies and shows detailed list of the transaction under each category. [App Store link for Cash Flow HD ]
4. Chase Mobile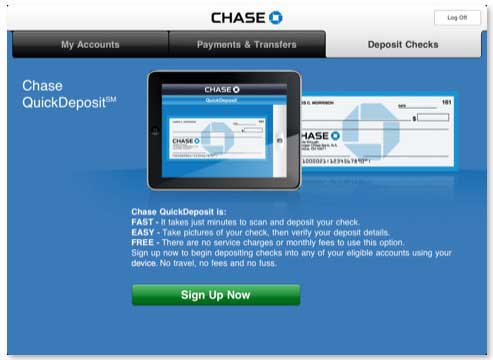 If you are a chase bank costumer this is the must have apps for you. It allows you on the go banking.
You can use this app to find your nearest chase bank or ATM, make a deposit, and you could even have a blueprint for your credit and debit cards.
This apps actually connects to the website and optimize it for the iPad interface. This interface is really good and exciting. The other banks should also come forward with these kind of apps. [App Store link for Chase on iPad ]
5. Checkbook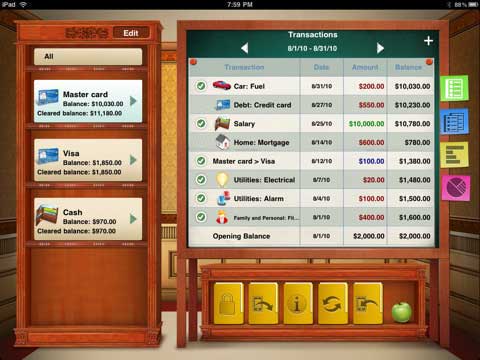 This app can be used as a checkbook for all your accounts. This app keeps track of the money left in your account. It allows you to add all your bank accounts and organize you money according to that.
You are provided with an option either to enter your financial data manually or by importing OFX file from your bank. You can also add some detailed entries like income expenses, transactions etc.
It provides a lot of customization options. It also provides you with a PIN to protect your privacy. [App Store link for CheckBook ]
6. iCompta 2 personal finance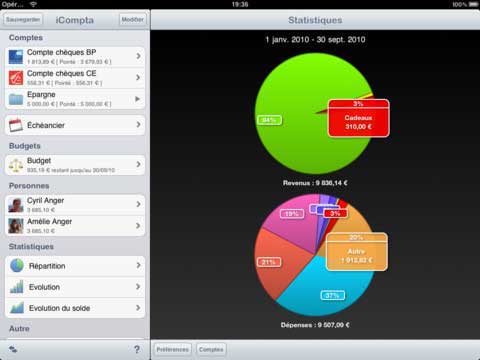 It is app that will let you manage all your personal accounts. It gives you facility to manage multiple accounts and arrange them into groups.
It supports multiple currencies. By the budgets it can keep track of all of you monthly earning, savings, and expenses. It could let you manage all your data in beautiful charts.
You can also download all your transactions from your bank if your bank manages to provide the OFX direct download. It has facility to import and export the data via multiple file formats like QIF, OFX and CSV.
It provides you facility to sync with iPad, iPhone and Mac. It also provides password encryption for enhanced security. [App Store link for iCompta 2 ]
7. Bloomberg for iPad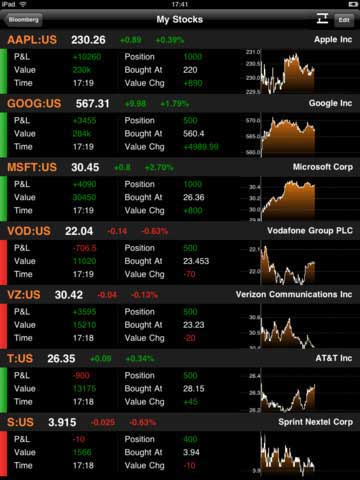 Bloomberg is one of the most trusted sources of financial information across the globe. This apps connects you to the Bloomberg terminal on your iPad.
This app provides you all the financial information you ever needed and tools to analyze the world market. This apps offers you the stock news, current quotes, description of companies, information about market leaders, price, market trends and many more.
It also allows you to create a customize list of the stock that you need to follow from markets across the globe. [App Store link for Bloomberg ]
8. Easy Books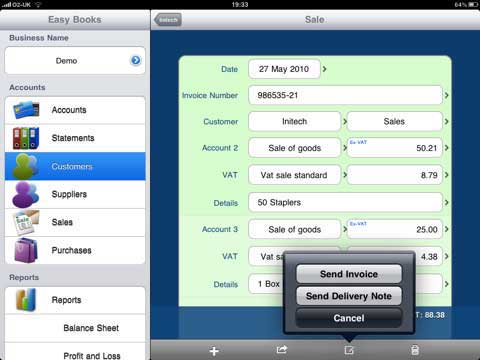 This app allows you to keep track of all your accounts, including your bank accounts, invoices, expenses, earnings etc. you can also add you debit and credit card statements.
It can also let you handle your profits, VATs, balance sheets, debts of customers and suppliers, cash flow statements etc. Its not like you need to be a genius to use this app interface is simple and it also possess a built in calculator for calculations.
It also gives you opportunity to generate costumer invoices and delivery charts in PDF formats for printing. It also provides you with a four digit pass-code to lock the app. [App Store link for Easy Books ]
9. Currency Convert Free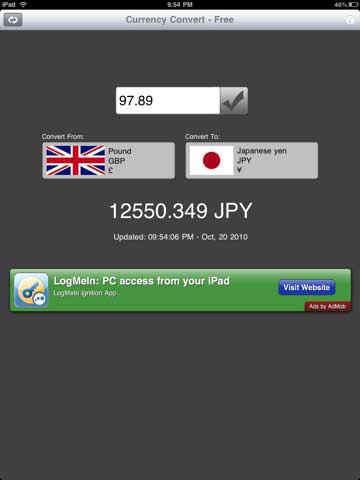 Currency convert free is a quick, simple and easy currency converter tool. It can also provide you with stock quotes thanks to yahoo finance. Interface and design is quite simple and easy to use. It provides you with a wide list of over 150 currencies.
You can swap between the currencies by tap of a single button. All the currencies are shown with their high resolution flag icons. It is a universal app for iPad and iPhone.
It also supports multitasking and retina display. [App Store link for Currency Convert ]
10. Home budget with sync
This app is designed mainly for your family to manage their budget. This apps provides you with feature of sync with other devices so that everyone in house should have a glimpse of the financial condition. This apps tracks all your income, expenses, bills and account balances.
It allows you to create, delete or edit the expenses and recurring expenses. You can browse your expenses by months, categories, dates etc. you can create, edit or delete the existing categories or could add a new one. You can also set a particular budget for the specific category and could track it accordingly.
It also provides you with the feature of backup and restore in case you lost all your data. It also helps you to protect your privacy by adding password protection. [App Store link for Home Budget iPad App ]
Let us know if you have more apps to share with us.