There are thousands of cases available for Apple's adorable iPad, available from a plethora of manufacturers and designers and all these cases spark peculiar properties typical of where and which company made them. SENA in particular is famous for its elegant leather and executive unique designs which their expert team takes to a new level of sophistication by incorporating some extra features uniquely in every case.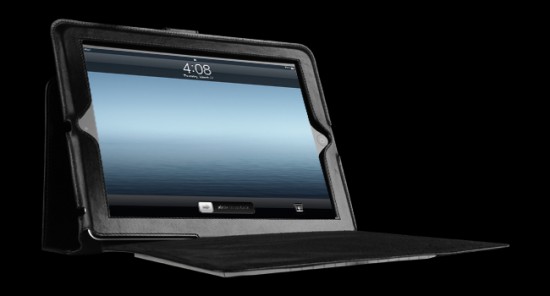 Sena Florence Portfolio iPad Case is their latest innovation of a standard portfolio case for the New iPad. It has been specifically designed for those who like to take their essentials and iPad in one single compact and elegant case. It comes bundled with features like card pockets, pen holder and writing pad pocket and all this does not add bulk to your iPad in any way.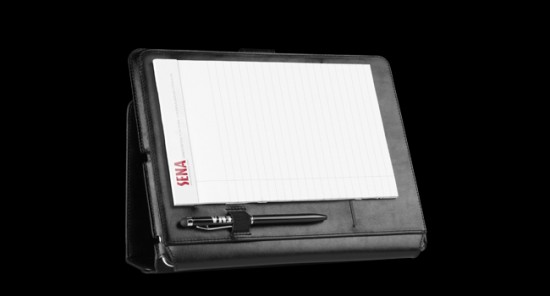 Externally, the case sparks elegance of smooth quality leather with a simple snap closure embossed with SENA to protect your iPad just well.There is a separate precise cutout for camera, speakers and  ports for a play through functionality. The case is also equipped with smart cover feature which actually means that it has a magnetic energy-saving sleep function activator. It is available in equally elegant black, red and brown colors.
Internally,the case is lined with micro fiber for protection against scratches, dust and other abrasions. There is a separate frame made out of leather to securely hold your iPad and along the left edge of the frame there is a Velcro closure to prevent your iPad from slipping.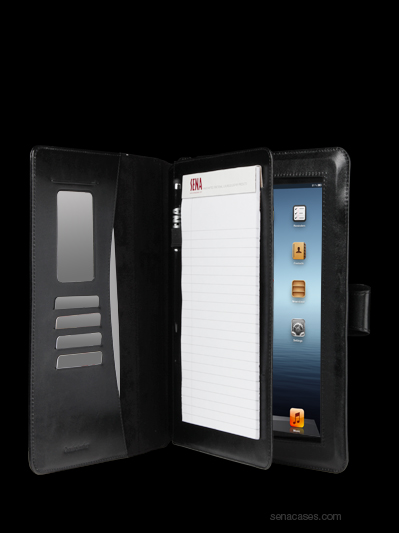 The second part is a writing pocket and pen holder which has a micro fiber lining on one side to protect your iPad's screen from scratches, dust, etc. This part also opens up from the left side to make room for some extra documents. The SENA pen that comes bundled with the case besides doing the actual job also serves as a responsive iPad stylus.
The last part features four credit card pockets, one ID pocket and it overall makes room for other office essentials too. If that wasn't enough, this part of the case folds all the way back, tucks into the snap closure and transforms into a fully comfortable landscape viewing and typing stand.
Bottom Line: Genuine leather case  bundled with features like  elegant design, compactness, card pockets, and other unique features Sena Florence Portfolio iPad case  is as good as it gets.