SGP is known for its unique cases and accessories for iPad, iPhone and other devices and this time we got an opportunity to review their  SGP Steinheil Ultra Oleo-phobic Screen Protector. They officially claim that their screen protector prevents scratches, damages, dust. Moreover,  smudges and finger prints easily wipe off, just like the original screen of the iPhone. Also, a bubble free application and no rainbow effect is promised.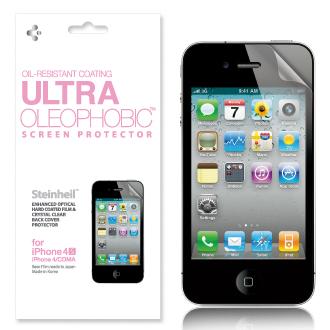 On ground SGP Steinheil Ultra Oleophobic screen protector falls quite well on the promises.  The package comes with 2 screen protectors, a squeegee, microfiber and microfiber cloth. Starting with the form fitting, the case is precisely cut to fit iPhone 4 or any model that you choose and is compatible with a standard iPhone bumper. The crystal clear  nature of the screen protector in combination with bubble free application and no rainbow effect makes it hard to spot this protector on your iPhone. It does not have a cut out for the front camera but that is not a problem as the protector is pretty clear and as such provides protection to your front camera.
Next comes the application aspect and if you follow the instructions that come in with the package, applying an SGP Steinheil Ultra Oleophobic Screen protector on your iPhone is an easy step-by-step dry process, although, you might want to take precaution while creasing the edges.
Overall, the case looks ultra clear, smooth and  fit on your iPhone, albeit, not as good as the original iPhone screen itself which maybe because of the oleophobic coating. As for the most highlighted feature of this protector, that is; Oleophobic, the protector does pretty well as it repels most of the fingerprints, smudges and those that don't, are much easy to wipe off.
Bottom Line: The SGP Steinheil Ultra Oleophobic Screen protector from CreTouch USA is worth the money and protects the iPhone screen exquisitely. Although, they should have included a back protection film also which eventually takes us to the conclusion that you might want to invest more money on a standard iPhone case, compatible with SGP Steinheil Ultra Oleophobic Screen protector  for an end to end protection.