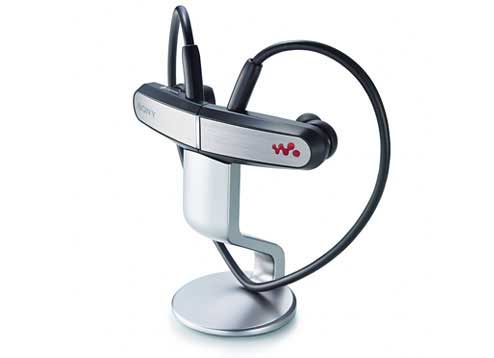 Sony has unveiled a yet another music player under their Walkman series of products. This new MP3 player, called the Sony unwired, is something we have never seen before. It is a stylish, trendy and wire-free MP3 player. It is quite an innovative product. Free your world from the wires and go wire-free. You will definitely get a sense of how wonderful this Unwired MP3 player is when you are taking a walk or having a ride on you motorbike and you see rest of the people tangled with wires around their neck all the way to their pocket where their iPods or other Mp3 player lie. It saves you the time of un-tangling the earphone cables.
The Sony Unwired was revealed by Sony at a recent TVC event in India. Sony Unwired or Sony NWZ-W200 is an interesting gadget to own. The sound quality is something we have never seen before in a Walkman Mp3 player. Sony Unwired is a perfect product for people that love to listen to music while jogging. It comes with ZAPPIN & Jog Dial controls for easy navigation. Sony unwired has a new, innovative feature called as 'quick charge'. If you ever forget to charge your Walkman before going to bed, just hook the player with your computer for 3 minutes and it will have enough battery juice for 90 minutes of continues playback.
Sony Unwired has 13.5mm driver units that support wide dynamic frequency range playback. Both the treble and Bass sound incredibly good. The earpieces have the regular Sony Earphone style and fit comfortably inside your ear. The earphone has Soft silicon earbuds which makes it kinda noise-proof. A full 90 minute recharge will be enough for a 12 hour playback.
Now for the memory, the Sony Unwired NWZ-W200 comes with 2 GB built-in memory which is not expandable unfortunately. So far, this is the only drawback of the Unwired we noticed. It can play various audio formats like MP3, AAC and WMA (DRM). You can transfer music files to and from your Sony Unwired using a drag and drop interface on your PC or Mac.
Final Verdict:
If ultimate portability and compact design is what you are looking for in an Mp3 player, Sony Unwired is for you. It looks stylish in your ears and the music quality is just great. Got Rs. 5000 (about $100 USD) lying around? Yes? Go get this sleek gadget. It does not have a sound recorder or an FM radio though.
The Sony Unwired comes in five colors – White, Black, Pink, Green and Purple. It retails for Rs. 4990/- (~$100 USD) at all major Sony Showrooms.
Gallery:
Checkout more pictures of Sony Unwired below or watch the TVC Video.
[nggallery id=4]