SGP is a unique designer and manufacturer of cases for iPad, iPhone and other devices and the best thing about their cases is that you can at the first look tell the amount of art, passion and expertise put together to design and manufacture one single case. SGP Zipack for iPad is their latest innovation and we at GeekNaut had an opportunity to review this exquisite case.
From the outside Spigen Zipack is quite simple but elegant with its faux leather material and a sole Logo embossed at back and front. The case seems like a folio design with two-pull zippers that run around three quarters of edge to safely and suavely secure your iPad.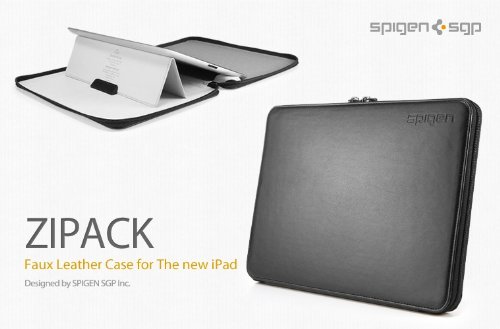 As for the interior, almost every part of it made from micro-suede like fabric except the place lying at the back of iPad which is made of a rubber like iPad to serve the purpose of holding iPad at one place. Also, to accentuate the purpose of holding iPad at place while under usage, two loose straps have been installed at  corners which serve the purpose quite well, albeit, a frame would have been better.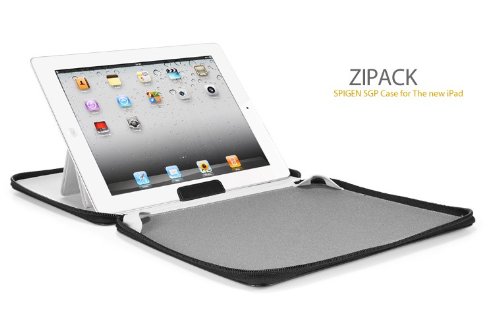 So far the case has been orthodox, but once you consider the two leather tabs installed from inside on the front cover, in combination with a faux micro-suede hard fold-able flap, the uniqueness of SGP cases has seems to be restores. The faux micro-suede flap can be suavely folded and the edge tucked into the hidden leather tab, to bring forth a comfortable and fully functional triangular stand. You iPad leans against the stand securely in any viewing position which is also supported by a separate tab.  The stand is perfect for both typing and viewing experience in both landscape as well as portrait mode, and surprisingly does not collapse at all. We got our case from CreTouch USA. They are the authorized retailers of all SGP cases and products.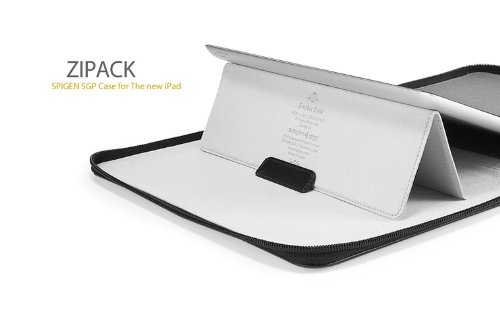 Bottom Line: SGP Spigen Zipack is a elegant folio case but is way too simple for a standard iPad folio case as it could have included some other features that most of the folio cases come bundled with. Albeit, the innovative interior stand and design is quite impressive and overall the case is money's worth.