The grand success of Apple's iPad created a new segment in the gadget market for tablets. Other companies too followed the lead and developed their own range of tablet PCs. Now the market is flooded with the tablet PCs from nearly all the large companies have something to offer. But one thing which is a bit common among all the tablets is their operating system. Either tablets are based on the new Apple iOS (in case of iPad) or they incorporate Google's Android operating system. But a new brave Taiwanese PC manufacturing firm Tangent has come up with a new tablet PC running Windows 7 professional. This Tablet PC with Windows7 professional OS is named Tangent Tycoon.
If you look closer, you will find that Tycoon is not a mind blowing gadget that someone will throw away their iPad for it, but the sleek look and the front facing speaker does make it look different. The company says the operating system has been modified a little to comprehend with the touch panel. But there are still some doubts if Windows 7 would hold up enough water to compete in tablet category  given that it will be contending the market leaders in the touch screen segment like Apple's iOS and Google's Android Honeycomb. So, what do we think of the Tangent Tycoon? Full review after the jump.
Operating System and Software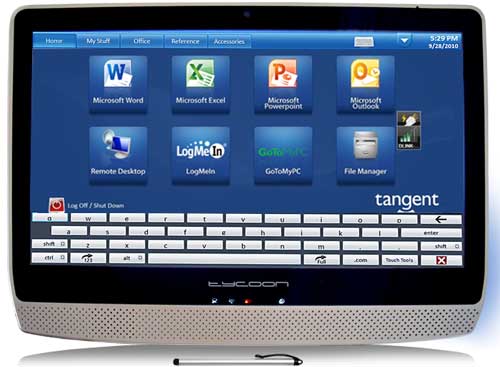 Much has already been told about the operating system. The Tangent Tycoon actually come preinstalled with the Windows 7 Professional version instead of the home basic or the home premium versions which we have once seen with the Asus EEE Slate EP121. Asus EEE slate gave users windows 7 home premium but the Windows 7 professional version that comes with the Tangent Tycoon actually signifies the purpose of the tablet. It gives you the hint that tycoon really means business.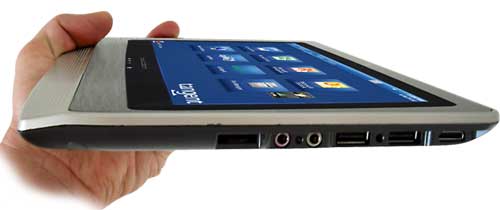 The company has also branded it as a business tool. There are quite several features like extended security, remote management ability and multi-tasking. The OS is not designed for small touch-interface for now but as there is Android and iOS ruling the segment so we could hope for some user friendly touch upgrades from the Microsoft. OS has some of the good touch features to offer though, including the handwriting recognition. So, most of the PC users who are shifting to the tablets would not find it much difficult to adjust with the change.
The basic commands and the functions are same as you guys would expect from a windows PC. The built-in browser is good and fast As most people are used to windows environment, so, they will not find it difficult to get a hang of the browse. But, when you go for the built in email program it is not as good or fast as the iPad.
The absence of the proper apps for the tablet is also one of the biggest issues. It should at least offer an App store just like Android and Apple. The search for the apps are quite tiresome and its quite difficult to Google out what you actually need. However, if you install Google Chrome, you will find plenty of apps to go perfect with the touch interface in the Chrome App Store.
Size and dimensions
The size and dimension is pretty much same as that of the iPad but sports a much smaller screen. It is about 9.6" X 6.9" in size and is about 0.6 inches thick. The weight is also more than the iPad which weighs about 1.33 lbs were as tycoon weighs about 1.87 lbs which is about 0.5 lbs more than the iPad.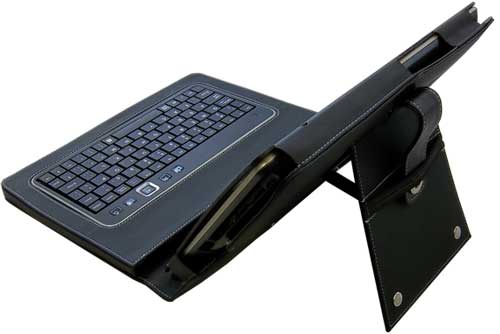 The front facing speaker actually gives it a distinct look but I personally feel a little awkward with it. It has a blocking for its cover to stop something which is not intended to enter in, which is actually nice. But bottom line is the cover is difficult to open and sometimes it feels like it would break off at a point.
Hardware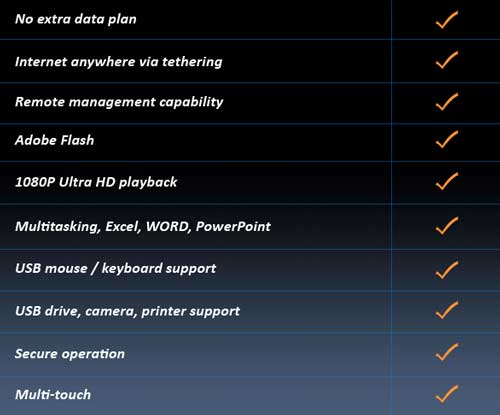 The Tangent Tycoons incorporates 10.1" ultra bright wide LED with Broadcom HD display. The Broadcom BCM7005 crystal HD decoder is used to provide you with enhanced HD quality video. The device embraces a two point capacitive multi-touch screen. As expected, the device includes an accelerometer too.
If we talk about the processor, the tangent tycoon features a 1.66 GHz Atom N455 processor (which we normally find in the netbook and small laptop computers) and it also sports the power efficient Intel NM10 Chipset. But looking to the fact that tycoon is more of a computer in a tablet form, it becomes quite obvious.
If we talk about the memory, this device has much more to offer than its counterparts. The Tangent Tycoon supports 2 GB DDR3 RAM and a whopping 120 GB hard disk, which is not seen with the tablets in this segment. The built in stereo speakers and the integrated microphone are its other interesting features.
Connectivity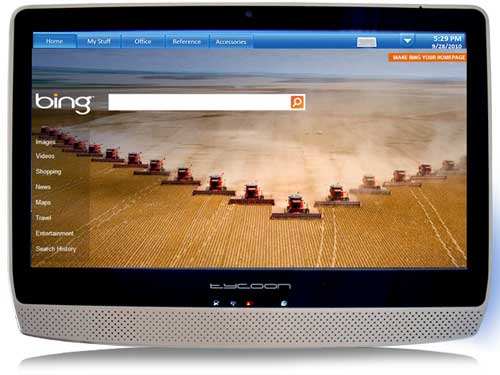 This is the part which we surely loved about this device. It provides a lot of connectivity features and some are pretty much more efficient and better than the competition.
It supports Wifi 802.11b/g/n and Bluetooth 2.1. The device also consists of 2 USB ports and an HDMI port for multimedia output. The device also has ports for microphone and headphone jacks. The camera is a 2.0 MP webcam. It consists of a 3800mAh battery which provides a comparably low backup time, which is only about 3 hours.
Well, the Tycoon also allows you to connect keyboard or mouse via Bluetooth or USB ports. So, the tycoon provides a lot of options to its users for connectivity and accessibility. Another advantage is that it supports plug and play, so you could connect it to your corporate network and all the windows enterprise applications will work fine with it. You can also connect it directly to any networked printer or scanner to get working right away..
Conclusion
As we have already mentioned, it is not something you could throw your iPad away for if you already have one. Neither is it a sound choice if you just want a tablet and already own a computer or a laptop. However, it is a perfect laptop replacement device. It is mainly a business tool. The main thing people will like about it will be the simplicity after all it is just a windows PC, everyone knows how to use a window PC.
So, if you have never owned a PC, or work with a PC at office and want to buy a PC for home –  Tangent Tycoon is a good option. However, if you just want the taste of tablet computing apart from all the PC stuff you have at home, we would say there are better choices.