If you're a gamer and you're a fan of the Xbox series, then you will be delighted when you will hear that the Xbox 360 Elite with Kinect has just been launched. It seems that Microsoft has done it again and with its seventh generation of consoles, it managed to make a bold statement on the console market nowadays.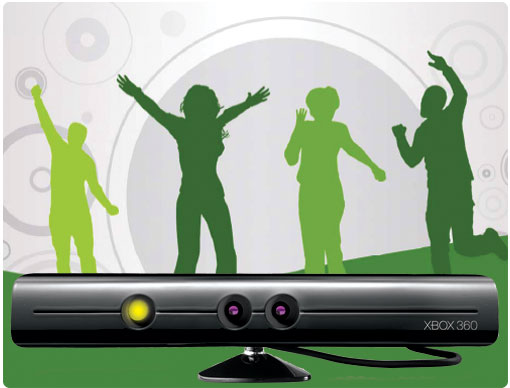 The new console doesn't feature the Falcon chipset anymore, instead, it uses the Jasper chipset. This will defer the chances of you seeing the red ring of death that so many users have been  complaining about. With the plethora of facilities that the Xbox 360 Elite has to offer, it will certainly appeal to both kids and adults.
The Kinect on the other hand takes gaming to a whole new level. Xbox Kinect is a device that fits in your Xbox 360 gaming console and you can physically play the game you want. You have to move your body in all sorts of directions to make you character move on the screen. This is something like the recently announce Sony PS3 Move. This is supposedly going to enhance gaming experience, except for the fact you can go out and play in actual life instead.
One of the first things you will notice and appreciate greatly is that the Xbox 360 Kinect is pretty small and has a couple of camera on the front panel. The console features an HDMI port, to make sure that all of your 3D gaming will be delivered perfectly. And when it comes to the color that the Elite features, it's black, making it look more badass, from the original white that you could buy it in before.
The advantage of the HDMI port is that it will have the efficiency of the console increased a lot and even if you will be dealing with 360-only game selections, you will now be able to have them used in this new version.
Xbox live is probably one of the greatest aspects of the Xbox and using it, you can play various games with practically everyone on the internet. On top of that, you can also use it as a windows media extender & a digital media hub. This means that you can also play high definition movies on it. If you want to buy minigames, they are available for sale on the online market places.
In depth analysis
The DVD drive in the Elite is still as noisy as the one you can find in the previous versions, despite of the BenQ technology it features. Also, you will need to get a subscription for online gaming if you want to benefit from Xbox Live. It comes with a very big PSU, a good cooling fan and 3 USB ports. But the thing that is mostly felt by the users is the lack of Wi-Fi.