"Too many pattern attempts" is quite common error faced by Pattern unlock Android users that unfolds when 20 incorrect pattern unlock tries have been made accidentally (or deliberately). Many situations lead to this Phone lock, like maybe your Kid thought of it as an interesting game or someone intentionally wanted to lock you out of your smartphone. When this happens, your Android phone automatically suggests you to log in with your linked Google account and change the Pattern lock, but most of the times it is not as easy as it seems. This is because you might  not have turned your Wi-Fi or carrier Internet service on and also this error seems to be a common bug in most of the Android Phones.
So, even if you are sure about your Linked Google Account user name and Password there is a possibility that you may not still be able to get access to your Android phone by this method. When this happens there are always other effective methods you can try and resolve your problem
In this post we have collected all the methods that you can use to get rid of Too many pattern attempts error.
Method 1: Enabling Google Account
One of the main reasons why you may not be able to access your Android device with your Linked Google account is because you might have multiple accounts set up on your Phone like Facebook/YouTube or Twitter account. This leads to technical confusion and in the steps that follow we will guide you on how to unable these multiple accounts except your Google Account. It should however be noted that this method is not supposed to work with every Android device but there is no harm in trying.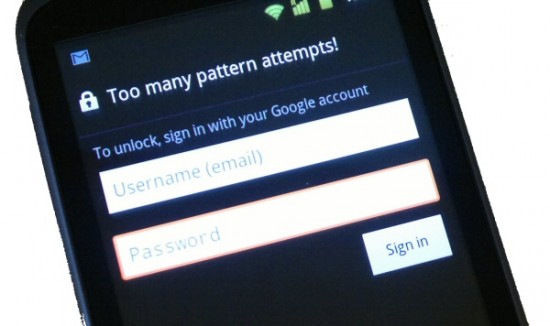 Step 1: Power off and then Power on your Android device.
Step 2: Start Tapping home button fast(4-5 times/sec) right after you see you Phone's logo on screen. During this process you might notice Emergency call button popping up often and in that case you need to keep on tapping it and the home button simultaneously. Also, password or keypad screen may flash on your screen few times and you will also notice a lag time due to tapping and this is a part of the process.
Step 3: If this process has worked for you, you will see your Android home buttons at the bottoms which confirms that you have gained access to your device. If it doesn't work for the first time, try again and you might want to take help of some other tech savvy guy with swift fingers to ensure fast tapping. The success rate of this process is about 15-50% so you might want to try again until you succeed.
Step 4: After you have gained access to your device navigate to Settings>Accounts & Sync.
Step 5: Now, under mange accounts remove all accounts except Google.
Step 6: Power off and On your device again, enter your Google account User Name and Password and you are ready to set a new pattern lock for your Android device.
Method 2: Using Desktop App
There is an App available on Desktop Android Online store and it can bee used free to bypass Android pattern lock.  The app is named as Screen Lock Bypass Pro and works only if you remember the username and Password of Google account that is linked with your Android Device. The app basically helps you bypass your device's Pattern lock so you can enter the settings and change it from your Desktop.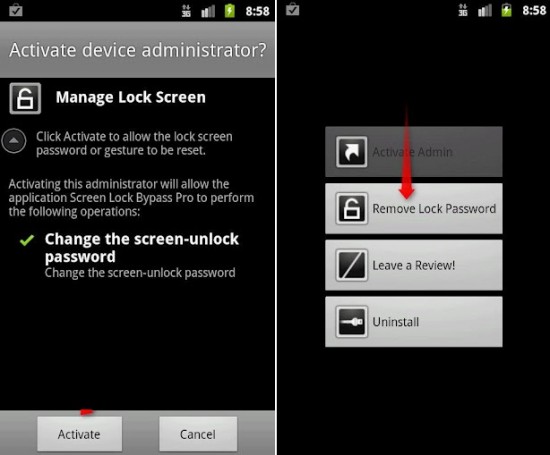 Step 1: Log in using your Google Account Username and Password from Desktop Browser on play.google.com. It is necessary that you use the same Google account you have linked your Android device with. Once you are in the market Download Screen Lock Bypass Pro
Step 2: Select your Phone and wait for the app to Install.
Step 3: Go to Settings from your Desktop app then navigate to Accounts & Sync>Manage Accounts and remove all accounts except your Google account.
Step 4: Now, power off your device to trigger Too many pattern Attempts again and then Log in using your Google Account again to properly set new Pattern Lock.
Method 3: Using Google Account
This final method is supposed to work for almost all Android device's but does come with some pre-requisites. This method will only work if you know the username and password of the Google account you have linked with your Android Device and you should also remember the original Pattern Lock.  However, if you don't recall the Google account you linked your device with you can confirm it by logging into your Google account from you browser and then navigating to market.android.com/account . If this is account you have linked your Android device with, you will be able to see your device in settings tab. In case you don't find your device here, you have probably linked some other Google ID with your device.
Step 1: Log in to your Google account from Desktop browser.
Step 2: Go to https://accounts.google.com/IssuedAuthSubTokens OR click your e-mail on the top right corner, select Account settings, then hit "Visit the previous version of the Google accounts screen" towards the bottom, click "Authorizing applications & sites " under your Personal Settings > Security.
Step 3: Under "Connected Sites, Apps & Services – "Revoke Access" of your Google Account with Android. You will see the screen showing "You have successfully revoked access to Full Account Access"
Step 4: Now you can enter your Google account Username and Password on your Device and it will accept it this time. You can then draw new pattern lock and gain access to your device.