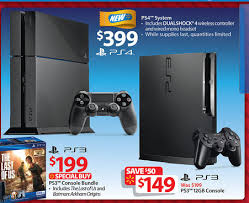 Black Friday is just around the corner, which makes it a great time to search for the top PS4 deals currently available both online and in-store. The PlayStation 4 is still very new, so finding a decent deal will only be a couple dozen dollars off of the original price. However, considering that the PS4 retails for around $400, any  deal is a good deal at this point in time.
PS4 Two Games Bundle: Last of Us and GTA V
Currently, there are two very amazing remastered games on the PlayStation 4 that have got a lot of people's attentions. Despite both Grand Theft Auto 5 and the Last of Us being released on the PlayStation 3, the new PS4 versions are absolutely superb thanks to the new HD graphics, improved rendering and increased content from both games.
Buying a new console and both of the aforementioned games separately will probably take you back around $500, however, three very big retailers are going to be offering a PS4 bundled with both GTA V and The Last of Us Remastered for just $399. This bundle will be available within Best Buy, Walmart and GameStop, although stock is expected to clear very quickly.
Shadow of Mordor for PS4 Super Deal
Shadow of Mordor is a fairly new game that is filled with great content that every Lord of the Rings fan will love. The game currently retails at $60, and despite being really successful, one of the top PS4 deals for Black Friday will see the game available for just $30, which is 50% off of the original price. This game can be picked up for this price at Groupon.
Sony Black Friday Bundles
Whilst it is usually the retailer that offers the best Black Friday deals, this year Sony are getting in on the action to offer some of their very own deals. On Black Friday, Sony will be listing a few different bundles that can be picked up from the Sony web store. Whilst one of the deals will offer the same The Last of Us Remastered and GTA V bundle, another deal will put up Little Big Planet 3 and LEGO Batman 3, along with the PS4 console and DualShock 4 controller for just $399.99.
Cheap PS4
If none of the other Top PS4 deals are within your price range, you may want to pick up standalone PlayStation 4 from eBay – you can grab one for just $359.99, and there are bound to be other offers online around Black Friday for slightly less than this as well!