Only a few decades ago Casio Keyboards were very popular and the history has repeated itself but this time in a more significant and prodigious way. Virtual Piano Keyboard has become renowned for its easy accessibility, bundle of features and perhaps available free of cost being its strongest forte. However, these Virtual keyboards can never be thought of as replacement to professional instrument.
There are two types of Virtual keyboard one can get around on a PC. There are the online One's and the Offline one's which are available as Applications and have many more features than online versions. While online Virtual Piano keyboards do not have many things to offer on the other hand the application version is a long shot which almost makes them equal.
In this article we have collected the best virtual keyboards available both online as well as offline.
Online Virtual Piano Keyboard
1. BGFL Online Piano keyboard.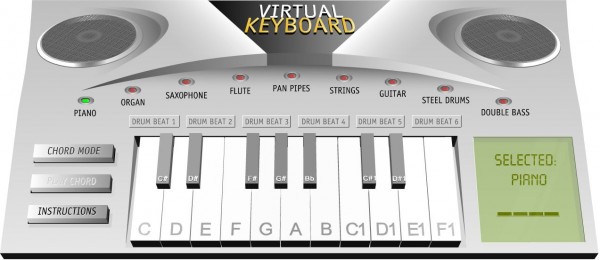 This Online Virtual keyboard is brought to you by BGFL and offers different keyboard modes: Piano, organ, saxophone, flute, pan pines, strings, guitar,  steel drums and double bass. The keyboard has three buttons on the left side which read as Chord mode, Play Chord and instruction which can be used during the play. The keyboard is also featured with 6 drum beats which play automatically along the Virtual keyboard. Although, there are only which 18 notes one can play which can be regarded as a major con.
Play
2. Zebra Keys Online Piano Keyboard.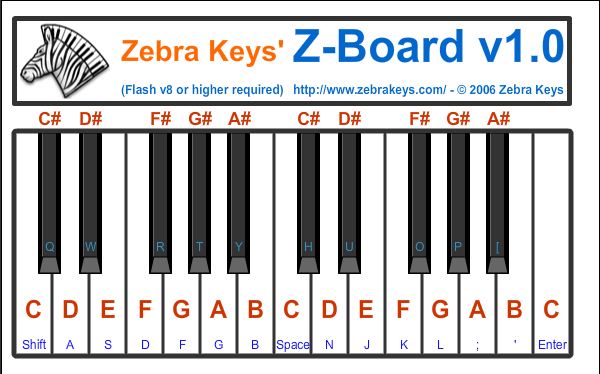 You need to have flash 8 or higher installed on your computer to use this interactive online piano. Zebra Keys online keyboard provides 24 keys which can be played using mouse or keyboard and can used to play chords or melodies using individual notes.
Play
Offline Virtual Piano Keyboard Applications
3.MagicScore Virtual Piano Keyboard.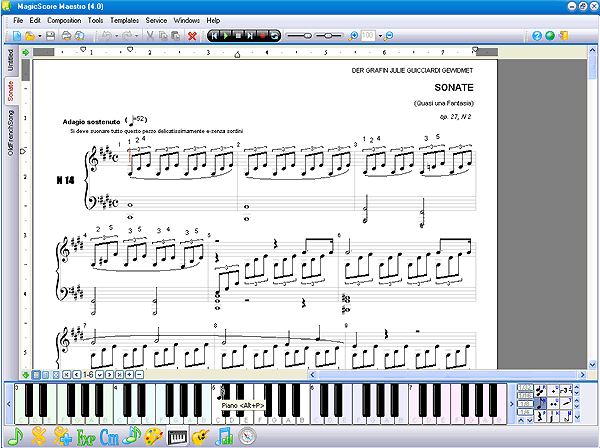 This Virtual Piano keyboard imitates a real Piano almost to perfection with its feature of entering notes and pauses. This software has many features and promises to grow your music skills to apex.
Download 
4. Pianoeletronico.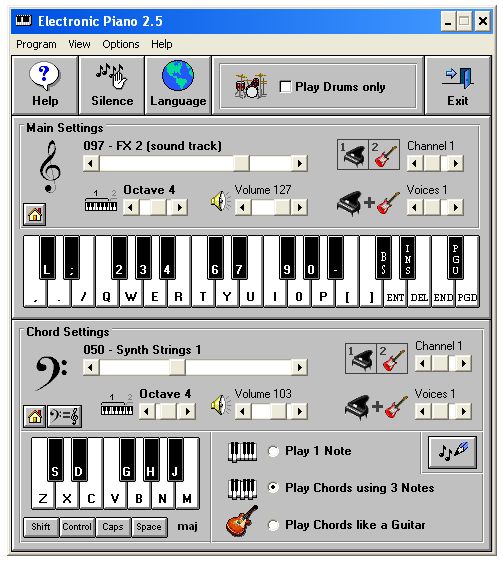 This Electronic piano uses you PC keyboard key strokes to play different sounds of piano. This app has a lot of sound options to offer like; guitar, including trumpet, bass, organ, harmonica, violin, cello and a lot more. The software is also featured with special effect option which include typewriter, helicopter, applause, gun shot and so on. The program is really easy to use, as it displays the note chart on its interface so that you know what you're playing at all times.
Download
5. Hypersolutions  Keyboard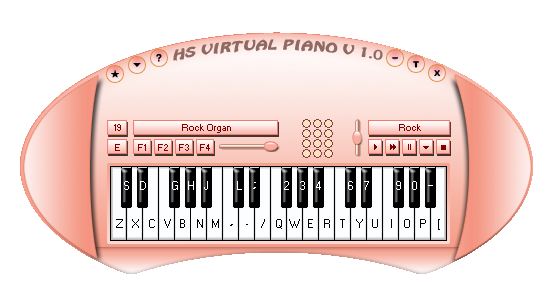 Virtual HS Piano is a simple MIDI piano which simulates everything from traditional piano to honky-tonk, marimba or an accordion. It is also backing from a drums and other percussion so that you can really feel like you're making sweet music. You're certainly not limited by choice – there are 128 instruments to choose from although the sound effects selection is pretty poor – 12 to be exact – and there are only 3 melodies for which you can play to. However, the keyboard features all 36 notes you expect to find on a keyboard so it's very realistic in that respect although the MIDI sound effects can never be a substitute for a real piano.
Download