WakaWaka, Swahili for "shine bright", is a creation of Off-Grid Solutions (OGS), a company that develops, engineers, manufactures and markets the most efficient lighting and phone charging solar-based products for consumers worldwide. Initially funded through US-based Kickstarter.com, WakaWaka has received interest from over 75 countries around the globe and is on a mission to end energy poverty in our lifetime. In 2012, OGS made a pledge to the Clinton Global Initiative to distribute at least 1 million WakaWaka's in the next few years and educate a similar number of students in becoming Climate Heroes.
To that end, for every WakaWaka Power charger sold, WakaWaka donates $10 to the WakaWaka Foundation to finance entrepreneurial education, micro-loans to women energy entrepreneurs, and subsidies for the very poor in countries like in Nigeria, Haiti, Nepal, India and Latin America to replace polluting, dangerous kerosene lamps. These initiatives increase safety for girls and women at night, help students complete their homework after dark, and much more.

So what is a WakaWaka?
The WAKA WAKA POWER delivers industry-leading solar charging performance. This stylish, lightweight iPhone and Android charger has a solar panel 200% more efficient than its competitors, rock-solid durability, and charging via USB or AC, and can fully charge a smartphone in under 2 hours! It's ideal for camping, emergencies, or charging on-the-go, and it's for sale at http://wakawaka4light.com/collections/wakawaka-power
I had a chance to personally evaluate a WakaWaka Light and it delivers.  First, you can power the device with a readily available resource…the Sun.  Second, it does a commendable job powering and charging your smartphone device.  Who hasn't been somewhere with power not readily available?  In fact, just this weekend I was at an event with my daughter and we spent the whole day there — no power to be found.  My iPhone was tapped by midday.  Enter the WakaWaka.  All it needs is sun.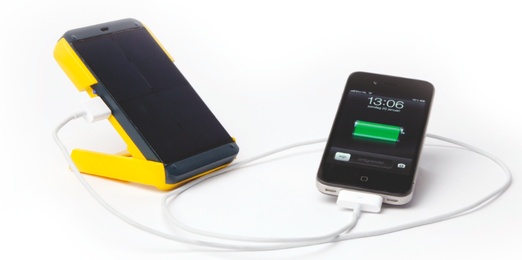 Next, now only does the gadget make a fine charger it doubles as a solar powered light.  You'll find out more about this story and the need for light worldwide but even for me in a so-called first world nation there's times it can and has come in quite handy.
Not to mention your purchase of a WakaWaka Power is going to mean a lot to someone else in the world.  You can feel good about this one.
You'll get up to 40 hours of light or charge your phone on one day of free sunlight charging.  You can also get the WakaWaka Light if you do not need the phone or smart device charging.
WakaWaka creates industry-leading solar smartphone charger using a sustainable business model for eradicating energy poverty in our lifetime.