It is no secret that Apple Maps in iOS 6 is not something that most users are happy about. However, there are many great alternatives available including the new Google Maps. Given below are some of the top choices available today for Apple Maps alternatives:
Google Maps
The new Google Maps is completely free and is much better than the older version. This new version has vector based maps which prove to be fast and quite smooth. Along with voice navigation, this app also offers offline map caching, Zagat reviews, bike routes and much more. The new version retains everything that was good about the original app such as the continuously updated, vast database of point of interest, satellite data and Street view.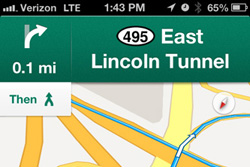 Magellan RoadMate
Magellan does cost $49.00 but it has proved to be a consistently solid performer. The iOS 2.2.1 app is much better than the original version because it has live camera feeds, speed camera and red light alerts and speed limit information. Another great thing about this app is that directions are accurate, it has a very clear interface, pedestrian mode as well as a powerful One Touch feature for navigating quickly to your favorite destination.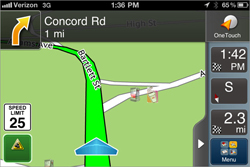 Bing 3.03
Bing is free to use but is a general search application. However, it does offer solid navigation and maps. Other great features in Bing include driving, transit and walking directions along with a huge POI database. The app also has Facebook integration, movie show times and traffic conditions.
Hopstop
This is another free application which focuses mainly on public transit. It offers maps, transit schedules and directions. Maps include bus stops and subway stops for the U.S. Users can also set preferences to include their public transportation preferences. The app will also estimate costs and travel times for taxi and will allow users to call for a taxi. It also has biking directions for 4 cities currently along with stroller friendly, wheel chair accessible routes.
TeleNav Scout
Scout is the latest in the line of apps offered by TeleNav and it is also one of the best. The app offers visual directions, a good dashboard UI along with commuting times, weather and traffic and more. Scout allows navigation commands through voice input. You can also opt for voice based navigation for driving, lane assistance, camera and speed trap alerts, traffic based automatic rerouting and offline maps for a cost of $9.99/year.