Xbox 360 has been a favorite console of many gamers for a very long. When Microsoft announced Project natal, gamers were surprised and were eager to try-out the technology themselves. Then came the day when the Xbox 360 Natal was actually launched. It was renamed to Xbox 360 Kinect and many gamers went to stores to try this thing out for themselves.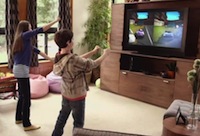 Personally, when they announced Kinect – I thought it was a pretty stupid thing. Why would you want to exhaust your energy on a football game indoors when you can go out and play it in person. The whole idea of playing a video game is that you are too tired (or lazy) to play it in real life. That, or the fact that you didn't make it to a team in real life. Whatever the case, Xbox 360 Kinect is a bit of a FAIL technology. We have seen endless videos of people making stupid moves in public and hitting their kids and what not.
We have compiled this top 10 Epic Xbox 360 Kinect fail videos for you to enjoy. These videos make you think why did Mixrosoft even bother making something. Sony's PlayStation Move is much better and intuitive than Xbox 360 Kinect. I traded my 3 year old Xbox 360 with Kinect and bought in a PlayStation 3 with PS Move and PlayStation Eye. The experience has been tremendous so far.
Fake Kinect Fail
Don't You Dare Laugh on this Kinect Fail
Original Xbox 360 Kinect Fail
Retarded Much?
Volleyball Destruction

Online With the Kinect Epic Fail

Fat Guy Tries Dance Central

Kinect Video Microsoft Doesn't Want You To See

Epic Goal FAIL

FVA Kinect FAIL
You might also want to check xbox 360 case mods for your console.